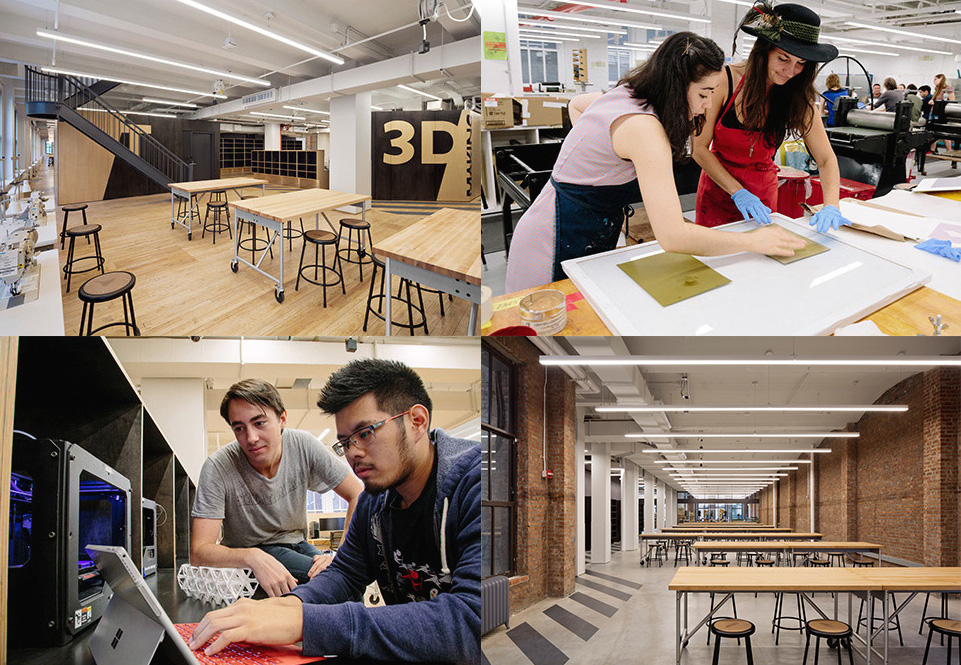 Pictured clockwise, from left: Specialty garment stations, 3D printers, and tool checkout areas on the second floor of Parsons Making Center; New School students use an etching press to ink plates for a photo book; the open work space on the second floor of Parsons Making Center; New School students create prototypes using 3D printers. (Photos/Matt Matthews and Michael Moran)

NEW YORK, October 17, 2016 — Bolstering its global status as a center for design education and innovation, Parsons School of Design announces the opening of the Parsons Making Center at The New School. The Parsons Making Center is a space where students can explore innovative manufacturing methods, collaborate with their peers across a range of disciplines, and employ state-of-the-art tools to address pressing social needs related to sustainability, human well-being, and reviving urban making. Through their experiences at the Parsons Making Center, students will be prepared to thrive in a rapidly evolving workplace and make meaningful contributions to civic life.

Open to all university students and faculty members regardless of their field of study, the Parsons Making Center is a place where everyone—from designers, technologists, and activists, to managers, policy analysts, and entrepreneurs—can work together in flexible, ad hoc teams to design innovative projects, methods, and supply chains. The New School, a comprehensive, integrated university, has long demonstrated the efficacy of this approach; interdisciplinary teams of students have produced environmentally sustainable affordable housing, wearable technology addressing human needs, and a multimedia project exploring the history of mass incarceration in the United States. Industries are increasingly adopting this approach, and New School students, having employed it in their studies, will be at an advantage as they enter the workforce.


Completed with major support from the Kay Unger Family Foundation, the 28,000-square-foot Parsons Making Center (at Fifth Avenue and 13th Street) anchors a 78,0000-square-foot integrated network of making spaces across The New School's Greenwich Village campus.

"This new space allows education and practice to shift from 20th century siloed industrial model, which separates disciplines and thus limits interaction and collaboration, to a cross-platform model, which allows different designers to work together and learn from one another to design the future," said Joel Towers, executive dean of Parsons School of Design. "This approach prepares students to become 21st century leaders within design professions and across management and business."


Underscoring Parsons' commitment to making as a way of problem solving, students will use the Parsons Making Center to design products and strategies that address social needs. Students will look no further than New York City, working with each other, as well as external partners, to tackle the challenges of civic life.

"Our students are committed to designing a better, more sustainable, and more beautiful world," Towers said. "The Making Center—a dynamic environment housing a suite of cutting-edge resources—will provide the space for them to do just that."


The Parsons Making Center will play an integral role in the resurgent making and manufacturing culture of New York City. Maker hubs such as Industry City and The Brooklyn Navy Yard, and companies such as Theory and Dynotex, are leading the way in the business sector, and Parsons, in providing students hand-on experience in a range of creative practices, will provide the workforce to sustain this thriving ecosystem.


Parsons Making Center is a striking example of how art and design schools are using the built environment to shape the way students learn and interact. Designed by New York City-based Rice+Lipka Architects, the space features an open floor plan, including modular walls and tables, that encourage students and faculty members to work with and learn from each other. More than half of the 14,000-square-foot main level is "dedicated to not being dedicated," according to Lyn Rice of Rice+Lipka Architects.

Added Rice, "R+L conceived of the Center as a de-siloed making place where design students from Parsons' broad range of creative disciplines can work side-by-side."

A drone video and images of Parsons Making Center are available, as is a fact sheet which includes a list of tools and resources housed in the space. Joel Towers, Executive Dean of Parsons, and Will McHale, Director of Parsons Making Center, are available for interviews and to lead tours of the space.