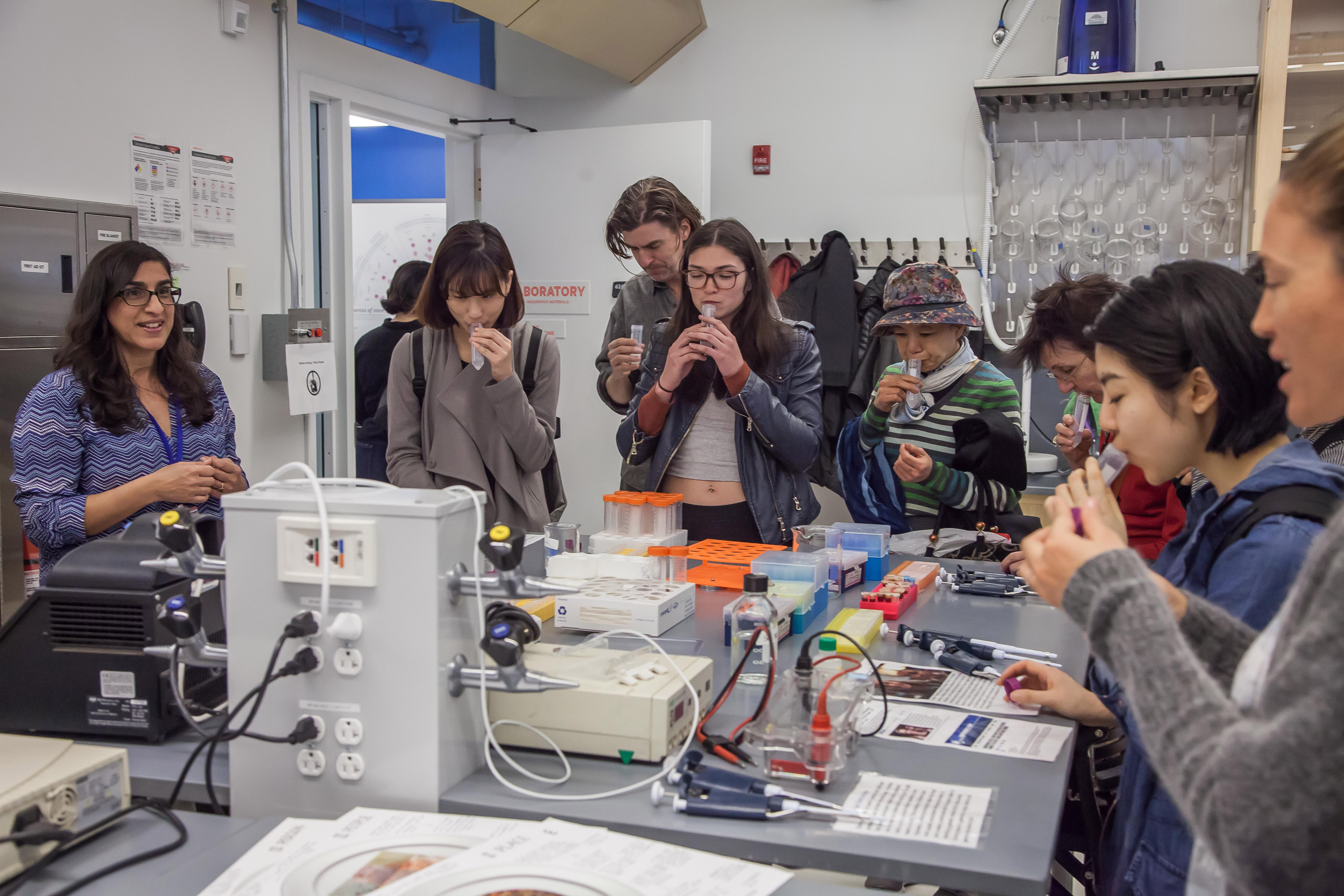 A student workshop hosted by the Natural Sciences and Mathematics Department
February 1, 2017, New York, NY – The New School announced today a $2.5 million donation from Jarl Mohn and his wife, Pamela, to create an endowed professorship in Natural Sciences and Mathematics in the university's Eugene Lang College of Liberal Arts.
The Mohns were inspired to make the gift in appreciation of the excellent academic experience their daughter, Larkin, had as a student of Natural Sciences and Mathematics, and the mentoring she received from the department's faculty. Larkin Mohn graduated with an Interdisciplinary Science major in 2014 and is now pursuing a Master of Science in Statistical Genetics at the Mailman School of Public Health at Columbia University.
Biologist and educator Katayoun Chamany was named the endowment's first Mohn Family Professor of Natural Sciences and Mathematics. Chamany's work centers on curriculum development that contextualizes biology within a social justice framework. Her scholarly work and research have been acknowledged by many institutions, including fellowships awarded by the National Center for Science and Civic Engagement (NCSCE) and appointments to editorial boards for the Life Sciences Education journal and the National Center for Case Study Teaching in Science. Chamany is the recipient of the Distinguished University Teaching Award and the Excellence in Faculty Advising at Lang College.
In addition to the endowed professorship, a portion of the Mohns' gift will fund curricular innovation and faculty research, as well as student scholarships.

"I am so grateful to Jarl and Pamela for their engagement throughout Larkin's studies at Lang, and for their tremendous generosity in making this gift," said Stephanie Browner, dean of Eugene Lang College. "Excellent teaching and mentoring from our faculty is a hallmark of a Lang education. It is so gratifying to know the Mohns were inspired to make this gift as a direct result of the outstanding teaching, service, and scholarship of Katayoun Chamany and her colleagues in the Natural Sciences and Mathematics Department. This gift honors their work and will create wonderful new learning opportunities for our students."

Courses in the Natural Sciences and Mathematics department highlight the interplay between health and the environment, emphasizing the importance of scientific and quantitative thinking in addressing contemporary challenges such as access to clean water, climate change, responsible use of emerging technologies, and health and environmental policies shaped by mathematical models of social phenomena. Faculty are encouraged to develop and implement innovative and creative courses that combine the excitement of relevance with the excitement of the science itself.