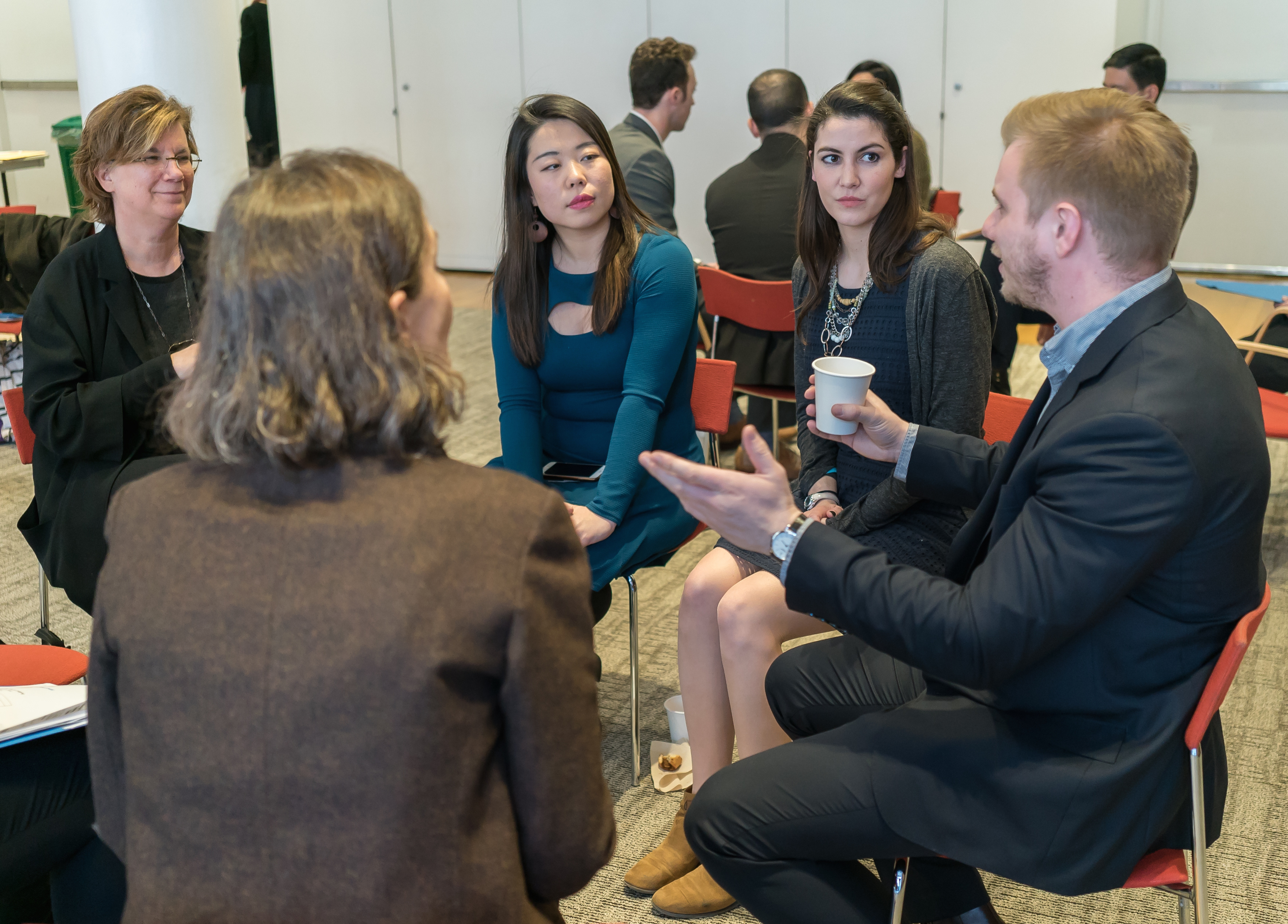 The Kauffman Foundation recently awarded a $420,000 to The New School for its Impact Entrepreneurship Initiative. The initiative will provide a holistic curricular and co-curricular experience in which graduate students develop innovative, market-driven ideas and ventures that drive impact in various ways—economic, social, environmental, and more.
NEW YORK, December 1, 2016 — The Kauffman Foundation announced today that it has awarded a $420,000 grant through its Inclusion Challenge to support the new Impact Entrepreneurship Initiative at The New School.
The Kauffman Inclusion Challenge was designed to support institutions that are developing the capacity of women and people of color so that they succeed as entrepreneurs and intrapreneurs who are socially-conscious leaders. The New School is one of two universities selected for the grant among a diverse pool of institutional applicants.
The announcement was made at the Mayors Conference in St. Petersburg, Florida, an annual event that brings together mayors and entrepreneurship experts from around the country to share best practices for promoting startup activity and encouraging entrepreneurship. Michele Kahane, Associate Dean for Educational Innovation and Social Engagement at the Schools for Public Engagement, attended the event on behalf of the university. Kahane co-authored The New School's proposal with Rhea Alexander, founder and director of Parsons E-Lab and co-director of the MS Strategic Design and Management program; Elizabeth Werbe, Director of the Impact Entrepreneurship Initiative; and Dana Martens, Student Program Manager of New Challenge.
In their announcement of The New School's selection for funds, the Kauffman Foundation highlighted The New School's design-driven and impact-focused approach to educating entrepreneurs, noting that the university exemplifies a human-centered orientation to building an inclusive economy.
The new Impact Entrepreneurship Initiative will provide a holistic curricular and co-curricular experience in which graduate students develop innovative, market-driven ideas and ventures that drive impact in various ways—economic, social, environmental, and more. The program will support students in developing the entrepreneurial mindsets, skills, values, and sense of purpose needed to thrive in the 21st century. The initiative aims to support the creation of a more inclusive economy by providing increased access to social, intellectual, and financial resources. In addition, The New School will engage the wider entrepreneurial ecosystem in New York and beyond to develop best practices and insights about developing impact entrepreneurs who are women and people of color.
"We are thrilled to have the Kauffman Foundation's support for our Impact Entrepreneurship Initiative" said New School Executive Dean Mary Watson. "The grant will enable us to develop new insights from a broad spectrum of entrepreneurs preparing for the new, inclusive economy."
"Parsons is thrilled to have the support of the Kauffman Foundation," Alexander said. "By leveraging our highly successful programs in Strategic Design and Management and the School of Design Strategies E-Lab, we will continue to foster design-driven entrepreneurship and social innovation through co-curricular and post-graduate education."
The Impact Entrepreneurship Initiative grows out of two successful and popular programs at The New School: New Challenge, launched in 2011, and Parsons E-Lab, launched in 2014. New Challenge has served as a university-wide ideas competition for students developing entrepreneurial solutions to pressing social challenges, while Parsons E-Lab supports alumni in launching their entrepreneurial ventures. These programs have activated the New School community and created a university-wide culture of support for entrepreneurially-minded students from diverse backgrounds. To date, close to 800 students have applied to participate in either New Challenge and E-Lab. Each year, over 100 faculty, staff, and alumni support these individuals in strengthening their ideas by sharing feedback at various stages of the process. Over the past five years, The New School's signature impact entrepreneurship programs have provided funding, mentorship, and skill building workshops to over 50 teams comprised of nearly 140 people. Of those selected for these programs, 80% of teams have been led by women and more than half by students from underrepresented communities.
The Kauffman grant enables The New School to better leverage university-wide resources and integrate these efforts in order to support more entrepreneurial students through their studies at The New School and beyond. The Impact Entrepreneurship Initiative will begin its roll-out in the fall of 2017.