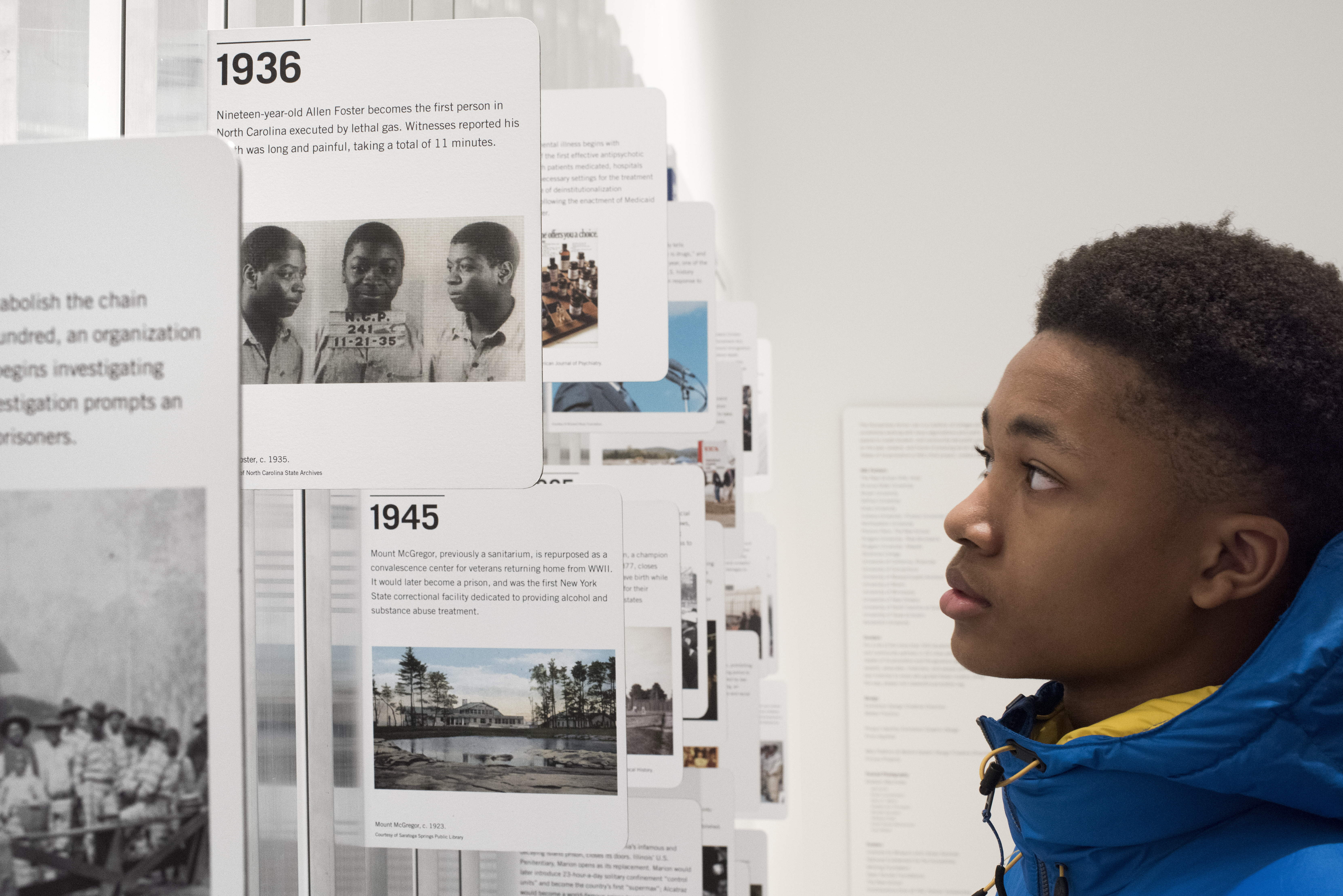 Humanities Action Lab's current initiative, States of Incarceration, is a traveling multi-media exhibition, web platform, and curricula focusing on the evolution and impact of mass incarceration in the United States.
NEW YORK, September 19, 2016 – The New School has received a $150,000 grant from The Andrew W. Mellon Foundation for the Humanities Action Lab (HAL), a coalition of 20 colleges and universities collaborating to produce student- and community-curated public projects around pressing social issues.
The funds will support public dialogues around HAL's current initiative, States of Incarceration, a traveling multi-media exhibition, web platform, and curricula focusing on the evolution and impact of mass incarceration in the United States, created by students and others directly affected by incarceration through simultaneous courses at 20 campuses. The exhibition opened at The New School's Sheila C. Johnson Design Center in April 2016 and, over the next three years, is traveling to each of the 20 communities that participated in its creation. Funding from the Mellon Foundation will support HAL's commitment to diversifying the institutions and communities engaged in this national dialogue on incarceration past and present, by identifying community colleges, HBCUs, HSIs, and Tribal Colleges, universities in communities deeply impacted by incarceration to participate.

In addition, the Mellon grant will support an additional copy of the exhibition so that the project can reach new communities, curricular resources for potential new higher education partners, a national convening of existing and new partners, and the creation of a Strategic Plan for HAL and States of Incarceration.

"We are pleased to support a growing national effort to educate university students and the residents of communities they serve about the challenges that mass incarceration represents in a democratic society," said Eugene Tobin, a senior program officer at the Mellon Foundation.  
Designed by Brooklyn, N.Y.-based design firm Matter Practice, the States of Incarceration physical exhibition features interviews with formerly incarcerated people, corrections officers, and policy advocates; images capturing the evolution of crime and punishment in different contexts; and data demonstrating the explosive growth of incarceration and its impact on American society. Statesofincarceration.org, designed by Picture Projects, a Brooklyn, N.Y.-based studio, includes digital exhibits and a "Shape the Debate" mobile campaign, expanding on the traveling exhibition and provide a medium to connect communities across the country.

At each HAL partner university, teams of students and people directly affected by incarceration from 20 cities explored their communities' experience with this pressing social issue. The work of each team was compiled into a collective, multi-faceted portrait of incarceration, past and present, framed by the key questions these histories raise. As the exhibition travels to each location, public programs, local exhibition components, conferences, performances, and community conversations will build on local histories and connections with issue organizations to ground the national conversation in the local context of incarceration.
"This grant from the Mellon Foundation, one of the nation's premier funders working to diversify the humanities, will enable us to expand our network to engage more students to exchange local histories and collective memories, to grapple with how incarceration has profoundly shaped our communities." said Liz Sevcenko, Director of HAL.
Universities currently partnering in States of Incarceration, led from The New School, are Arizona State University, Brown University, DePaul University, Duke University, Indiana University-Purdue University Indianapolis, Northeastern University, Parsons Paris, Rutgers University-Newark, Rutgers University-New Brunswick, Skidmore College, University of California, Riverside, University of Connecticut, University of Massachusetts Amherst, University of Miami, University of Minnesota, University of New Orleans, University of North Carolina at Greensboro, University of Texas at Austin, and Vanderbilt University.