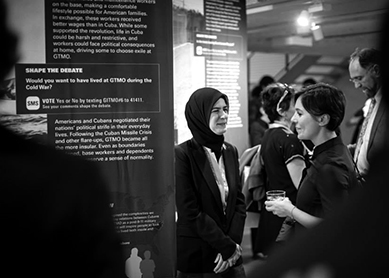 A public event and discussion of Guantánamo Public Memory Project, a pilot program for Global Dialogues. (Courtesy Pinar Gedikozer Photography)
NEW YORK, July 1, 2015 --The Whiting Foundation has announced a $150,000 grant to The New School's Humanities Action Lab (HAL), an interdisciplinary hub that brings together 20 universities from across the country with global partners and community organizations to foster public engagement on urgent social problems.
The funds will bolster the lab's current project: Global Dialogues on Incarceration, a project and curriculum that applies humanities perspectives to questions of crime and punishment at 20 universities, through which students and community partners create a corresponding exhibition, online platform for public dialogue and series of public programs. The exhibition will open at The New School in April 2016 and, over the next three years, travel to each of the project's participating universities.
"This grant from the Whiting Foundation, one of the country's most prominent supporters of humanities scholarship, will enable us to bring rigorous research to a broad and diverse public audience and to help confront the most pressing social issues of our time," said Liz Sevcenko, Director of HAL. "Our socially engaged approaches equip students with the skills needed to succeed in the 21st century, and make the humanities a central part of civic dialogue."
"One of the most important roles of the humanities is to provide history, context, and insight into contemporary social questions," said Daniel Reid, executive director of the Whiting Foundation. "We are proud to support the Humanities Action Lab consortium's work to unearth new aspects of the history of crime and punishment in America at a moment when incarceration has emerged as a central issue facing us in the present. The project stands to make important contributions to public understanding while training a new crop of students and faculty in the techniques of translating scholarship for audiences beyond the academy."
Universities partnering in Global Dialogues on Incarceration are Arizona State University—Tempe, Brown University, DePaul University, Duke University, Indiana University-Purdue University Indianapolis, Northeastern University, Parsons Paris,Rutgers University—New Brunswick and Newark,Skidmore College,University of California—Riverside, University of Connecticut—Storrs, University of Massachusetts Amherst, University of Miami, University of Minnesota, University of New Orleans, University of North Carolina-Greensboro, University of Texas—Austin, and Vanderbilt University.
Global Dialogues has its roots in the Guantánamo Public Memory Project, a similar initiative organized by Sevcenko that united 300-plus students from 13 universities to research, document, and interpret the history of the U.S. naval base at Guantánamo, Bay, Cuba and foster public dialogue on the questions it raises today.