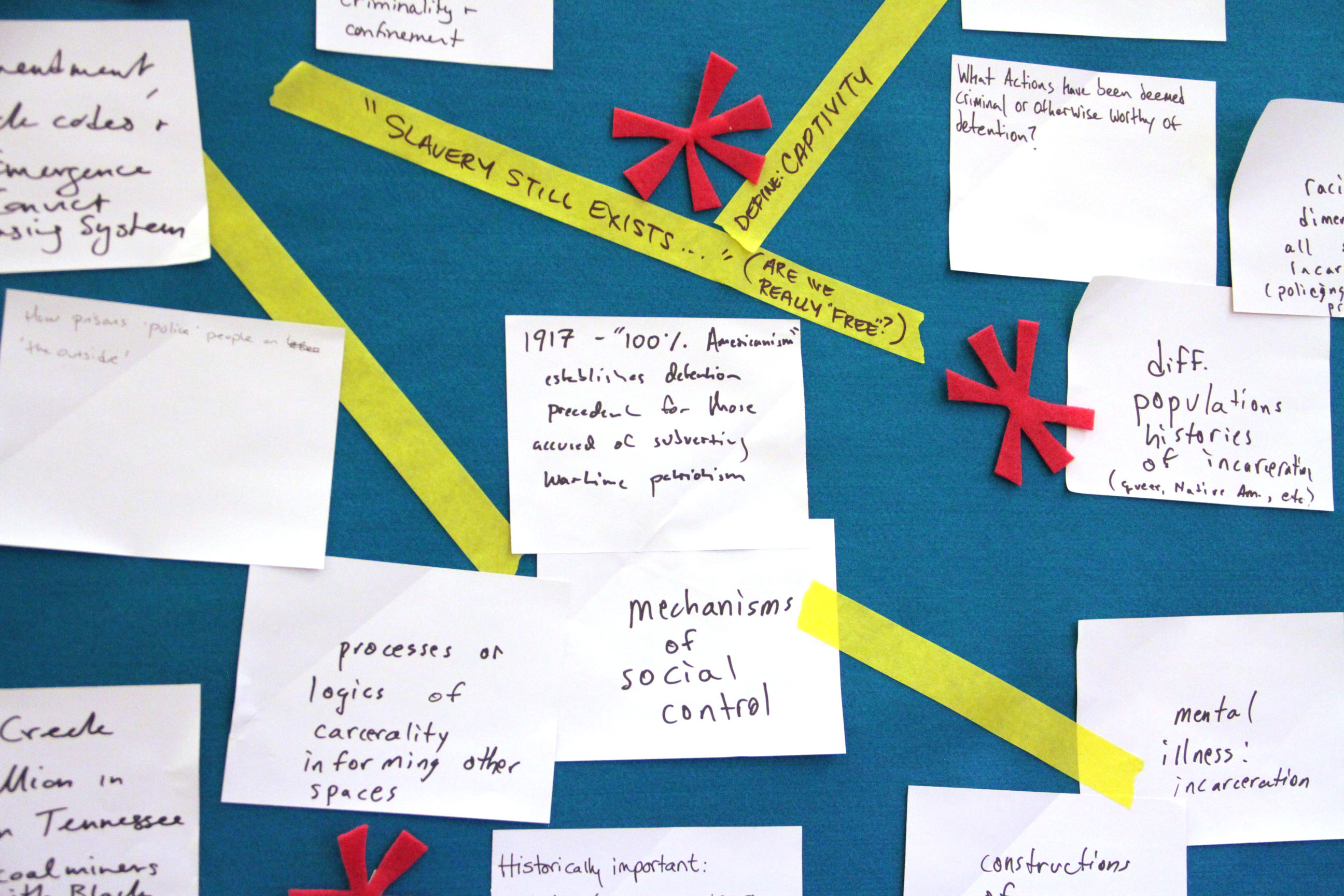 Designers, policy experts, students, and activists hosted a brainstorming sessions at the launch of Humanities Action Lab (HAL), a New School–based international hub where the humanities and design come together to foster public engagement with urgent social issues.

NEW YORK, January 7, 2016 – The National Endowment for the Humanities has announced a $250,000 grant to The New School's Humanities Action Lab (HAL), a coalition of 20 universities collaborating to produce student- and community-curated public projects around pressing social issues.

The funds will support projects around HAL's current initiative, "States of Incarceration," a traveling multi-media exhibition, web platform, and curricula focusing on mass incarceration. The exhibition will open at The New School's Sheila Johnson Galleries in April 2016 and, over the next three years, travel to each of the 20 communities that participated in its creation.

The exhibition, designed by Brooklyn, N.Y.-based design firm Matter Practice, will coincide with a national public forum at The New School April 14-16. The forum will provide a space for students, stakeholders, scholars, and policy experts who worked on the project to come together and engage in a national dialogue on incarceration. The forum will feature tactile interactives, digital polling, and face-to-face dialogues.


A web platform designed by Picture Projects, a Brooklyn, N.Y.-based studio, will expand on the travelling exhibition and provide a medium to connect communities across the country.

Leading up to the launch of the exhibition, teams of students and people directly affected by incarceration from 20 cities will explore their communities' experience with this pressing social issue. The work of each team will be compiled into a collective, multi-faceted portrait of incarceration, past and present, framed by the key questions these histories raise.

"This grant from National Endowment for the Humanities, one of the nation's largest funders of humanities programs, will enable us to explore how Americans have grappled with incarceration in the past and how it has profoundly shaped generations of people in each of our communities." said Liz Sevcenko, Director of HAL. "We hope by coming together to exchange diverse local histories and collective memories, we can foster new national dialogue on how to move forward."

"The pressing challenges facing our nation call for dialogue and understanding," said NEH Chairman William D. Adams. "There is ample evidence that communities across the nation are eager to come together to discuss the critical issues that face them as citizens and neighbors. Using the unique insights of the humanities, the Humanities Action Lab project will bring new audiences and organizations together in ways that address compelling public concerns."

Universities partnering in States of Incarceration are Arizona State University, Brown University, DePaul University, Duke University, Indiana University-Purdue University Indianapolis, Northeastern University, Parsons Paris, Rutgers University-Newark, Rutgers University-New Brunswick, Skidmore College, The New School, University of California, Riverside, University of Connecticut, University of Massachusetts Amherst, University of Miami, University of Minnesota, University of New Orleans, University of North Carolina at Greensboro, University of Texas at Austin, and Vanderbilt University.

Funds from NEH will be delivered to HAL through Common Good: The Humanities in the Public Square, a new initiative to foster innovative ways to make scholarship relevant to contemporary issues.