The New School unveils comprehensive climate action plan
University's Board Directs Divestiture from Fossil Fuels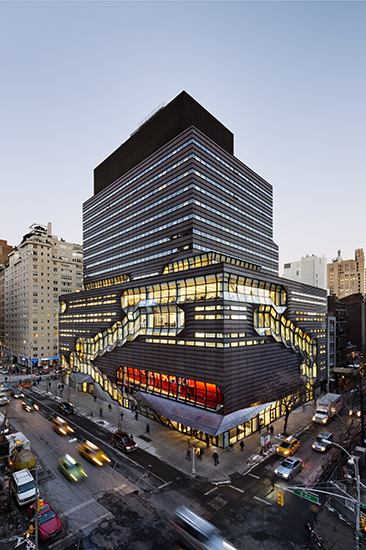 The New School's University Center at 14th Street and Fifth Avenue is a LEED Gold rated building that sets the New York City standard for green technology and building practices.

NEW YORK, February 2, 2015— The New School begins 2015 by announcing a comprehensive climate action plan for its community to address climate change—a transformative issue for both 21st Century education and today's society. To launch this new initiative, The New School's Board of Trustees approved a motion in late 2014 to divest from all fossil fuels. It is the second largest university in the world to do so.

'With this divestment pledge, the New School reminds us why it's forever on the cutting edge," says environmental activist and co-founder of 350.org Bill McKibben. "There's no greater crisis the planet faces than global warming, and no sharper—or more educational—step that the New School could have taken."

Started by a coalition of students, faculty, and alumni at the university's New York City and Paris campuses, the climate action plan draws upon The New School's ability to work across the fields of design, social research, and social justice to create viable solutions to challenges raised by climate change.

"The New School has a long history of engaging in and offering creative solutions to society's most pressing issues," says New School President David Van Zandt. "Climate change, the effects of which are already being felt by our most vulnerable populations, is one of the greatest challenges we are facing in the 21st Century. With our formidable talents in design and the social sciences, this new plan sets the course for our leadership in the field."

The plan includes an expansion of the already diverse catalogue of curriculum options for students on the environment and climate justice. At its heart is the Tishman Environment and Design Center, whose mission is to foster the integration of design strategies and creative social and ecological approaches to environmental issues. The center's premiere project will be ReNew School: Project 14K, a multi-year collaboration aimed at galvanizing the 14,000 faculty, students, and staff at The New School to become fully aware, service-orientated climate citizens. An integral part of this includes academic coursework aimed at designing scalable and transferable solutions that will lead to a more resilient and equitable future. 

In addition to the Tishman Environment and Design Center, the university will feature two key centers working at the front lines of climate action: The Schwartz Center for Economic Policy Analysis and The Parsons Design for Social Innovation and Sustainability Lab. Through project-based-learning across all areas of study, all New School students will understand the impact of their carbon footprint—and that of the university as a whole—and aspire to adjust their behaviors for sustainable living.

Already, The New School has made significant investments and improvements in university buildings and operations, resulting in one of the lowest carbon footprints per capita among U.S. higher education institutions. To date, the university has reduced its fossil fuel endowment exposure to less than 1%, and at the end of 2014 made a direct investment in a renewable energy company that is 50% larger than its investment in all fossil fuel companies and funds. In addition, 100% of New School electrical consumption is offset by alternative energy credits. The university has reduced electrical costs and consumption per square foot by 20% in the last three years, reduced water usage by 9 million gallons since 2010 (a 40% reduction), and more than doubled the percent of e-waste recycling over the same time period; a first for an education institution in the Northeast.

The university's commitment to sustainability extends beyond its energy use and investments.The New School's dining program provides chef-driven, farm-to-table food that promotes the health of our students and employees, community and our planet. Through a holistic, strategically conceivedprogramof sourcing, operations, metricsand education,the university mitigates food related impact while building a new sustainable approach to campus dining.

For interviews with university administrators leading the initiative, contact Kasia Broussalian, Associate Director of Communications at The New School, at 212.229.5667 x3990 or Broussalian@NewSchool.edu.
Founded in 1919, The New School was born out of principles of academic freedom, tolerance, and experimentation. Committed to social engagement, The New School today remains in the vanguard of innovation in higher education, with more than 10,000 undergraduate and graduate students challenging the status quo in design and the social sciences, liberal arts, management, the arts, and media. The New School welcomes thousands of adult learners annually for continuing education courses and calendar of lectures, screenings, readings, and concerts. Through its online learning portals, research institutes, and international partnerships, The New School maintains a global presence. Learn more at www.newschool.edu.