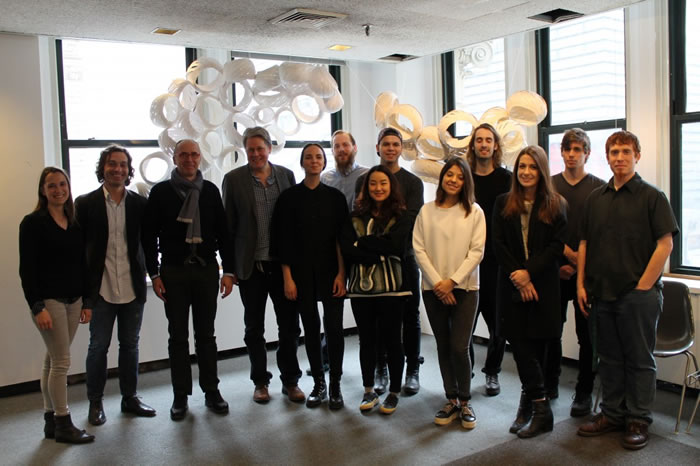 Students will unveil their installation using ALPI reconstituted wood at WantedDesign 2015, May 15-18 in New York City.
NEW YORK, May 1, 2015 – This spring, students from Parsons School of Design in partnership with ALPI, the world leader in the manufacture of decorative wooden surfaces, have designed and fabricated a single, full-scale, interior environment using ALPI reconstituted wood veneer.
Created by students in Parsons School of Constructed Environment's Temporary Environments elective, the installation, "Pansa/Panze," will serve as a trade booth for ALPI representatives during WantedDesign 2015, an international design event to be held May 15-18 at the Terminal Building, 269 11th Avenue. Based in Modigliana, Italy, ALPI produces reconstituted wood that ensures an environmentally responsible, traceable sustainable origin.
"Through this project, students in various disciplines—architecture, interior design, product design and lighting design—come together to explore the architectural possibilities of working with a specific material, as well as the possibilities of working within the physical limitations of defined space," said Williams Haskas, who is leading the Temporary Environments elective at Parsons' BFA Interior Design Program.  "They also learn about the importance of sustainable design, a concept on which Parsons and Alpi are very much aligned."
Titled "Pansa/Panze," the installation's name is "derived from the German word that signifies shell, and the Spanish word which colloquially means belly," Haskas said. "The Pansa concept embodies the language of an armature that intertwines and fluidly twists around one another." Each component of the installation is computer numerical control-milled double ply .006 thick Alpi veneer. The cut veneer yields a flat unit with multiple fibers or fingers that elastically weave into a structural yet naturally ordered bulbous form. The project is composed of 280 individual units (a total of 4,480 woven fibers) that dynamically respond to complex behavioral forces, both internal and external.
"The students working on this installation pushed the veneer to a sublime technological and poetic form," MFA Industrial Design program director Rama Chorpash said. "Following dozens of full-scale models, 'Pansa/Panze' appears to float like a cloud still-life."
Following a series of design reviews with representatives from ALPI, WantedDesign and Parsons in March, students designed and assemble the installation at Parsons. This month, they will disassemble the installation and move it to the landmark Terminal Stores building to be featured at WantedDesign 2015.
"This event conjures the carnival experience of medieval Italy, where a troupe would arrive in piazza, unpack this box of curiosities, re-collapse and go off to the next city," Haskas said. "There's nostalgia for this type off an event, as well as excitement for the future of design."
For more information, visit http://www.wanteddesignnyc.com/exhibitor/exhibitors-wd-2015/alpi-parsons-the-new-school-for-design/#sthash.0vekOuci.dpuf