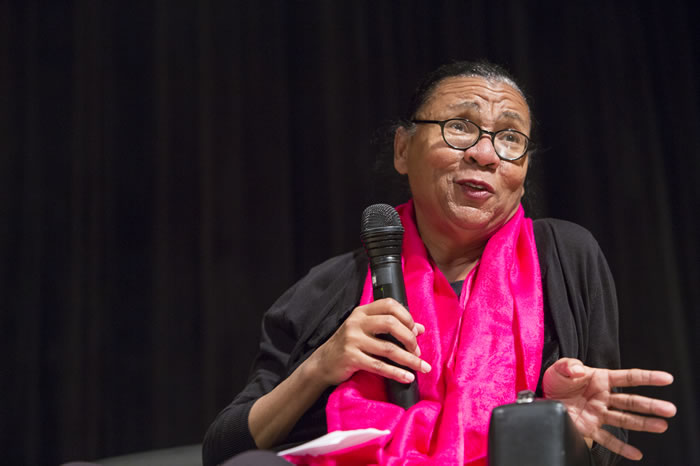 bell hooks at The New School (Photo: Spencer Kohn, 2013)
New York (April 3, 2014) – Internationally renowned author, activist, and scholar of feminism and race will return to Eugene Lang College The New School for Liberal Arts for a series of three public dialogues entitled "Feminism Does The Black Female Body." hooks' fall 2013 residency at The New School culminated in a widely viewed and shared public conversation with MSNBC's Melissa Harris-Perry, which The Huffington Post called "riveting."
Named "one of the nation's leading public intellectuals" by The Atlantic, hooks has authored or edited more than 40 books, including the acclaimed Ain't I A Woman?, Black Women and Feminism, and Feminist Theory: From Margin to Center. Her most recent book, published last year, is a collection of essays entitled Writing Beyond Race: Living Theory and Practice.
hooks' spring residency at Lang College will bring her together in dialogues with anti-rape activist Salamishah Tillet (May 5); author Marci Blackman, filmmaker Shola Lynch, and author and activist Janet Mock (May 6); and singer Lisa Fischer and actress Kim Sykes (May 7). All of these events are open to the public. See below for further details. In addition, hooks' engagement will also include a conversation with Professor Miriam Ticktin, Director of the Gender Studies program at The New School, open only to the university's community.
"I am so pleased to welcome bell hooks back to Eugene Lang College," said Dean Stephanie Browner. "Following her series of bold and thought-provoking events this past fall, which culminated in a public dialogue that was viewed by thousands of people around the world, the New School community is looking forward to participating in another series of vibrant and challenging conversations with this era-defining thinker."
FOR LISTINGS: bell hooks in Residence at Eugene Lang College - "Feminism Does The Black Female Body"
Passionate Present: Protecting Black Girlhood
a public dialogue between bell hooks + Salamishah Tillet
Monday, May 5
4:00pm
Wollman Hall, 65 W 11th Street, New York NY 10011
Open to the public; admission free. Reservations required at http://bellhookspassionatepresent.eventbrite.com
Join bell hooks and Salamishah Tillet, Associate Professor at the University of Pennsylvania and co-founder of A Long Walk Home, Inc., in a conversation addressing the welfare of black girls and their continued devaluation. This public dialogue will be livestreamed; follow the event at new.livestream.com/TheNewSchool.
Are You Still a Slave?: Liberating the Black Female Body
a public dialogue between bell hooks + Marci Blackman + Shola Lynch + Janet Mock
Tuesday, May 6
4:00pm
The Auditorium at 66 West 12th Street, New York NY 10011
Open to the public; admission free. Seating is first-come, first-served.
Join bell hooks and other leading voices in black feminism and LGBTQ - author Marci Blackman (Tradition), film director Shola Lynch (Free Angela and All Political Prisoners), and author and activist Janet Mock (Redefining Realness) in conversation about liberating the black female body.


How Do We Define Feminist Liberation? Listening To Black Female Voices
a public dialogue between bell hooks + Lisa Fischer + Kim Sykes
Wednesday, May 7
4:00pm
Tishman Auditorium, 63 Fifth Avenue, New York NY 10003
Open to the public; admission free. Seating is first-come, first-served.
Join bell hooks in conversation with R&B singer Lisa Fischer (20 Feet From Stardom) and actress Kim Sykes (Pariah) about celebrating black female power.
About bell hooks
 When Gloria Jean Watkins published her first book, And There We Wept, in 1978, she released it under the name "bell hooks" for two reasons. The first was to honor her maternal grandmother, Bell Blair Hooks, whom she has described as being "known for her snappy and bold tongue." Secondly, and more broadly, the name and its lower-case written form were intended to de-emphasize the author as person and instead focus the reader's attention on the subject of her writing. hooks' writing, which includes dozens of books and articles published across five decades, has dealt with numerous topics and encompasses several genres, including cultural and political analyses and critiques, personal memoirs, poetry collections, and children's books. One prominent theme in her work has been education. She has called for an approach to learning that nurtures "radical critical consciousness." "To educate as the practice of freedom is a way of teaching that anyone can learn," she wrote in 1994's Teaching to Transgress. "The academy is not paradise. But learning is a place where paradise can be created. The classroom with all its limitations remains a location of possibility."
Eugene Lang College The New School for Liberal Arts is a seminar-style liberal arts college located in New York City that was established in 1985. Remaining faithful to its founding philosophy, Eugene Lang College grew out of a highly progressive freshman-year program developed at The New School in 1973. Lang offers intensive liberal arts study as well as a faculty committed to teaching undergraduates in an interdisciplinary context. Areas of study include religious studies, urban studies, social inquiry, interdisciplinary science, culture and media, literary studies, the arts, philosophy, psychology, economics, and environmental studies. For more information, visit www.newschool.edu/lang.