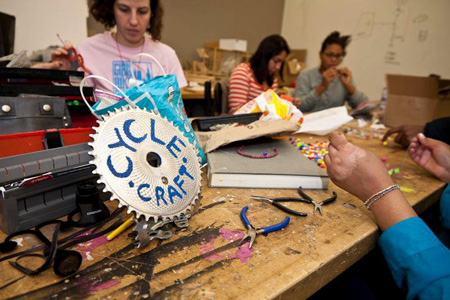 The 2014 Youth Bike Summit takes place at The New School on February 14 - 16
FULL EVENT SCHEDULE: http://youthbikesummit.org/youth-bike-summit-2014/program/
Cycling will be a major part of America's transportation future. It is already one of the fastest-growing segments: cycling volumes in New York City rose nearly 60% from 2008 – 2012. Issues critical to cyclists and advocacy around cycling in general are some of today's most critical transportation issues.
In this environment, Parsons The New School for Design and Recycle-A-Bicycle (RAB) believe gatherings like the 2014 Youth Bike Summit, happening on campus at The New School in February, are critically important. The Summit, now in its fourth year, is the only meeting of its kind in the country specifically for young transportation activists. The summit draws hundreds of attendees from around the world, working and studying in different disciplines, coming from diverse backgrounds, who are all encouraged to learn, network, and explore how bicycling can be a catalyst for positive social change. The three-day conference teaches a range of practical political, organizational, and career skills to its attendees, including: issues related to gender and biking, health issues surrounding cycling, how to organize a meaningful bike lobby in your city; how to turn interest in bikes into a career; and a DIY makers space where bike parts are upcycled into garments and cycling accessories. The conference is organized by Jane Pirone, Assistant Professor of Communications Design in the School of Art, Media and Technology at Parsons The New School for Design and Pasqualina Azzarello, Director of Youth Bike.
The Youth Bike Summit was inspired by a visit to the League of American Bicyclists' National Bike Summit by two young people affiliated with RAB. Traveling to Washington DC for the first time, the 17-year-old participants explored the nation's capital by bike, attended the conference, and lobbied elected officials. As they debriefed on the bus ride home, they discussed the importance of engaging youth in the national dialogue of cycling education and advocacy. By the next year, they had helped organize the first-ever iteration of the Youth Bike Summit.
By creating a space where ideas from bicyclists of all ages can be heard, the conference seeks to create a more inclusive national dialogue that addresses the issues, rights, and concerns of all bicyclists. Learn more about the Youth Bike Summit in this video by Streetfilms.
Parsons The New School for Design is one of the leading institutions for art and design education in the world. Based in New York but active around the world, the school offers undergraduate and graduate programs in the full spectrum of art and design disciplines. Critical thinking and collaboration are at the heart of a Parsons education. Parsons graduates are leaders in their respective fields, with a shared commitment to creatively and critically addressing the complexities of life in the 21st century. For more information, please visit www.newschool.edu/parsons.
# # #