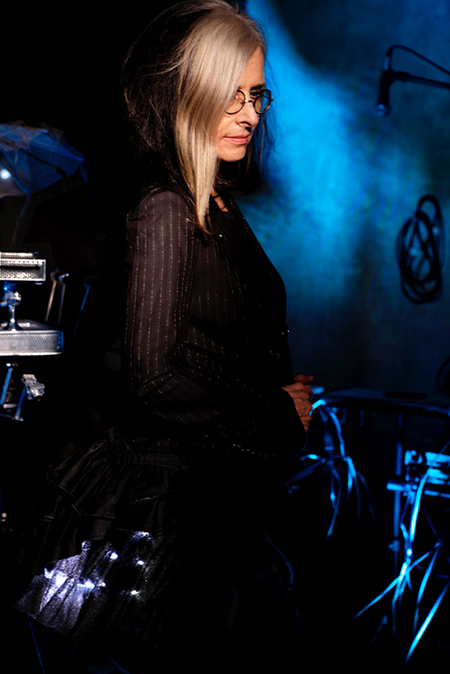 Photo courtesy of Toni Dove
NEW YORK, Sept. 8, 2014- Groundbreaking interactive filmmaker Toni Dove will share her creative insights and cinema expertise with students, faculty and the public as the 2014 Dorothy H. Hirshon Artist-in-Residence at the School of Media Studies at The New School.

As Artist-in-Residence, Dove will present a retrospective of her work and preview her current project in development during a public event on Thursday, September 11, 2014 at 7:00 p.m. in the Auditorium at 66 West 12th Street, Alvin Johnson/J.M. Kaplan Hall. A presentation will be followed by a reception with the artist. The event is free, but reservations are recommended by visiting the website. Watch Dove's presentation live on The New School's Live Stream page.
Dove will follow up her initial appearance with a second public event during the spring semester, as well as two workshops for graduate students in Media Studies in both the fall and spring semesters.
"We are honored to have such an immensely gifted artist join us here at the School of Media Studies," Anne Balsamo, dean of the School of Media Studies at The New School, said of Dove. "Her experience and expertise, which place her at the leading edge of her industry, will add so much to the school's already rich and dynamic learning environment."
Since the early 1990s, Dove has produced unique and highly imaginative embodied hybrids of film, installation art and experimental theater. In her work, Dove explores motion sensing and robotics in live mix cinema events in which performers and participants dynamically interact with unfolding narratives.
Dove's latest project, Lucid Possession, is a live cinema performance mixed and animated in real-time using cutting-edge motion-sensing technologies to perform complex layers of media. It presents a contemporary ghost story, or a poetic musing on noise management, and self-perception and fame across virtual and real social spaces.