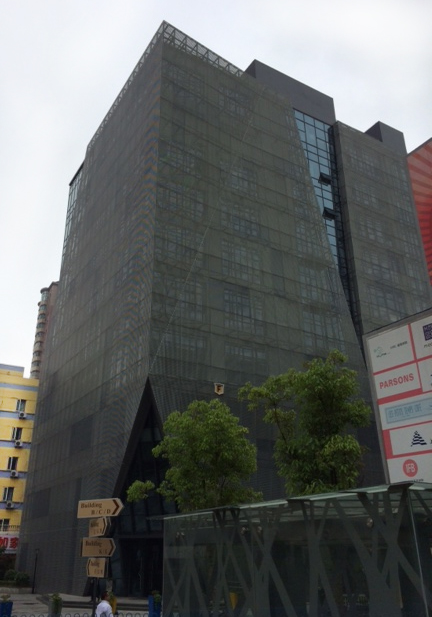 Parsons Shanghai's home, the Shanghai International Fashion Education Center
Hyper-Active Exhibition: June 18 to September 30
Parsons Shanghai
Shanghai International Fashion Education Center
Building F, 10th Floor
No. 652 Changshou Road Shanghai 200060
June 18, 2014 (Shanghai) - The New School today officially opens Parsons Shanghai, a center for all New School programs in China and East Asia. Located in the Shanghai International Fashion Education Center, the state-of-the-art facility will host a wide variety of New School activities, including workshops, seminars and scholarly symposia; summer study abroad programs; programming for prospective student; exhibitions of student and alumni work; and a range activities for alumni based in the region.
"A century ago, The New School's founders were among the first to recognize that contemporary higher education must have a global perspective. This is even more clear in the 21st Century, where political, economic and cultural discourses take place on a global scale," said New School president David E. Van Zandt, present at today's opening. "Parsons Shanghai represents a further commitment to these values – and provides our students, faculty, alumni and broader community with a crucial opportunity to promote new ideas and innovative design across nations and cultures."
The opening of Parsons Shanghai represents the further expansion of The New School's global network of learning hubs in the world's major cities. Earlier this year, The New School partnered with the Indian School of Design and Innovation (ISDI) to create Parsons Mumbai, which brings Parsons' renowned design curriculum to India's economic center. In 2013, The New School established of Parsons Paris, a state-of-the-art learning facility in the heart of Paris. Learn more about The New School's global network at www.newschool.edu/parsons/global-learning.
In celebration of the launch, Parsons Shanghai hosts Hyper-Active (June 18 to September 30), a public exhibition by Parsons photography alumi from the US, China, and around the world, featuring work that reaches across multiple generations and multiple working methodologies. The exhibition examines varying notions of hyper-reality as it currently exists in post-digital contemporary photographic practice. From the hyper-fantastical to the hyper-clarity of the mundane, these images provide an insight into the way our vision has shifted in the last decade.