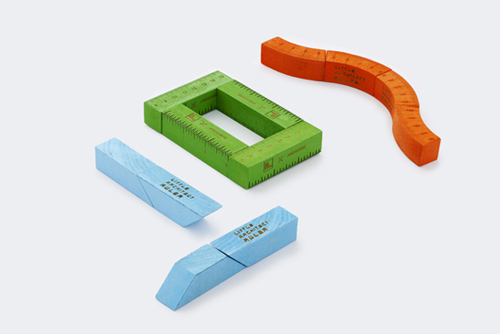 Little Architect's Toolset, by Carlos Ng, won the first Parsons+Areaware Design competition photo by Martin Seck
NEW YORK, May 16, 2014 – Parsons The New School for Design and Areaware, the Brooklyn-based producer of everyday objects, announced the winner of their first-ever collaborative design competition today at Wanted Design, the annual design show. The contest's paramenters will simples: students were tasked to design objects with a sub-$30 price point that would fit in with Areaware's existing line, and designate a charity to benefit from its sale.
Carlos Ng's set of modular, magnetic architect's tools, named Little Architect's Toolset, was named the winner. The candy-colored wooden protractors and rulers will now be put into production by Areaware, and be available for purchase through their site. Ng will also receive a $1,000 advance on his royalties. A portion of eventual sales will go to Architecture for Humanity, a non-governmental organization that focuses on rebuilding areas which are affected from natural disasters or dilapidated building structures.
"The Little Architect Toolset was inspired by young architects who have a dream to one day design and build the world's most amazing building," wrote Ng in the product's description. "Each of these tools comes apart into puzzle-like pieces, and are interchangeable to create brand new tools."

In second place was Whan Choi's Night Guardian Light, a wooden nightlight with a set of interchangeable leather "masks" that cover the light. There was a tie for third place: both Sam Falco's bottle openers in the shape of laser-cut steel miniature axes, Bottleaxe, and Akita Sen's playful wooden animal-shaped clothespins, Critter Clips, were honored.
"I'm so impressed with the quality of work these students did such a short time," said the class' principal instructor, Parsons professor Daniel Michalik. "Having a really clear mission from a great partner like Areaware really set them loose, and allowed them to devise simple, creative solutions."
EDITOR'S NOTE: ADDITIONAL LITTLE ARCHITECT'S TOOLSET PHOTOS AVAILABLE BY CLICKING HERE
Areaware is a Williamsburg, Brooklyn based producer of everyday objects that are functional and unusual. Our goal is to create thoughtful products that inspire an emotional response. We like to think we have a good sense of humor and that our objects are poetic. We wish to create a forum for young and local talent and together become a strong voice for American design. We believe that appreciation for beauty is central to what it means to be alive and want to embody this principle in even the simplest things. www.areaware.com

Parsons The New School for Design is one of the leading institutions for art and design education in the world. Based in New York but active around the world, the school offers undergraduate and graduate programs in the full spectrum of art and design disciplines. Critical thinking and collaboration are at the heart of a Parsons education. Parsons graduates are leaders in their respective fields, with a shared commitment to creatively and critically addressing the complexities of life in the 21st century. For more information, please visit www.newschool.edu/parsons.
# # #