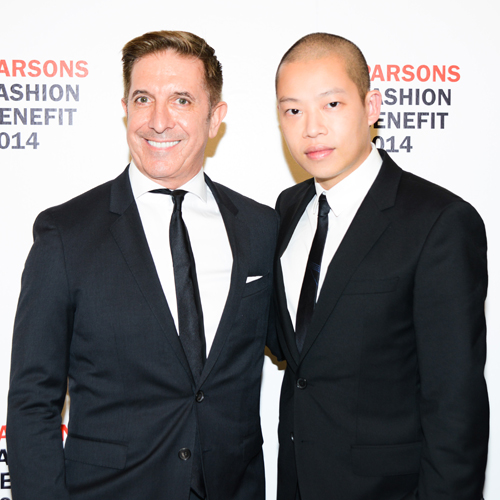 HUGO BOSS Chairman and CEO of Americas, Mark Brashear, and Jason Wu, honorees at the 2014 Parsons Fashion Benefit; Photo by Carly Erickson/BFAnyc.com
NEW YORK, May 22, 2014— Last night, Parsons The New School for Design honored designer and former Parsons student Jason Wu and global fashion house HUGO BOSS at the annual Parsons Fashion Benefit, held for the first time in The New School's state-of-the-art University Center, located at the heart of the school's Greenwich Village campus. Wu received his award from Deborah Needleman, editor in chief of T: The New York Times Style Magazine while Gerd von Podewils; Senior Vice President Global Communication HUGO BOSS, accepted the award on behalf of HUGO BOSS from Nina Garcia, Creative Director of Marie Claire and judge on Project Runway.
At the event, Parsons Executive Dean Joel Towers announced that the 66th annual benefit had raised nearly $1.2 million for scholarships at Parsons, a global leader in art and design education with programs that span the disciplines. Simon Collins, dean of the School of Fashion at Parsons, joined honorees Wu and von Podewils, to announce the Designers of the Year, an honor received previously by alumni like Marc Jacobs in his graduating year. This year's recipients were Womenswear Designer of the Year Victoria Hayes; Menswear Designer of the Year XIMON LEE; and Childrenswear Designer of the Year Ashley Yoon Chang.
The Benefit was also the stage for a pair of major Parsons announcements. Speaking on behalf of BOSS, von Podewils announced a major gift from HUGO BOSS to Parsons, in the amount of $250,000, to be used for Parsons scholarships. In designating this gift to Parsons, BOSS sends a message to young people about the importance of interdisciplinary, forward-thinking design education of the kind offered at Parsons. More information on this scholarship is available here. Earlier in the evening, Parsons Executive Dean Joel Towers announced a major partnership between Parsons and Ford Motor Company, the Ford + Parsons Design Lab. The details of this will be released in the coming weeks.

Wu and HUGO BOSS were recognized for their significant contributions to the field. Past honorees include fashion and design leaders Donna Karan, Reed Krakoff, Francisco Costa, Diane von Furstenberg, Jack McCollough and Lazaro Hernandez of Proenza Schouler, and Marc Jacobs.

"HUGO BOSS is a leader among international fashion companies, and their bold move into womenswear under Jason Wu is already making headlines," said Parsons Executive Dean Joel Towers. "Jason's journey from designing toys to Parsons to his own label to Art Director of Hugo Boss are a testament to his singular talent and dedication."

The BOSS core brand epitomizes authentic, understated luxury. The men's collection offers modern, refined business- and eveningwear along with sophisticated casual looks. The women's collection of the BOSS core brand stands for feminine styles with a strong focus on fine fabrics and sophisticated details. The rich array of modern business wear, exclusive leisurewear and glamorous evening apparel fuses fashionable silhouettes with excellent design and timeless elegance. HUGO BOSS also offers HUGO, a progressive brand that stands for unconventional design, BOSS Orange, an urban casualwear collection, and BOSS Green, premium sportswear that transcends the boundary between fashionable sports apparel and performance golfwear.

Jason Wu launched his collection in 2007 and created a distinctively feminine esthetic. Through merging classic American sportswear with an uptown chic attitude he created a supremely womanly and unapologetically glamorous sensibility. His designs have been worn by many influential women, including Julianne Moore, Kerry Washington, Diane Kruger, and Reese Witherspoon. Perhaps his most famous fan, however, is First Lady Michele Obama, who wore his designs on the cover of Vogue, and to both the Inaugural Balls in 2009 and 2013. In 2008, Wu was nominated for the CFDA/Vogue Fashion Fund Award and in 2010 he won the Swarovski Award for Womenswear at the CFDA Fashion Awards. Jason Wu has emerged as one of leading global talents based in NYC and his collection is sold in over 150 doors around the world. In June, 2013, Wu was named Artistic Director of BOSS Womenswear.

"I am incredibly honored to be recognized at the 2014 Parsons Fashion Benefit and to help raise scholarships for future generation of designers," said Jason Wu. "I learned so much at Parsons and continue to use many of the skills throughout my career."

Sponsors of the Parsons Fashion Benefit include J Crew, The Kay Unger Family Foundation, The Sheila C. Johnson Foundation, Fashion GPS, Samsung, LVMH, Macy's, Milk Studios, Saks Fifth Avenue, Kering, the Fancy, The Edit Desk, Shades of Grey, Style.com, Esprit, Stylesight, Factory PR, WGSN, and Allen Edmods. Makeup for the runway show was by NARS Cosmetics; hair by Cameron Rains, Cutler/Redken Lead Hair Stylist; and nails by Ajah, Zoya Lead Manicurist Artist.

Parsons The New School for Design is a global leader in design education, with programs that span the disciplines of design and the fine arts. With the launch of its fashion design program in 1906, Parsons is credited with the rise of Seventh Avenue, the epicenter of American fashion. Parsons offers a Bachelor of Fine Arts degree in Fashion Design, Associate degrees in Fashion Design and Fashion Marketing, and a Master of Fine Arts Program in Fashion Design and Society initiated through the support of Parsons alumna Donna Karan. Parsons has educated generations of leading American fashion designers, including Tom Ford, Marc Jacobs, Donna Karan, Isaac Mizrahi, Tracy Reese, Narciso Rodriguez, Anna Sui, Prabal Gurung, Derek Lam, Proenza Schouler, Vena Cava, Alexander Wang, and Jason Wu. For more information, visit www.newschool.edu/parsons.

Founded in 1919, The New School was born out of principles of academic freedom, tolerance, and experimentation. Committed to social engagement, The New School today remains in the vanguard of innovation in higher education, with more than 10,000 undergraduate and graduate students challenging the status quo in design and the social sciences, liberal arts, management, the arts, and media. The New School welcomes thousands of adult learners annually for continuing education courses and calendar of lectures, screenings, readings, and concerts. Through its online learning portals, research institutes, and international partnerships, The New School maintains a global presence. Learn more at www.newschool.edu.

HUGO BOSS is one of the leading international fashion and lifestyle groups that offer a wide range of products in menswear, womenswear, kidswear, homewear, eyewear, watches and fragrances. The menswear and womenswear collections of BOSS provide a versatile fashion range with a rich array of elegant "modern classics" in business, leisure and formalwear. BOSS Orange offers casual collections for men and women who enjoy dressing in style. BOSS Green addresses active fashion-oriented men with a golf and sportswear collection of the finest quality. HUGO delivers architectural looks for men and women with an avant-garde design esthetic. Further information on HUGO BOSS can be found on our website at www.hugoboss.com.
# # #
EDITOR'S NOTE: For runway and event images, please contact Chris Chafin in the New School Communications Office or click here to download. Event Images are also accessible on the website of Billy Farrell Agency.