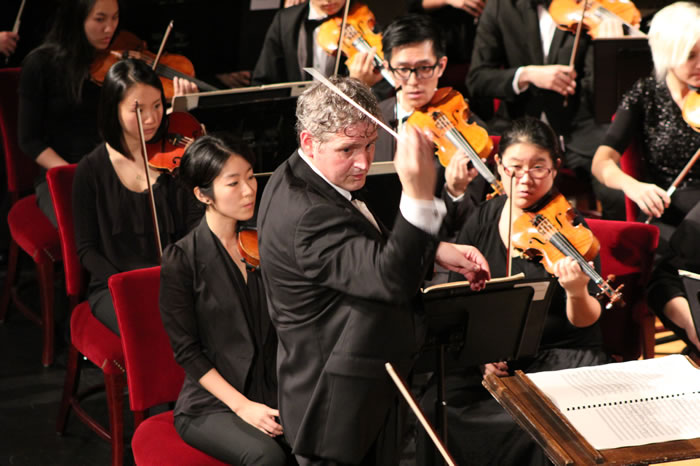 David Hayes conducts the Mannes Orchestra (Photo: Eli Mann, 2014)
NEW YORK, February 4, 2014- Mannes College The New School for Music presents its spring semester public programming featuring classical orchestral works and opera, as well as boundary-pushing contemporary music that highlight the school's focus on educating the next generation of versatile classical artists.
For a full listing of spring semester concerts, please visit The Mannes Events Calendar.
The Mannes Orchestra, led by conductor David Hayes, will offer classical and contemporary music throughout the semester. The orchestra will perform three concerts: a Feburary 20 program of Philip Glass, Mannes graduate and Pulitzer Prizer winner Shulamit Ran, and Richard Strauss (Alice Tully Hall, Lincoln Center); a March 28 program of Shostakovich, Bartók, and Rachmaninov (Alice Tully Hall, Lincoln Center); and an April 17 program of Grondahl, Brahms, and Mannes student composers (Mannes Concert Hall, 150 W. 85th Street).
MACE (Mannes American Composers Ensembles), which performs the music of living American composers, will offer two concerts this semester directed by acclaimed composer and Mannes faculty member Lowell Liebermann. On March 21 at 8:00 p.m., MACE will perform the East Coast premieres of work by Derek Bermel and Mannes 2013/14 Composer-in-Residence Uri Caine. The second concert will be held on May 2, at 8:00 p.m., and will include world-premiere concert version of Awakenings by Tobias Picker, and the US premiere of Orpheus on Sappho's Shore by Luna Pearl Woolf. Both MACE concerts will be held in Mannes Concert Hall at 150 W. 85th Street.
The season will feature the New York premiere of Il Postino by Daniel Catán in two fully staged performances on May 9 and 10 by the Mannes Opera. Since 1998, the Mannes Opera has performed under artistic director Joseph Colaneri, who served as a member of the Metropolitan Opera's conducting roster for 15 years, and was recently appointed artistic director of West Australian Opera in Perth. Mannes Opera is accompanied by the Mannes Orchestra. This production will be designed in collaboration with Parsons The New School for Design and will be staged at The Kaye Playhouse, Hunter College.
For a full listing of spring semester concerts, please visit The Mannes Events Calendar.

About Mannes College The New School for Music
Mannes College The New School for Music develops the next generation of classical musician/citizens by combining the music conservatory traditions with the cutting-edge advantage of being part of The New School, the nation's foremost progressive university. Founded in 1916, the Mannes formula for quality education has capitalized on its world-class faculty, location in the heart of the global arts capital, small class size, and a living tradition of rigor and depth that develops strong technique and great artistry. The Mannes ethos forms the basis of a vibrant community, whether you are a degree or diploma student in the College or Extension divisions, or a young person studying in Mannes Prep. In this second decade of the 21st century, when demands on artists are greater and more complex than ever, Mannes is committed to providing a wide range of exciting learning and knowledge building in partnership with its sister divisions of The New School, including one of the world's great design schools, Parsons The New School for Design; the liberal arts at Eugene Lang College; public policy, business, and civic engagement in The New School for Public Engagement; and cross disciplinary arts learning at The New School for Jazz and Contemporary Music and The New School for Drama. For more information on Mannes and The New School visit www.newschool.edu/mannes.