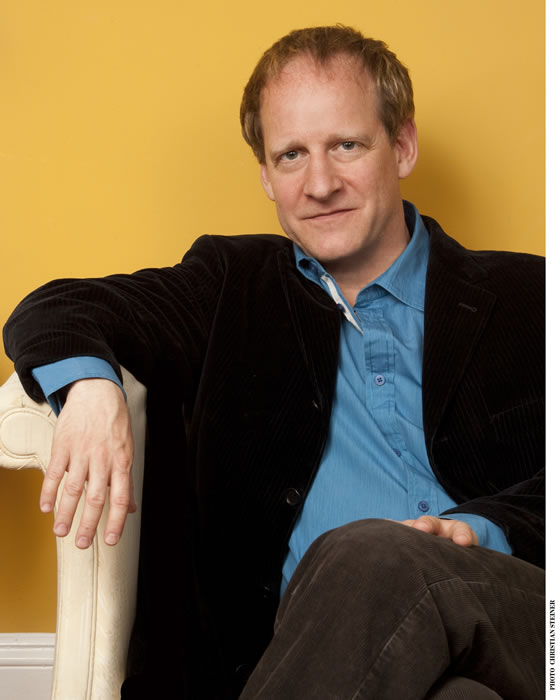 MACE Founder and Director Lowell Liebermann

On Friday, March 21, 2014, MACE (The Mannes American Composers Ensemble) will present the third concert of its season, conducted by founder and director Lowell Liebermann, featuring East-coast premieres works by Uri Caine and Derek Bermel, as well as Caine's signature re-interpretations of Bach's Goldberg Variations with members of Caine's band playing alongside MACE.


The concert will take place at the Mannes Concert Hall, Mannes College the New School for Music at 150 West 85th Street, 2nd Floor. Click here to download past and future MACE programs.


The program will begin with the East-Coast premiere of Derek Bermel's Canzonas Americanas for large chamber ensemble (2010) commissioned by the Los Angeles Philharmonic Association and fulfilling a request from Gustavo Dudamel to "consider the interconnectedness of North and South American musical traditions." The fourth movement of this work will feature Mannes mezzo-soprano Yiselle Blum as soloist.

The first half of the concert will conclude with the East-Coast premiere of Mannes Composer-in-Residence Uri Caine's exuberant 3 Mosaics for Chamber Ensemble and Piano (commissioned by the Los Angeles Chamber Orchestra) featuring Caine as soloist in a virtuosic and demanding solo part that is mostly improvised.

Following intermission, Uri Caine will return as pianist with Derek Bermel as clarinetist and guest soloists including Joyce Hammann on violin, Mark Helias on bass and Jim Black on drums, joining members of MACE in selections from Caine's multi-stylistic cross-genre re-interpretations of Bach's Goldberg Variations.


Admission to this event is free, and no tickets are required. Seating will be on a first-come, first-served basis. The approximately 90-minute concert will be with a short intermission. For further information, call 212.580.0210 or visit events.newschool.edu.

MACE (Mannes American Composers Ensemble)
Friday, March 21, 2014 at 8:00 pm
Mannes Concert Hall
Lowell Liebermann, conductor

Derek Bermel – Canzonas Americanas (2010) East-Coast Premiere
i. el dude
ii. silvioudades (ecos e lembranças)
iii. montuno blue
iv. itaparica

Yiselle Blum, mezzo-soprano (in 4th movement)

Uri Caine – 3 Mosaics (2007) East-Coast premiere
Mosaic 1 – Allegro
Mosaic 2 – Misterioso
Mosaic 3 – With energy

Uri Caine, piano solo

Intermission

J S Bach/Uri Caine – Goldberg Variations (in honor of Bach's Birthday)

Selections to be announced

Guest soloists:
Uri Caine, piano
Derek Bermel, clarinet
Joyce Hammann, violin
Mark Helias, bass
Jim Black, drums
Gospel singer TBA


About the Featured Performers and Composers

Uri Caine was born in Philadelphia and began studying piano with Bernard Peiffer. He played in bands led by Philly Joe Jones, Hank Mobley, Jonhnny Coles, Mickey Roker, Odean Pope, Jymmie Merritt, Bootsie Barnes and Grover Washington. He attended the University of Pennsylvania and studied music composition with George Rochberg and George Crumb. Caine has recorded 22 cds as a leader. He has made cds featuring his jazz trio, his Bedrock Trio and his ensemble performing arrangements of Mahler, Wagner, Beethoven, Bach and Schumann. Recently Caine has received commissions from the Vienna Volksoper, The Seattle Chamber Players, Relache, The Beaux Arts Trio, the Basel Chamber Orchestra, Concerto Koln and the American Composers Orchestra. Caine was Director of the Venice Biennale for Music in Spetember 2003. He has performed his version of the Diabelli Variations with orchestras including the Cleveland Orchestra, the Moscow Chamber Orchestra, the CBC Orchestra in Canada and the Swedish Chamber Orchestra. From 2006-2009 he was composer in residence for the Los Angeles Chamber Orchestra and premiered his Concerto for Two Pianos and Chamber Orchestra with Jeffrey Kahane in May 2006. In 2009 he was nominated for a Grammy Award for The Othello Syndrome. During the past several years, Caine has worked in groups led by Don Byron, Dave Douglas, John Zorn, Terry Gibbs and Buddy DeFranco, Clark Terry, Rashid Ali, Arto Lidsay, Sam Rivers and Barry Altschul, the Woody Herman Band, Annie Ross, the Enja Band, Global Theory and the Master Musicians of Jajouka. He has received grants from the Pennsylvania Council on the Arts, the National Endowment for the Arts and the Pew Foundation. In December, 2010 he was awarded a grant by the USA Artist Fellowships. He has performed at many jazz festivals including The North Sea Jazz Festival, Montreal Jazz Festival, Monterey Jazz Festival, as well as classical festivals including The Salzburg Festival, Munich Opera, Holland Festival, Israel Festival, IRCAM, and Great Performers at Lincoln Center. He lives in New York City with his wife, Jan.


Described by the Toronto Star as an "eclectic with wide open ears" , Grammy-nominated composer and clarinetist Derek Bermel has been widely hailed for his creativity, theatricality, and virtuosity. Bermel's works draw from a rich variety of musical genres, including classical, jazz, pop, rock, blues, folk, and gospel. Hands-on experience with music of cultures around the world has become part of the fabric and force of his compositional language.

Bermel has worked with a diverse array of musicians including Wynton Marsalis, Midori, John Adams, Paquito D'Rivera, Philip Glass, James Galway, Gustavo Dudamel, Luciana Souza, Yasiin Bey (Mos Def), and Stephen Sondheim. In recent seasons Bermel performed as clarinet soloist alongside Marsalis in his own Migration Series, a work commissioned by the Lincoln Center Jazz Orchestra and ACO. He also appeared as soloist with the Los Angeles Philharmonic in Adams' Gnarly Buttons, and in his own concerto Voices at the Beijing Modern Music Festival. The Philharmonia Orchestra in also produced an all-Bermel concert as part of its Music of Today series at Queen Elizabeth Hall in London. Other highlights of recent seasons include Mar de Setembro with the Los Angeles Chamber Orchestra, the Pittsburgh Symphony's premiere of The Good Life for chorus, soloists, and orchestra, Golden Motors, a music-theatre collaboration with librettist/lyricist Wendy S. Walters, and return engagements at Carnegie Hall for the premiere of A shout, a whisper, and a trace, a Koussevitzky Commission for ACO conducted by Dennis Russell Davies, and as soloist in both the Copland Concerto and the world premiere of Fang Man's clarinet concerto, conducted by George Manahan. His recent orchestral CD on BMOP/Sound was nominated for a 2010 Grammy, and a new CD of his large ensemble works is due to be released in November 2012 by Alarm Will Sound on Cantaloupe Records.

Currently serving as Artist-in-Residence at the Institute for Advanced Study and Creative Adviser to the American Composers Orchestra at Carnegie Hall, Bermel has received commissions from the Pittsburgh, National, Boston, Saint Louis, New Jersey, Albany, and Pacific Symphonies, Los Angeles and Westchester Philharmonics, the New York Youth Symphony, Chamber Music Society of Lincoln Center, WNYC Radio, eighth blackbird, the Guarneri String Quartet, Music from China, De Ereprijs (Netherlands), Jazz Xchange (U.K.), Figura (Denmark), violinist Midori, electric guitarist Wiek Hijmans, cellist Fred Sherry, and pianists Christopher Taylor and Andy Russo, among others. His many awards include the Alpert Award in the Arts, the Rome Prize, Guggenheim and Fulbright Fellowships, and the Trailblazer Award from the American Music Center, as well as the Academy Award from the American Academy of Arts and Letters, the University of Michigan, commissions from the Koussevitzky and Fromm Foundations, and residencies at Yaddo, Tanglewood, Aspen, Banff, Bellagio, Copland House, Sacatar, and Civitella Ranieri.

Bermel has collaborated with artists in a wide variety of genres, including playwright Will Eno, filmmaker Kevin Jerome Everson, installation artist Shimon Attie, landscape architect Andy Cao, choreographer Sheron Wray, performance artist Kim Jones, composer/sound designer David Reid, poets Wendy S. Walters, Mark Halliday and Naomi Shihab Nye, and Albert Bermel. As an educator, he founded the groundbreaking Making Score program for young composers at the New York Youth Symphony, and regularly leads masterclasses at universities, conservatories, and concert venues worldwide.

Bermel holds B.A. and D.M.A. degrees from Yale University and the University of Michigan. He studied composition with William Albright, Louis Andriessen, William Bolcom, Henri Dutilleux, André Hajdu, and Michael Tenzer, and clarinet with Ben Armato and Keith Wilson. He also studied ethnomusicology and orchestration in Jerusalem with André Hajdu, later traveling to Bulgaria to study Thracian folk style with Nikola Iliev, to Brazil to learn caxixi with Julio Góes, and to Ghana to study Lobi xylophone with Ngmen Baaru. His music is published by Peermusic (North/South America & Asia) and Faber Music (Europe & Australia).

Composer, conductor and pianist Lowell Liebermann joined the faculty of Mannes in 2012 and a year later was appointed Head of the Composition Department. He is one of the most widely performed American composers, with over 120 works in his catalogue which can be heard on over 80 different recordings. Certain of his works (such as the Sonata for flute and piano and Gargoyles for piano) have achieved standard repertoire status for their instruments, frequently appearing not only on recital programs throughout the world, but also on audition lists for competitions and conservatories. Among highlights of this season are the NY premiere of his song cycle Four Seasons to poems by Edna St. Vincent Millay with mezzo-soprano Sasha Cooke, clarinetist David Shifrin and the Chamber Music Society of Lincoln Center; the World Premiere of his Barcarolles for a Sinking City, a Venice-inspired work commissioned by the New Jersey Symphony; and a new production of his first opera The Picture of Dorian Gray at this summer's Aspen Music Festival.