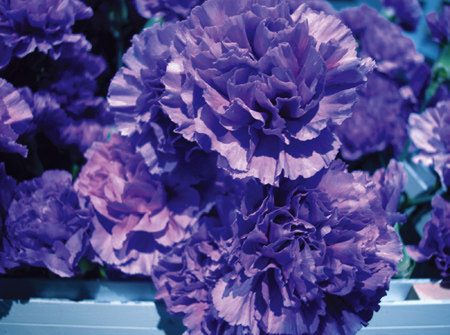 Common Flowers/Flower Commons, Kunstverein Dortmund, BCL, 2009, part of Intimate Science at The Sheila C. Johnson Design Center at Parsons.
February 6 – April 15, 2014
Opening reception: Thursday, February 6, 6:30 - 8:30 p.m.
Curator's talk before the reception at 5:30 p.m. in the gallery
Sheila C. Johnson Design Center
Anna-Maria and Stephen Kellen Gallery
Sheila C. Johnson Design Center,
Parsons The New School for Design
www.newschool.edu/sjdc
January 27 – The world's first commercially available genetically modified flower is a shocking, artificial shade of purple. Considered a decorative object, the carnation (named Moondust), was sold around the world as a cut flower without the regulations or labeling required of GM foods. BCL, an artist collective, uses DIY biotech methods to bring the flowers back to life, and plant them in the wild, creating an open-source population of a flower completely new to nature. This project, called Common Flowers/Flower Commons, is part of Intimate Science, the winter/spring exhibition at The Sheila C. Johnson Design Center (SJDC) at Parsons The New School for Design.
Curated by Andrea Grover and organized by theMiller Gallery at Carnegie Mellon University, Pittsburgh, Intimate Science features contemporary artists conducting projects in scientific or technological domains. The artists are engaged in non-disciplinary inquiry; they aren't allied to the customs of any single field, and therefore have license to reach beyond conventions. Their process hinges on up-close observation, experiential learning, and inventing new ways for the public to participate in the process. And through their engagement with "intimate science," a more knowledgeable public might well be able to influence what research is supported and adopted by the larger culture, and the walls of science can become more transparent.
"Today, artists working in science and technology have far greater agency than their predecessors of 50 years ago," says curator Andrea Grover. "They can work independently with ambitious biological experiments, materials research and micro-manufacturing— and not at a naive or removed distance."
Networked communication and open source culture have made possible new forms of access and authority in domains formerly restricted to specialists. Intimate Science features six artists and collectives working at the intersections of art, science and technology. The exhibition features: BCL (Tokyo), Center for PostNatural History (Pittsburgh), Markus Kayser (London), Allison Kudla (Seattle), Machine Project (Los Angeles), and Philip Ross (San Francisco).
"With Intimate Science, the SJDC continues its commitment to artistic chutzpah," says Radhika Subramaniam, director and chief curator of the Sheila C. Johnson Design Center. "The intrepid, inventive and unconventional ways in which artists approach the questions traditionally ceded to science and technology not only open up new lines of inquiry but also new ways of posing the problems".
In addition to the curator's tour, other public programs include a Mind Reading for Left and Right Brain workshop with Machine Project (April 5) and an artist talk by Philip Ross on Mycotecture: Architecture Grown out of Mushrooms (April 8).
# # #
About the Sheila C. Johnson Design Center
The Sheila C. Johnson Design Center is an award-winning campus center for Parsons The New School for Design that combines learning and public spaces with exhibition galleries to provide an important new downtown destination for art and design programming. The mission of the Center is to generate an active dialogue on the role of innovative art and design in responding to the contemporary world. Its programming encourages an interdisciplinary examination of possibility and process, linking the university to local and global debates. The center is named in honor of its primary benefactor, New School Trustee and Parsons Board of Governor's Member Sheila C. Johnson. The design by Rice+Lipka Architects is the recipient of numerous awards, including an Honor Award from the American Institute of Architects. For more information please visit www.newschool.edu/sjdc.
Parsons The New School for Design is one of the leading institutions for art and design education in the world. Based in New York but active around the world, the school offers undergraduate and graduate programs in the full spectrum of art and design disciplines. Critical thinking and collaboration are at the heart of a Parsons education. Parsons graduates are leaders in their respective fields, with a shared commitment to creatively and critically addressing the complexities of life in the 21st century. For more information, please visit www.newschool.edu/parsons.
# # #
SJDC General Information
Location: 2 West 13th Street, New York
Gallery hours: Open daily 12:00 p.m. - 6:00 p.m. and Thursday evenings until 8:00 p.m.; closed all major holidays and holiday eves
Admission: Free
Info: Please contact 212.229.8919 or visit www.newschool.edu/sjdc