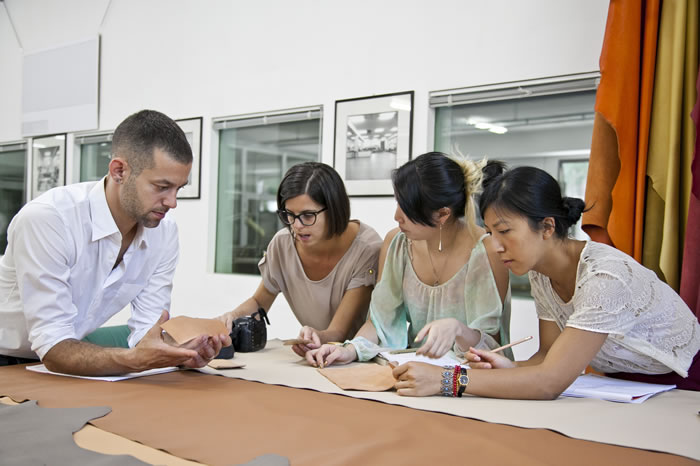 Photo Credit: Alessio D' Aniello, Poltrona Frau
NEW YORK (Oct. 2, 2014) – Parsons The New School for Design announces a new Master of Fine Arts in Industrial Design, to launch in fall 2015. Housed in Parsons' celebrated School of Constructed Environments, the two-year, 60-credit degree will offer students the opportunity to design not only products and services but the industries which shape them as well.
"As designers must now navigate increasingly complex constraints such as sustainability, consumer needs, and workers' rights, industrial design has become a rich point of intersection in the global economy," said Joel Towers, Executive Dean of Parsons. "Parsons' MFA in Industrial Design is a vital response to this evolution, expanding the notion of product design to include a greater understanding of global supply and value chains and toward balancing economic and social inequities."
Designed for professionals who want to further develop their industrial design practice, or who are new to the field, the MFA in Industrial Design will give students the opportunity to employ advanced making skills and critical inquiry to design products at various scales of production, from low- to high-volume, and from desktop manufacturing to systems involving global supply chains. Study will culminate in a specialized thesis project that develops innovative or provocative designs carrying forward or challenging industrial design theory and practice.
Students will have access to The New School's state-of-the-art resources, including a Making Center (currently in development), in which students can prototype and test designs, and the 16-story University Center, which opened last year on the corner of 14th Street and Fifth Avenue. Drawing on The New School's interdisciplinary learning approaches, MFA Industrial Design will take advantage of the resources of other New School programs, such as anthropology, economics, environmental policy and sustainability management, global political economy and finance, sociology, and urban policy.
MFA Industrial Design was developed by Rama Chorpash, the director of Parsons' highly regarded BFA Product Design program and an associate professor with an acclaimed design practice. Chorpash, who in 2013 was named by Elle Décor one of the 10 most influential people in design, will lead the new MFA program. Parsons, which created the first recognized academic programs in fashion design, graphic design, interior design, and transdisciplinary design, carries forward its tradition of innovation with this pioneering New York City–based degree program.
"The MFA Industrial Design program encourages students to embrace making and thinking as a single, integrated activity, empowering them to create a better future through design," said Rama Chorpash. "As we enter a 'Third Industrial Revolution,' the MFA Industrial Design will provide students with an opportunity to reimagine industries by shaping new ways for designers and consumers to collaborate in the creation of better products, and to shorten the supply chain between design, production, and consumption."
The program's academic experience extends beyond The New School's campus. Students will have the opportunity for fieldwork in various locations, both in New York City and abroad, including the university's Paris campus, as well as manufacturing centers like Shenzhen, China. Throughout their course of study and after graduation, students will benefit from Parsons' deep connection with New York City's exceptional industrial design community. The city is home to many of the leading global firms in the industrial design field, including Smart Design, IDEO, Frog Design, ECCO Design, Antenna Design, Birsel + Seck, and Pensa, as well as pioneering entrepreneurial product-related entities such as Quirky, Kickstarter, Etsy, and Makerbot Industries.
MFA Industrial Design graduates will join a vastly expanding field with room for professional and financial growth. According to the recently released National Endowment for the Arts report Valuing the Art of Industrial Design: A Profile of the Sector and Its Importance to Manufacturing, Technology, and Innovation, industrial designers can expect their field to grow steadily. The report identifies projected leaps in numerous areas, including professional services, architectural building systems, and humanitarian design. Industrial design was also shown to have a higher median income than most design fields, including interior and graphic design.
The program's launch will be celebrated at a discussion to be held on October 30 at Parsons' School of Constructed Environments. The event, entitled Product City: Shortening the Supply Chain, will feature panelists Matthew Burnett and Tanya Menendez (founders of Makers Row) with Stephanie Schacht (head of responsible growth Etsy). Rama Chorpash and Victoria Hattam (Professor of Politics at The New School for Social Research) will moderate.
Parsons The New School for Design is one of the leading institutions for art and design education in the world. Based in New York but active around the world, the school offers undergraduate and graduate programs in the full spectrum of art and design disciplines. Critical thinking and collaboration are at the heart of a Parsons education. Parsons graduates are leaders in their fields, with a shared commitment to creatively and critically addressing the complexities of life in the 21st century. For more information, visit www.newschool.edu/parsons.