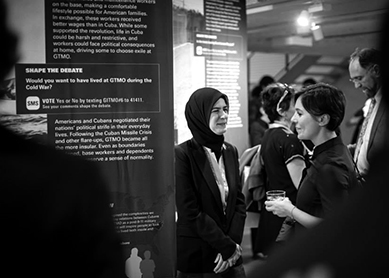 A public event and discussion of Guantánamo Public Memory Project, a pilot program for Global Dialogues. (Courtesy Pinar Gedikozer Photography)
NEW YORK, Sept. 18, 2014- Today, the Institute of Museum and Library Services (IMLS) awarded $484,769 to The New School's new Humanities Action Lab, an interdisciplinary hub that brings together a range of university-wide, national, and global partnerships to foster public engagement on urgent social issues.

These funds will help launch the lab's Global Dialogues project, an ongoing national program that connects universities with community-based organizations to develop programs and exhibitions on issues of pressing public interest.

Marking a major step forward in the creation of shared public scholarship, Global Dialogues brings together more than a dozen museum studies and public history programs in universities across the country. Over the course of three years, stakeholders will collaboratively design, implement and evaluate a nationally traveling exhibit, web platform and public dialogue strategies. The first exhibition, exploring the past and present of incarceration, will begin its run in spring 2016.
"We are thrilled to be leading this national collaboration from The New School," says Laura Auricchio, Dean of the School of Undergraduate Studies at The New School for Public Engagement. "The New School is uniquely positioned to pioneer project-based and socially engaged approaches to humanities education that prepare students with skills needed to succeed in the 21st century."
Global Dialogues' director Liz Sevcenko, former director of the International Coalition of Sites of Conscience, recently organized participating universities to create the Guantánamo Public Memory Project, a collaboratively created traveling exhibit process that served as the pilot for the program.
IMLS support speaks to the significance of this undertaking. "Our grants are highly competitive," says IMLS Director Susan H. Hildreth. "The Institute of Museum and Library Services enlists hundreds of library and museum professionals throughout the United States to review grant applications and make recommendations on projects most worthy of funding. "Receiving a grant from IMLS is a significant achievement, and we congratulate The New School for being among the 2014 IMLS museum grantees."

Universities invited to partner on Global Dialogues include Arizona State University; Brown University; Duke University; Indiana University - Purdue University Indianapolis; Northeastern University; Rutgers University New Brunswick and Newark; University of California, Riverside; University of Iowa; University of Massachusetts Amherst; University of Miami, University of Minnesota; the University of West Florida; and Vanderbilt University.
The Humanities Action Lab is co-directed by Claire Potter, Professor of History at The New School for Public Engagement, author of the Tenured Radical blog and editor, with Renee Romano, of Doing Recent History: On Privacy, Copyright, Video Games, Institutional Review Boards, Activist Scholarship, and History That Talks Back (University of Georgia Press, 2012); and Sevcenko.
IMLS museum grants support a wide variety of projects that create learning experiences, strengthen community communities, care for collections and provide broad public access. A complete list of museum recipients is available on the IMLS website at http://www.imls.gov/2014MuseumList. For information about IMLS museum grant programs, see: http://www.imls.gov/applicants/available_grants.aspx.
About the Institute of Museum and Library Services
The Institute of Museum and Library Services is the primary source of federal support for the nation's123,000 libraries and 35,000 museums. Our mission is to inspire libraries and museums to advance innovation, lifelong learning, and cultural and civic engagement. Our grant making, policy development, and research help libraries and museums deliver valuable services that make it possible for communities and individuals to thrive. To learn more, visit www.imls.gov and follow us on Facebook and Twitter.