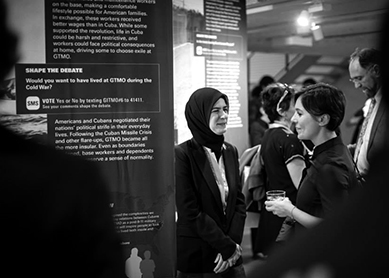 A public event and discussion of Guantánamo Public Memory Project, a pilot program for Global Dialogues. (Courtesy Pinar Gedikozer Photography)
NEW YORK, Dec. 15, 2014-On January 5, scholars, activists, and community leaders from across the country will come together to launch The New School's Humanities Action Lab (HAL) and its lead project, Global Dialogues on Incarceration, a collaboration among 13 universities. Over the course of two days, the working group will plan the country's first internationally traveling exhibit on the history and current crisis of mass incarceration, to be created by students and affected communities in at least 13 cities.

HAL Global Dialogues brings together universities, community organizations, and public spaces around the world to create internationally traveling public projects on the past, present, and future of pressing social issues. Its first initiative, Global Dialogues on Incarceration, confronts how the United States became the world's leader in incarceration, imprisoning more of its people than any other country, and more than at any other time in its history. Questions to be explored by the traveling exhibit include, "What happened?" "How have we grappled with crime and punishment at different times and places?" and "How can that inform where to go from here?"

"Our goal with this program is to create a new space for the public to interact with the most pressing social issues of our time," said Mary Watson, Executive Dean for The New School for Public Engagement. We work at the intersection of the humanities and design—both across the university and among our esteemed partners around the world. This approach engages audiences in new ways that catalyze action."

The launch kicks off on Monday, January 5 at 6:00 pm with a public discussion and reception featuring Glenn E. Martin, founder of Just Leadership USA and national leader on criminal justice reform, Marc Mauer, Director of the Sentencing Project, and Tyrone Werts, co-founder of Inside/Out Prison Exchange Program Think Tank. Martin, Mauer and Werts will share their experiences as witnesses to the explosion in mass incarceration over the last 40 years and explore possible solutions for change. Attendees will have an opportunity to participate in the dialogue through an interactive art piece that solicits their perspectives on key questions in the Global Dialogues on Incarceration.

Held at the Theresa Lang Community and Student Center at 55 West 13 Street, the event is free, but reservations are recommended by going to The New School's event calendar. Day two of the launch, entitled "THATCamp, features an open meeting between humanists and technologists in conjunction with the annual American Historical Conference. To participate, please register here.
Over the course of the next year, students and people diversely affected by the incarceration crisis will engage in an international dialogue on our prison system through a shared curriculum, digital dialogue platform, and collaborative curating process. Using archival research and personal testimonies, each local student-community team will create one piece of the national project focusing on the evolution of incarceration in their state. The exhibit will open at The New School in the spring of 2016 and travel to each of the 12 other communities that created it, with public events and actions at each stop.
Universities partnering with The New School include Arizona State University in Tempe, AZ; Brown University in Providence, RI; DePaul University in Chicago, IL; Duke University in Charlottesville, VA; Indiana University-Purdue University in Indianapolis, IN; Northeastern University in Boston, MA; Parsons Paris in France; Rutgers University in New Brunswick, NJ; University of Connecticut in Storrs, CT; University of Massachusetts in Amherst, MA; University of Miami; and Vanderbilt University in Nashville, TN. HAL Global Dialogues is supported by all participating universities, the Institute for Museum and Library Services; and the Open Society Foundations. Within The New School it is supported by: the History Department at Eugene Lang College and New School for Social Research; The New School for Public Engagement; Parsons The New School for Design; and the Zolberg Center for Migration and Mobility.