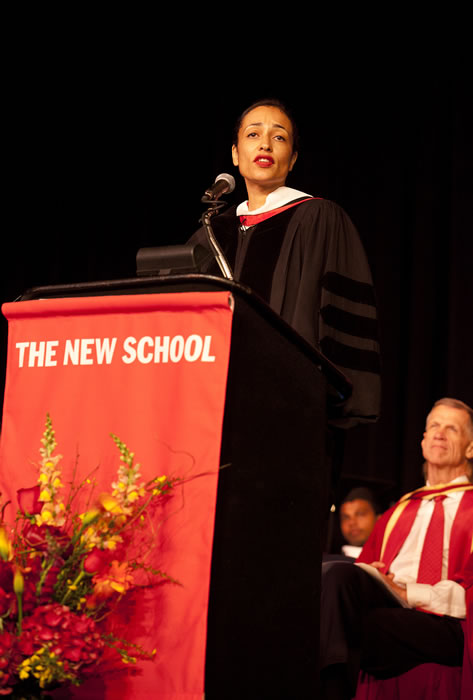 Zadie Smith addresses New School graduates as President David E. Van Zandt looks on (Kasia Broussalian/The New School)
NEW YORK, May 23, 2014 - Internationally renowned novelist Zadie Smith, author of White Teeth, The Autograph Man, On Beauty, and NW, called on graduates at The New School's 78th Commencement ceremony to reach beyond themselves to seek meaning in connections with others. New School president David E. Van Zandt presided over the event, which took place at Manhattan's Madison Square Garden.
In a speech entitled "Many Hands," Smith urged graduates to find purpose and pleasure in collectively approaching the global challenges that will define their generation. "I speak in favor of recognizing our place within the many, not only as a slogan - much less as a personal sacrifice - but rather as a potential source of joy in your life," she said. "The climate. The economy. The sick relationship between the individual prestige of the First World and the anonimity of the Third. These are things only many hands can fix, working together."

EDITOR'S NOTE: FIND FULL VIDEO HERE: www.newschool.edu/commencement

"The New School is a place where people come to challenge the status quo, to embrace obstacles, and to start revolutions," said student speaker Prithika Madhavan, who graduated with a BBA in Strategic Design and Management. "For me, that revolution is being the first female to graduate in my family. I urge each of you to take a moment and celebrate the revolution that each of you have brought forth."
The Class of 2014 is made up of approximately 2,950 associates, bachelors, masters and doctoral graduates in art and design, the social sciences, the humanities, management, and the performing arts. This is the first graduating class for many new academic programs including the Bachelor of Arts in Contemporary Music, and masters degrees in Design Studies, Theories of Urban Practice, Strategic Design and Management, and Design and Urban Ecologies.

Praising the graduates as "part of an eclectic group of thinkers and doers who choose to be different and to make a difference," President Van Zandt reiterated The New School's commitment to "unlock the creativity that each and every student brought to us so that they can go out courageously and solve the world's problems."
In January 2014, The New School opened its new University Center, a 16-story mixed-use campus focal point on the corner of 14th Street and 5th Avenue. The largest capital project in the university's nine-decade history, the University Center is a striking embodiment of The New School's commitment to creatively driven, interdisciplinary education. The New School expanded its global presence with the September 2013 opening of Parsons Paris to approximately 100 students in disciplines including Art, Media and Technology; Fashion; and Strategic Design and Management.

Honorary degrees were bestowed on distinguished individuals whose commitment to innovation in art, music and design, social engagement, and open discourse embody The New School's core values. The four honorees were Neil Blumenthal, co-CEO and founder of Warby Parker; filmmaker and activist Abigail Disney; bluegrass musician Chris Thile; and Robert Wong (Parsons, '90), founder and chief creative officer of Google Creative Lab.
Distinguished Teaching Awards were presented to New School fo Drama faculty member Alba Quezeda, Assistant Professor of Fashion Richard Rosenfeld, and Associate Professor of Design and Management Carlos Teixeira. In addition, The New School presented a new teaching award, the Award for Outstanding Achievements in Diversity and Social Justice Teaching to Assistant Professor of Management Eric Kohl-Arenas.