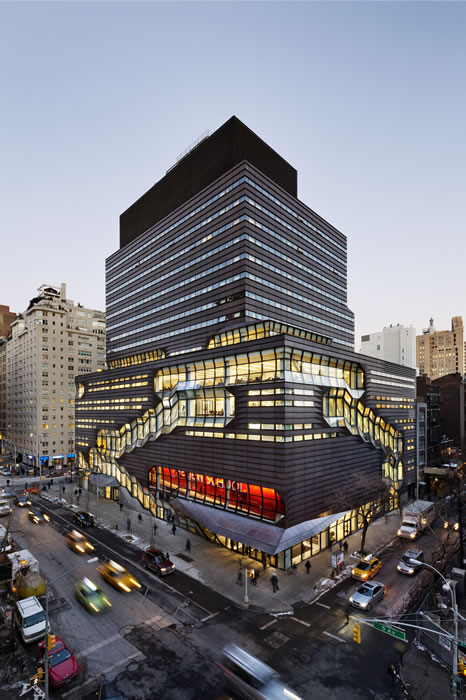 The New School's University Center
NEW YORK (June 2, 2014) – The New School announced today that it is leasing 9,000 square feet of retail space on the ground level of its new University Center to CVS/pharmacy.
The retail space sits at 2 west 14th street, at the intersection of 14th Street and Fifth Avenue. The CVS location is projected to open in September 2014 and will operate 24 hours a day.
"CVS was chosen as a tenant because of the valuable services it provides, and because of its commitment to public health, sustainability, and community outreach - values it shares with The New School," said Sam Biederman, Director of Communications for The New School.
Earlier this year, CVS announced that it would stop selling tobacco products at all its locations by October 1, 2014, a policy in keeping with The New School's efforts to reduce smoking. CVS has committed to abide by The New School's sustainability practices by taking measures including using energy-efficient LED lighting, locally sourced construction materials, and enhanced recycling. In addition, the University Center CVS's prominent windows will display designs created by students from Parsons The New School for Design.
Officially opened in January 2014, The University Center is the dynamic new focal point of of The New School's Greenwich Village campus. The building adds 375,000 new square feet of space to campus, including an 800-seat auditorium, state-of-the-art classroom and studio space, and a 600-bed dormitory.
Founded in 1919, The New School was born out of principles of academic freedom, tolerance, and experimentation. Committed to social engagement, The New School today remains in the vanguard of innovation in higher education, with more than 10,000 undergraduate and graduate students challenging the status quo in design and the social sciences, liberal arts, management, the arts, and media. The New School welcomes thousands of adult learners annually for continuing education courses and calendar of lectures, screenings, readings, and concerts. Through its online learning portals, research institutes, and international partnerships, The New School maintains a global presence. Learn more at www.newschool.edu.