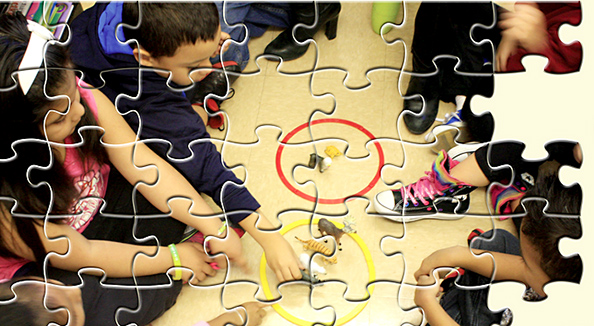 From "Big Dreams for New York City's Smallest Children"
NEW YORK, July 31, 2014— An ambitious initiative to improve subsidized early childhood education and expand licensed care of toddlers in low-income, working families has produced, at best, mixed results, a report released today by the Center for New York City Affairs at The New School finds.
"Big Dreams for New York City's Smallest Children" examines the city's $468 million EarlyLearnNYC program, which launched in the waning months of the Bloomberg Administration in 2012. Findings from the study since then warn that the de Blasio Administration's planned major expansion of full-day pre-kindergarten for 4-year-olds could inadvertently undermine learning for the city's youngest children.
In addition, nearly 10-percent fewer children in the 6-week-old to 4-year-old range are receiving city-subsidized care since the program's launch. Meanwhile, enrollment in city-contracted, home-based care for children younger than 3 has gone up by only about 5-percent under EarlyLearnNYC – a disappointing finding, given that increasing the number of babies and toddlers receiving such care has been a major city government priority.
Exacerbating these overall flagging enrollment numbers is an abrupt closure of many small neighborhood centers that had provided subsidized early childcare, much of which was caused by EarlyLearnNYC. Their number has shrunk by roughly 60-percent in the past two years. Such programs, many with decades-long track records, have struggled under the higher costs, raised standards, and administrative burdens imposed by the city. Click here to view the full report.
"EarlyLearnNYC created winners and losers," said Clara Hemphill, the acting director of the Center for New York City Affairs. "And to win, size matters. But should it? Gains through efficiencies of scale, for example, have to be weighed against the erosion of grassroots institutions in the neighborhoods kids and their families live in."
The report notes that many EarlyLearn providers--both large and small--are struggling financially. Program directors across the city say their funding is too low to make the city's vision of reform real. Many teachers have lost benefits and take-home pay, even as performance standards and expectations were raised. In fact, some program directors told the Center's researchers that an unexpected consequence of the de Blasio Administration's push to create universal full-day pre-kindergarten for 4-year-olds may be a mass exodus to better-paying teaching jobs by EarlyLearnNYC instructors.

In analyzing city data pertaining to childcare vouchers, authors of the report found that 48-percent of those earmarked for low-income families who don't receive public assistance benefits are used in just two Brooklyn neighborhoods – each home to needy but politically powerful Orthodox Jewish communities. Even outside of those neighborhoods, nearly 80-percent of the low-income vouchers used at formal daycares and schools are paid to Jewish religious organizations.
The Center for New York City Affairs is a leading applied policy research institute within the Milano School of International Affairs, Management and Urban Policy at The New School for Public Engagement. CNYCA's projects include the Schools Watch Initiative, Child Welfare Watch, Feet in Two Worlds, College Ready Communities, Public Policy Forums, Politics & Advocacy Training, and the respected independent public school-review site Insideschools.org.
For more information, contact: Abigail Kramer at 212-229-5400 x1598 or Kendra Hurley at 212-229-5400 x1501.
###