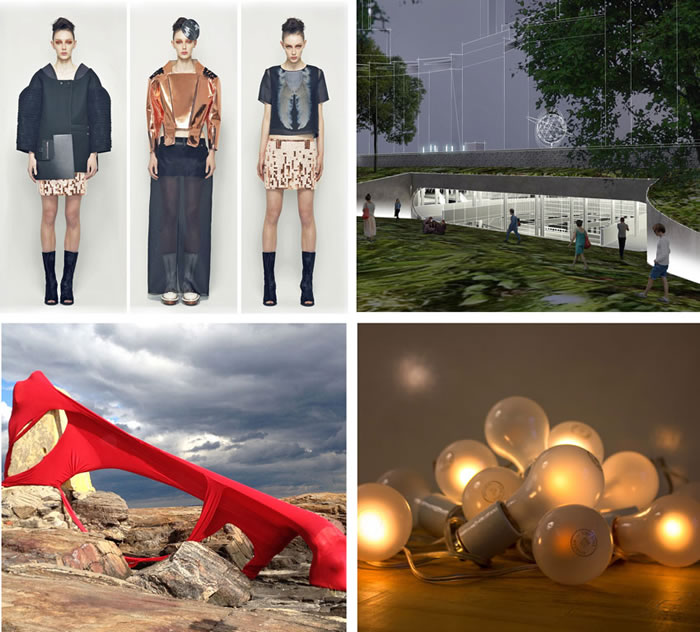 Clockwise from top left, featured work by Sophia Sung Suh, BFA Fashion Design; Rebecca Bost, MFA Lighting Design and Master of Architecture; Noa Dolberg, MFA Design and Technology; and Kaitlynn Redell and Sara Jimenez, MFA Fine Arts.
NEW YORK, July 17, 2013—Parsons The New School for Design presents its 2013 Thesis and Capstone Website, featuring select projects by graduating students from across the disciplines at Parsons.
The website provides an overview of the diversity of work taking place at Parsons, which was presented this spring during the Parsons Festival. The festival featured exhibitions, symposia, panel discussions, critiques and special projects that celebrated the next generation of artists and designers.

"During the festival, we opened our doors to the public to experience the breadth and depth of contemporary art and design practice, and to preview critically engaged and transformative work," said Parsons Executive Dean Joel Towers. "This annual event has become a highlight of our year."

The thesis site can be filtered by each of the academic programs at Parsons, as well as the five thematic schools in which these programs are housed. Among the highlights is the first crop of thesis projects from the new Parsons undergraduate program in Urban Design. To view work from this program and more, please visit www.newschool.edu/parsons/thesis.
Parsons The New School for Design is one of the leading institutions for art and design education in the world. Based in New York but active around the world, the school offers undergraduate and graduate programs in the full spectrum of design disciplines. Critical thinking and collaboration are at the heart of a Parsons education. Parsons graduates are leaders in their respective fields, with a shared commitment to creatively and critically addressing the complexities of life in the 21st century. For more information, please visit www.newschool.edu/parsons.
# # #