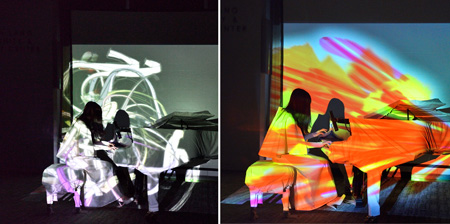 Visuano uses a Kinect box and other technology to translate music into digital projections. The accompanying garment was designed from sustainable, flexible and breathable materials and serves as a screen for the animations. c. Martin Seck
NEW YORK, May 6, 2013—To kick off its third annual Parsons Festival, last evening Parsons The New School for Design and its sister school, Mannes College The New School for Music, presented The Future of Orchestral Garments. The Baltimore Symphony Orchestra (BSO) and its Music Director Marin Alsop challenged students to envision the future of orchestral performance, and the resulting event brought together fashion, music and technology in new and innovative ways. Maestra Alsop and the BSO are in New York City this weekend to perform in Carnegie Hall's Spring for Music Festival.
"The BSO and The New School share a spirit of innovation," said Alsop. "It was great fun to unleash the students' and musicians' creativity to produce functional and fashionable performance attire—which is only 200 years overdue! I'm pleased to see that the same breathable fabrics that have benefitted athletes are finally being considered for use in concert dress. The way the orchestra looks and feels on stage is yet another element that helps us create a concert experience that is as inspiring as the music we perform."
Parsons faculty members, fashion designer Gabi Asfour of threeASFOUR and wearable technologist Sabine Seymour, led the yearlong collaboration. The fashions were designed by students in the Integrated Design Program at Parsons, which enables students chart their own course of study and approach fashion through a variety of alternative practices. Students created garments that brought together high-tech materials with vintage pieces, creating performance wear that is sustainable and responsive to the way musicians move and play.
Wearable technology, designed by students in the Design and Technology program at Parsons, is being incorporated into several of the looks. This technology will demonstrate how the performance itself can be enhanced by new means of visual expression, with the garments and performance space itself serving as a canvas for motion and sound-activated digital projections.
"The BSO collaboration is one of a number of projects with external partners that bring together students and faculty across The New School," said Joel Towers, executive dean of Parsons. "Not only are we committed to providing our students the type of real-world experience this project represents, but also to an interdisciplinary approach to design, which emphasizes collaboration with those in other fields."
In addition to meeting with BSO musicians during important benchmarks in the project, Parsons students engaged regularly with students from Mannes College, who provided knowledge and insight into the design process. At the event, Mannes students performed three selections— William Bolcom's The Serpent's Kiss for solo piano, When Music is Missing, Music Sings by Stuart Saunders Smith (a percussive work for found instruments); and Lowell Liebermann's Piano Quintet.
"This partnership with the BSO and our New School colleagues at Parsons epitomizes Mannes' progressive approach to classical music education," said Richard Kessler, dean of Mannes. "Hands-on engagement with cutting-edge technologies and leading professional artists is fundamental to preparing the next generation of great performers to succeed in music's rapidly evolving world."
The Future of Orchestral Garments can be viewed on the New School Livestream Channel. For more information on the Parsons Festival, which brings to the public exhibitions, performances, and other events that celebrate the creativity and innovative spirit of the next generation of artists and designers, visit www.newschool.edu/parsonsfestival.
The New School, home to Parsons The New School for Design and Mannes College The New School for Music, is a leading progressive university in New York City, founded in 1919 as a center of intellectual and artistic freedom. Today The New School is still in the vanguard of innovation and experimentation in higher education, with more than 10,000 undergraduate and graduate students in design and the social sciences, liberal arts, public policy, management, the arts, and media. For more information, visit www.newschool.edu.
The Baltimore Symphony Orchestra (BSO) is internationally recognized as having achieved a preeminent place among the world's most important orchestras. Acclaimed for its enduring pursuit of artistic excellence, the BSO has attracted a devoted national and international following while maintaining deep bonds throughout Maryland with innovative education and community outreach initiatives. The BSO made musical history in September 2007, when Maestra Marin Alsop led her inaugural concerts as the Orchestra's 12th music director, making her the first woman to head a major American orchestra. With her highly praised artistic vision, her dynamic musicianship and her commitment to accessibility in classical music, Maestra Alsop's leadership has ushered in a new era for the BSO and its audiences. For more information, visit www.BSOmusic.org.
# # #