Bloomingdale's to Host April 25 Shopping Event to Benefit Parsons Scholars Program
Featuring Tracy Reese, Narciso Rodriguez, Lela Rose, Kay Unger, Tim Gunn, and More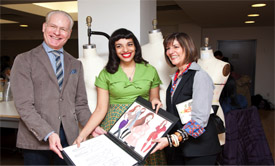 Tim Gunn, Kay Unger, and Parsons Scholars alumna Yelaine Rodriguez
b the next, an evening of design and shopping to benefit the next generation of designers supported through the Pre-College Scholars Program at Parsons The New School for Design, featuring Parsons alumni Narciso Rodriguez, Tracy Reese, Lela Rose, Alejandro Ingelmo, Mara Hoffman, Carmen Marc Valvo, Kay Unger and more mingling with members of the public, as well as Project Runway's Tim Gunn, who will sign copies of his latest book, Tim Gunn's Fashion Bible. The Parsons Scholars is a free, art and design college-prep program for motivated New York City public high school students from diverse backgrounds. Ten percent of each purchase of select Bloomingdale's items will be donated to the program during the event.
Who:

Tim Gunn
Mara Hoffman
Alejandro Ingelmo
Parke Lutter & Ronen Jehezkel,Parke & Ronen
Tracy Reese
Narciso Rodriguez
Lela Rose
Kay Unger

Carmen Marc Valvo
Edward Wilkerson of Lafayette 148
Bob Williams of Mitchell Gold + Bob Williams
Brihanna Blake, Parsons Scholars alumna
Genesis Peña, Parsons Scholars alumna
Elizabeth Peralta, Parsons Scholars alumna
Yelaine Rodriguez, Parsons Scholars alumna
Thi Wan, Parsons Scholars alumnus
Joel Towers, Executive Dean, Parsons
Background:

The Parsons Scholars Pre-College Program enrolls students from grades 10 through 12, who study all aspects of art and design from drawing, illustration, animation, digital photography and video, to architectural design, interior design, accessory design, fashion design, design and management, and more. Ninety-four percent of Scholars complete the program and ninety-five percent of these students enroll in college. The vast majority of Scholars are the first in their families to do so. For more information, please visit http://www.newschool.edu/parsons/scholars.

Parsons The New School for Design is one of the leading institutions for art and design education in the world. Based in New York but active around the world, the school offers undergraduate and graduate programs in the full spectrum of art and design disciplines. Critical thinking and collaboration are at the heart of a Parsons education. Parsons graduates are leaders in their respective fields, with a shared commitment to creatively and critically addressing the complexities of life in the 21st century. For more information, please visit www.newschool.edu/parsons.