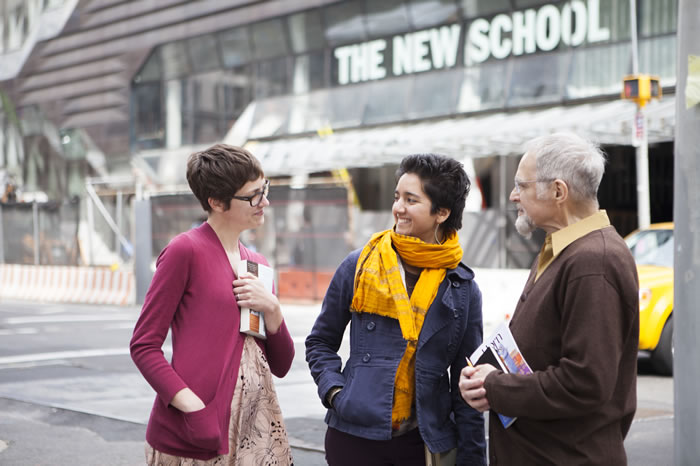 The New School earned top marks for its international student body and small class sizes (Photo: Jessica Miller)
New York, September 10, 2013 – For the seventh consecutive year, U.S. News and World Report has ranked The New School as the top university for international undergraduates. U.S. News also places The New School second in its rankings of universities with high proportions of small classes. In addition, The New School is ranked in the first tier of national universities for the fourth year running. The complete rankings are available in U.S. News and World Report's "Best Colleges of 2014" edition, which is released today.
Since its founding nearly a century ago, The New School has been known as an international center of learning, attracting students from across the globe with its design- and social research-driven approach to pressing contemporary issues. Now a major degree-granting university of more than 10,000 students, The New School will take a historic step in the coming year with the opening of the University Center, a state-of-the-art 16-story academic building in the heart of New York City.
"The New School's high rankings reflect our global vision and commitment to active, project-based learning," said New School president David E. Van Zandt. "The New School's core values of social engagement, creativity, innovation, and challenging the status quo prepare our global student body to lead in an evolving world economy."
According to 2012 enrollment data, more than 29 percent of New School undergraduates come from outside of the U.S. The university's 1,970 international undergraduates come from 90 countries and are enrolled in all of the university's Bachelor's degree programs, including those at Eugene Lang College, Mannes College The New School for Music, and Parsons The New School for Design. Eighty-seven percent of classes at The New School have fewer than 20 students.
About The New School
Founded in 1919, The New School was born out of principles of academic freedom, tolerance, and experimentation. Committed to social engagement, The New School today remains in the vanguard of innovation in higher education, with more than 10,000 undergraduate and graduate students challenging the status quo in design and the social sciences, liberal arts, management, the arts, and media. The New School welcomes thousands of adult learners annually for continuing education courses and calendar of lectures, screenings, readings, and concerts. Through its online learning portals, research institutes, and international partnerships, The New School maintains a global presence. Learn more at www.newschool.edu.
###