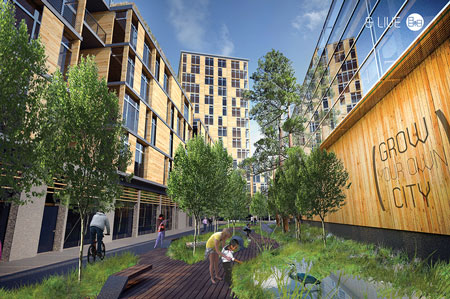 The University of Oregon's winning entry, "Grow Your Own City"
NEW YORK, August 13, 2013 —Today, the winning entrants were announced of a design competition exploring wood as an innovative building material.  Timber in the City: Urban Habitats, organized by the Association of Collegiate Schools of Architecture (ACSA), the Binational Softwood Lumber Council (BSLC), and Parsons The New School for Design, attracted more than 1,000 architectural students and young professionals to develop proposals for a mid-rise, mixed-use complex that addresses New York's urban housing needs. The winning entrants, with prizes totaling $30,000, were chosen by a panel of leading architects and professors based on the design's ability to integrate wood as the primary structural material while meeting the needs of the Brooklyn waterfront community.  
The competition focused on a site in the Brooklyn waterfront neighborhood of Red Hook, with a population of public housing residents and working artists and designers, and a number of new residential and commercial developments. With a focus on regenerating the urban manufacturing sector and addressing housing needs, entrants, working individually or in teams, were tasked with incorporating affordable housing units; a bike sharing and repair shop; as well as a vocational, manufacturing and distribution center for the innovative use of wood technology.
"Today, timber is being used in new, innovative ways to help address the economic and environmental challenges of the build environment," said Cees de Jager, executive director of BSLC. "This competition brought to life the way the design community is recognizing the benefits of wood – from reduced economic and environmental impact to enhanced aesthetic value and structural performance – to design buildings and communities of the future."
The projects will be on view at the Sheila C. Johnson Design Center at Parsons from October 24-31, and at the 2013 Greenbuild Conference in Philadelphia (November), the 2014 ACSA Annual Meeting in Miami (April) and the American Institute of Architects 2014 Convention in Chicago (June).
"The winning submissions for the Timber in the City competition embraced advances in timber and building technologies to address the economic and environmental considerations of the challenge in remarkable ways," said Andrew Bernheimer, director of the Master of Architecture program at Parsons. "By situating the competition in Brooklyn, our goal is to catalyze the design community and government agencies to better recognize the potential of larger-scale wood design and construction in cities."
Awards, totaling $30,000, were presented to teams of students and faculty and recent graduates for their unique celebrations of wood products.
First Place: "Grow Your Own City" – the University of Oregon's winning submission attracted the jurors with its use of cross-laminated timber (CLT) as a new building technology to create a cost-effective, environmentally friendly solution for the Red Hook community. The team addressed the community's need for livable and recreational areas that support a wide range of daily activities for inhabitants. Students: Benjamin Bye, Alex Kenton and Jason Rood; Faculty Sponsors: Judith Sheine, University of Oregon and Mikhail Gershfeld, Cal Poly Pomona, Civil Engineering Department.
Second Place: "Cultivating Timber" – the University of Texas at Austin also leveraged CLT as the primary building material for their design. In working to reduce greenhouse gasses and embodied energy accompanied with transporting materials, the team proposed to bring the manufacturing equipment to the site and develop the CLT panels locally. Overall, designing a community that demonstrated the use of timber in an urban environment and worked to provide residents with sustainable living options. Student: Christopher Gardner; Ulrich Dangel.
Additionally, two student teams were selected as honorable mentions, from the University of Washington: Students: Benjamin Ahearn, Kristin Karlsson and Carey Moran; Faculty Sponsors: Richard Mohler and Elizabeth Golden; and Virginia Tech: Student: Emily Hagen; Faculty Sponsor: Heinrich Schnoedt. Two recent graduates also were selected as honorable mentions: Timothy Olson, Massachusetts Institute of Technology, and Sam Pitnick, University of Southern California.
The winning projects were chosen by a panel of distinguished jury members in the architecture community, including: Mark Cruvellier, Cornell University; Michael Green, MGA | Michael Green Architecture, Vancouver; Abby Hamlin, Hamlin Venture; Alan Organschi, Yale University; Tricia Stuth, University of Tennesee, Knoxville; and Andrew Waugh, Waugh Thistleton Architects, London.
"We are exceptionally pleased with the turnout for the competition which is in its first year," said Norman Millar, ACSA President.  "Both the jury members and the involvement of more than 1,000 students and recent graduates created a very engaging dynamic for the future of timber construction. These young designers were challenged to examine the benefits that wood can offer for urban design projects."
The competition ran from August 2012 through May 22, 2013, and included 1,082 student and recent graduate participants. The design jury met in July to select the winning projects and honorable mentions. For full details on the competition and the winning submissions visit http://www.acsa-arch.org/timber.
Association of Collegiate Schools of Architecture
Founded in 1912 to advance the quality of architectural education, the Association of Collegiate Schools of Architecture (ACSA) represents all accredited programs and their faculty across the United States and Canada, as well as nonaccredited and international affiliate members around the world. ACSA, unique in its representative role for schools of architecture, provides a forum for ideas on the leading edge of architectural thought. Issues that will affect the architectural profession in the future are being examined today in ACSA member schools. The association maintains a variety of activities that influence, communicate, and record important issues. Such endeavors include scholarly meetings, workshops, publications, awards and competition programs, support for architectural research, policy development, and liaison with allied organizations. For more information, please visitwww.acsa-arch.org.
Bi-National Softwood Lumber Council
The Binational Softwood Lumber Council (BSLC), a nonprofit organization, was established in 2006 by the Canadian and U.S. governments. The BSLC champions the use of softwood lumber products as part of the shift to a more environmentally responsible and economically viable building sector. Sustainably harvested wood products from North America create jobs in rural communities, reduce costs and can help reduce the overall environmental footprint of a home or building. For more information, visitwww.softwoodlumber.org.
Parsons The New School for Design
Parsons The New School for Design is a global leader in design education, with programs that span the disciplines of design and the fine arts. Parsons prepares students to creatively and critically address the complex conditions of contemporary global society. Its curriculum is geared toward synthesizing rigorous craft with cutting-edge theory and research methods, and encourages collaborative and individual approaches that cut across a wide array of disciplines. The School of Constructed Environments at Parsons is the only integrated school of interior design, lighting design, product design and architecture in the country. For more information, please visitwww.newschool.edu/parsons/sce.
# # #