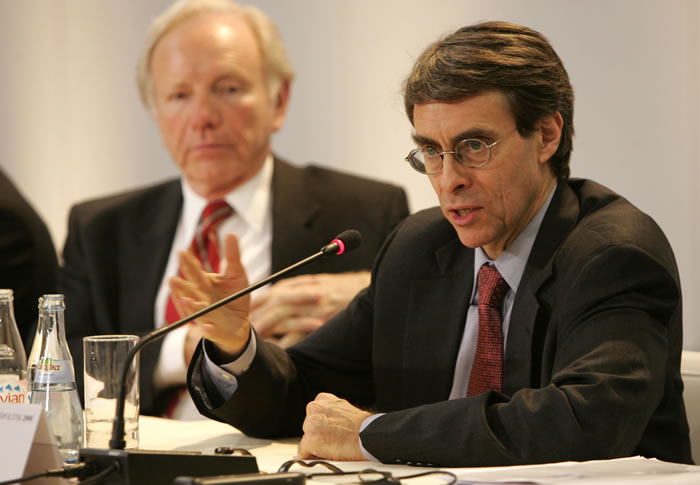 Human Rights Watch Executive Director Kenneth Roth will speak at The New School on Thursday, December 5.
NEW YORK - As debate on Edward Snowden's revelations of the NSA's surveillance practices rages, on December 5 the New School's Center for Public Scholarship presents its Fifth Public Voices Lecture: Surveillance in the U.S.
The event features a panel discussion moderated by Kenneth Roth, executive director of Human Rights Watch, and focuses on surveillance operations conducted by the U.S. government on American citizens. The panel also includes James Bamford, journalist and author on U.S. intelligence agencies and the NSA, Jameel Jaffer, the deputy legal director of Center for Democracy at the American Civil Liberties Union, and Rachel Levinson-Waldman, Counsel for the Liberty and National Security Program at the Brennan Center for Justice at NYU Law School. 
Public Voices is a lecture series that brings prominent scholars and experts to The New School to speak on the most pressing issues of the day. The event will be held at the Theresa Lang Community and Student Center, Arnhold Hall, 55 West 13th Street, and is free to attend. Please RSVP by emailing cps@newschool.edu.
The Center for Public Scholarship aims to bring the best scholarship and expertise to bear on current, pressing social issues in a way that makes the scholarship accessible to the public and simultaneously deepens understanding of what may be at stake and how to proceed. It seeks to become a catalyst for events that draw on the humanities, social sciences, design, and public policy and have the potential of accomplishing our mission, namely, enhancing the public's understanding of the significant issues of our time. The Center is dedicated to promoting academic freedom and freedom of inquiry, goals that are rooted in the earliest history and ideals of The New School.
Founded in 1919, The New School was born out of principles of academic freedom, tolerance, and experimentation. Committed to social engagement, The New School today remains in the vanguard of innovation in higher education, with more than 10,000 undergraduate and graduate students challenging the status quo in design and the social sciences, liberal arts, management, the arts, and media. The New School welcomes thousands of adult learners annually for continuing education courses and calendar of lectures, screenings, readings, and concerts. Through its online learning portals, research institutes, and international partnerships, The New School maintains a global presence. Learn more at www.newschool.edu.
###