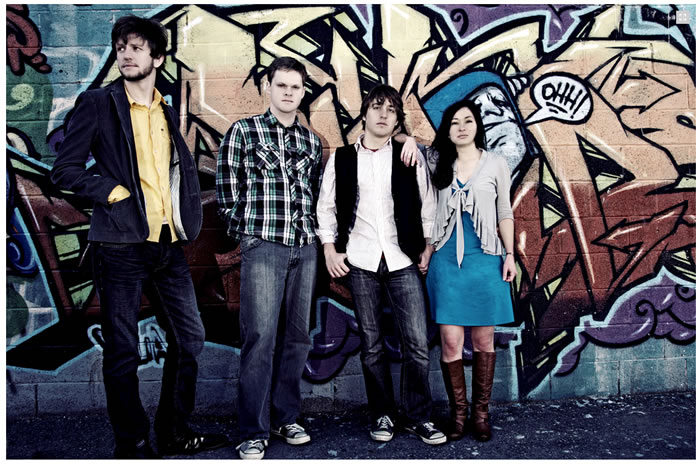 The Aeoluus String Quartet will play the 2013 Schneider Concert Series on October 20

NEW YORK - On Sunday, October 20 at 2:00 p.m., the Aeoulus String Quartet will open the 58th season of The Schneider Concerts, which includes seven Sunday afternoon chamber music concerts at The New School. Praised by Strad Magazine for its "high-octane" performance, the Aeoulus Quartet has been awarded prizes at nearly every major competition in the United States and has performed across the globe with showings "worthy of a major-league quartet" (Scott Cantrell, Dallas Morning News). The all-American quartet was awarded first prize at the 2009 Coleman International Chamber Ensemble Competition, a silver medal at the 2011 Fischoff International Chamber Music Competition, and a bronze medal at the 2010 International Chamber Music Ensemble Competition in New England. The 16th Annual Austin Critics' Table named the Aeolus Quartet their 2010-2011 "Best Ensemble." Michael Tree, a founding member of the Guarneri Quartet,will performing with the Aeoulus Quartet.

The concert will take place at Tishman Auditorium at The New School, located at 66 W. 12th Street. Single tickets are available at $17.50 each general admission, and $15 seniors. High school and college student rush tickets will be available at the door for $5. Visit http://www.newschool.edu/mannes/schneider-concerts/ for more information.

Hailed by The New York Times as "one of the best deals in town for lovers of classical music," for nearly six decades, The New School's Schneider Concerts series has presented outstanding young artists and ensembles at non-exclusionary ticket prices. The series stays contemporary by keeping in touch with the next generation of classical music leaders, while remaining connected to a remarkable history that includes the New York debuts of pianist Peter Serkin and the Guarneri, Cleveland, and Vermeer String Quartets and TASHI. Artists such as Yefim Bronfman, Richard Goode, Jaime Laredo, Yo Yo Ma, and Murray Perahia were introduced to New York audiences early in their careers. The series was founded at The New School in 1957 as New School Concerts by violinist and conductor Alexander Schneider, who led the series until his death in 1993, at which time the series was renamed The Schneider Concerts in his honor.

In addition to the Aeoulus Quartet concert on October 20, the Schneider Concerts at The New School will host six other recitals at Tishman Auditorium throughout the year. The complete schedule is listed below.

The New School's Schneider Concerts, 58th Season

Sunday, October 20, 2013, 2:00 p.m.
AEOLUS QUARTET with guest MICHAEL TREE, viola | visit website
Nicholas Tavani and Rachel Shapiro, violin
Gregory Luce and Michael Tree viola; Alan Richardson, cello

Ludwig van Beethoven String Quartet in B-flat Major, Op. 18, No. 6 (1801)
Christopher Theofanidis Ariel Ascending (1995)
Johannes Brahms Viola Quintet in G Major, Op. 111, No. 2 (1890)

Sunday, November 10, 2013, 2:00 p.m.
LYSANDER PIANO TRIO | visit website
Liza Stepanova, piano
Itamar Zorman, violin
Michael Katz, cello

Franz Joseph Haydn Piano Trio in E Major, Hob. XV:28 (1797)
Shulamit Ran Soliloquy (1997)
Dmitri Shostakovich Piano Trio No. 2 in E Minor, Op. 67 (1944)
Bedřich Smetana Piano Trio in G Minor, Op. 15 (1855)

Sunday, December 8, 2013, 2:00 p.m.
CALIDORE STRING QUARTET | visit website
Jeffrey Myers and Ryan Meehan, violin
Jeremy Berry, viola; Estelle Choi, cello

Osvaldo Golijov's Tenebrae
Franz Schubert String Quartet in D Minor, D. 810 "Death and the Maiden" (1824

Sunday, January 12, 2014, 2:00 p.m.
RUBENS STRING QUARTET | visit website
Sarah Kapustin and Tali Goldberg, violin
Roeland Jagers, viola; Joachim Eijlander, cello

Josquin Desprez/Joey Roukens "And David Sang" (2009 transcription of motet c. 1500)
Wolfgang Amadeus Mozart String Quartet in F Major, K. 590 (1790)
Johannes Brahms Quartet in B-flat Major, Op. 67 (1875)
Joey Roukens Visions at Sea (2011) – NY Premiere

Sunday, February 2, 2014, 2:00 p.m.
ATTACCA QUARTET | visit website
Amy Schroeder and Keiko Tokunaga, violin
Luke Flemming, viola; Andrew Yee, cello

Franz Joseph Haydn String Quartet in D Major, Op. 71, No. 2 (1793)
John Adams Selections from John's Book of Alleged Dances (1994)
John Adams Finale from String Quartet (2008)
Benjamin Britten Three Divertimenti for String Quartet (1933)
Fanny Mendelssohn Hensel String Quartet in E-flat Major (1834)

Sunday, March 16, 2014, 3:00 p.m.
ECCO - East Coast Chamber Orchestra | visit website

Arrangements for string orchestra
Wolfgang Amadeus Mozart Divertimento in B-flat, K. 137 (1772)
Erik Satie Gymnopedies (selections arranged by ECCO) (c.1888-1898)
David Ludwig Virtuosities – Five MicroConcertos for String Orchestra (2013)
Judd Greenstein Four on the Floor (2006)
Carlo Gesualdo Tristis est anima meo (c.1590-1610)
Maurice Ravel String Quartet in F Major (1903)


Sunday, April 6, 2014, 2:00 p.m.
CALMUS VOCAL ENSEMBLE | visit website
Anja Pöche, soprano; Sebastian Krause, countertenor
Tobias Pöche, tenor; Ludwig Böhme, baritone; Joe Roesler, bass

Johann Schein Madrigals from Diletti pastorali (1624)
Heinrich Schütz Selections from Italian Madrigals (1611)
Dan Dediu Perla, Op. 109 (2005)
Robert Schumann from Romances and Ballads, Op. 59, Op. 67, and Op.145
and other choral works

A seven-concert subscription is $82 and a five-concert subscription is $70. Single tickets are also available. Call (212) 229-5873 or visit http://www.newschool.edu/mannes/schneider-concerts/ for a detailed list of upcoming concerts, as well as more information on ticket pricing.

The 2013-14 Schneider Concerts season is supported, in part, with public funds from the New York City Department of Cultural Affairs. For high-resolution images of the artists and ensembles, please contact Rohana Elias-Reyes at (212) 229-5873 or eliasrer@newschool.edu.

Founded in 1919, The New School was born out of principles of academic freedom, tolerance, and experimentation. Committed to social engagement, The New School today remains in the vanguard of innovation in higher education, with more than 10,000 undergraduate and graduate students challenging the status quo in design and the social sciences, liberal arts, management, the arts, and media. The New School welcomes thousands of adult learners annually for continuing education courses and calendar of lectures, screenings, readings, and concerts. Through its online learning portals, research institutes, and international partnerships, The New School maintains a global presence. Learn more at www.newschool.edu.