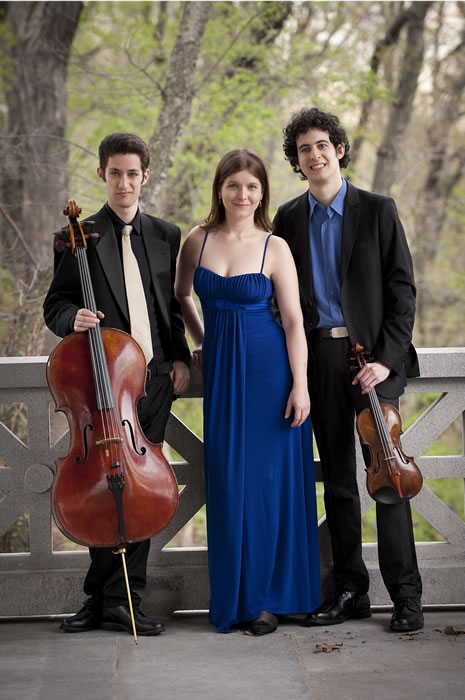 The Lysander Piano Trio (Photo: Richard Blinkoff)

NEW YORK, October 16 - The SCHNEIDER CONCERTS, Mannes College The New School for Music's chamber music series for emerging professional artists, continues the 2013-14 season with the LYSANDER PIANO TRIO. The performance will take place on Sunday, November 10, 2013 at 2p.m. in the Tishman Auditorium, located at 66 W. 12th Street in Greenwich Village. Call (212) 229-5873 or visit www.newschool.edu/concerts for tickets and information.

Sunday, November 10, 2013, 2:00 p.m.
LYSANDER PIANO TRIO | visit website
Liza Stepanova, piano
Itamar Zorman, violin
Michael Katz, cello

Franz Joseph Haydn Piano Trio in E Major, Hob. XV:28 (1797)
Shulamit Ran Soliloquy (1997)
Dmitri Shostakovich Piano Trio No. 2 in E Minor, Op. 67 (1944)
Bedřich Smetana Piano Trio in G Minor, Op. 15 (1855)
See and hear the Lysander Piano Trio
Program approximately 2 hours, including intermission

THE LYSANDER PIANO TRIO is a winner of the 2012 Concert Artists Guild Victor Elmaleh Competition, where it was further distinguished as the Chamber Music America Showcase Performance recipient. Jennifer Bilfield, artistic director of Stanford Live and a member of the jury for the Final Round of the CAG Competition, describes the ensemble as bringing an "informed, energized musical personality to its performances." These qualities have made the Trio an immediate standout at other competitions, and its prior awards include top honors at the 2010 Fischoff National Chamber Music Competition, the 2011 Coleman Chamber Ensemble Competition (Grand Prize) and the 2011 J. C. Arriaga Chamber Music Competition (First Prize).

Hailed in The New York Times as "one of the best deals in town for lovers of classical music," for nearly six decades, The New School's SCHNEIDER CONCERTS series has presented outstanding young artists and ensembles at non-exclusionary ticket prices. The series stays young by keeping in touch with the next generation of classical music leaders, while remaining connected to a remarkable history that includes the New York debuts of pianist Peter Serkin and the Guarneri, Cleveland, and Vermeer String Quartets and TASHI. Artists such as Yefim Bronfman, Richard Goode, Jaime Laredo, Yo Yo Ma, and Murray Perahia were introduced to New York audiences early in their careers. The series was founded at The New School in 1957 as New School Concerts by violinist and conductor Alexander Schneider, who led the series until his death in 1993, at which time the series was renamed The Schneider Concerts in his honor. Artistic leadership is now under the auspices of a committee of noted musicians: Pamela Frank, Jaime Laredo, Cho-Liang Lin, Arnold Steinhardt, and Michael Tree.

The 2013-14 Schneider Concerts season is supported, in part, with public funds from the New York City Department of Cultural Affairs.

Subscriptions and single tickets on sale now
$70 for a five-concert subscription
$17.50 single ticket general admission
$15.00 single ticket seniors 65+ and people with disabilities
$ 5.00 standby, students 30 and younger with school ID
For programming details and to purchase tickets, visit www.newschool.edu/concerts


For high resolution images, please contact Rohana Elias-Reyes at (212) 229-5873 or eliasrer@newschool.edu.