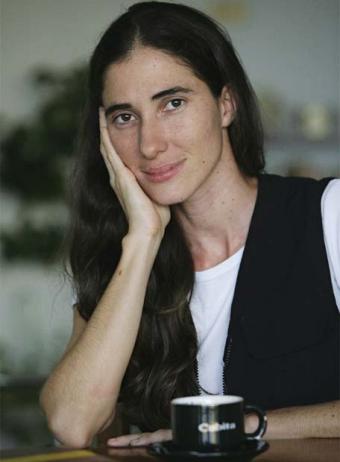 Cuban Blogger Yoani Sanchez
New York (March 11, 2013) - The Revolution Recodified, a March 16 and 17 conference at The New School about the impact of social media in Cuba, will bring prize-winning Cuban writer Yoani Sanchez to the United States for the first time. Prior to her arrival in New York, Sanchez, an internationally renowned critic of Cuba's political leadership, has for six years had her travel restricted by the Cuban government. Best known for her blog Generation Y (http://www.desdecuba.com/generationy/), Sanchez is the leading figure of an independent online cultural movement in Cuba composed of writers, artists, musicians, and activists.

The Revolution Recodified conference will explore how digital technology's challenge to the Cuban state's longstanding monopoly on media is influencing political evolution. Presenters from Cuba also include the writer and photographer Orlando Luis Pardo Lazo and composer Pablo Menendez, who will offer a musical performance with his band Mezcla on Saturday March 16. Sanchez, Pardo Lazo and Menendez will engage debates with US-based Cuba scholars Ted Henken (Baruch), Ariana Hernandez-Reguant (UCSD), Ana Dopico (NYU), and Odette Casamayor-Cisneros (UConn). New media scholars Nitin Sawhney (The New School), Sean Jacobs (The New School), Thomas Werner (The New School), and John Kelly (Morningside Analytics) will compare and contrast the Cuban use of social media to other net-based political activity in political contested areas. The event is organized by Cuban-American artist and writer Coco Fusco and Cuban music scholar and musician Chris Stover, both of whom are faculty at The New School. Additional organizational support for the event has been provided by Jill Lane, director of NYU's Center for Latin American and Caribbean Studies.

"Digital culture is Cuba's 21st century avant-garde, and a cultural movement of such force demands thoughtful assessment," notes conference co-organizer Coco Fusco, associate professor of fine arts at Parsons The New School for Design. "Online culture has completely transformed the way that Cubans around the world interact and understand each other, and it has also changed the way that the rest of the world perceives us. Independent journalism and visual culture offer candid views of the realities of daily life on the island that are never addressed in official media, whether it is Cuban or American."

The Revolution Recodified is sponsored by The New School's Academic Events Fund, Parsons Cross School Funds, Eugene Lang College, The New School for Jazz and Contemporary Music, The Vera List Center for Art and Politics, New York University's Center for Latin American and Caribbean Studies, NYU's Department of Spanish and Portuguese Languages and Literatures, NYU's Department of Comparative Literature, NYU's College of Arts and Sciences and The Association for the Study of the Cuban Economy.

The conference is currently sold-out, but members of the media interested in covering the event may contact Sam Biederman at biederms@newschool.edu. The conference will be preceded by an event at NYU on March 15, which is currently at capacity.
To view the conference program please visit: http://therevolutionrecodified.wordpress.com For more information about the conference please contact Coco Fusco at fuscoc@newschool.edu
About The New School
Founded in 1919, The New School was born out of principles of academic freedom, tolerance, and experimentation. Committed to social engagement, The New School today remains in the vanguard of innovation in higher education, with more than 10,000 undergraduate and graduate students challenging the status quo in design and the social sciences, liberal arts, management, the arts, and media. The New School welcomes thousands of adult learners annually for continuing education courses and calendar of lectures, screenings, readings, and concerts. Through its online learning portals, research institutes, and international partnerships, The New School maintains a global presence. Learn more at www.newschool.edu.
About New York University
Founded in 1831, NYU is one of the world's foremost research universities and is a member of the selective Association of American Universities. The first Global Network University, NYU has degree-granting university campuses in New York and Abu Dhabi, and has announced a third in Shanghai; has a dozen other global academic sites, including London, Paris, Florence, Tel Aviv, Buenos Aires, and Accra; and sends more students to study abroad than any other U.S. college or university. Through its numerous schools and colleges, NYU conducts research and provides education in the arts and sciences, law, medicine, business, dentistry, education, nursing, the cinematic and performing arts, music and studio arts, public administration, social work, and continuing and professional studies, among other areas.