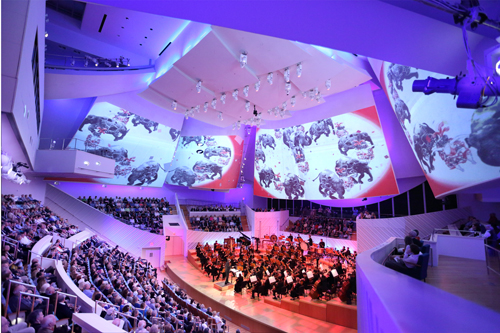 Stravinsky's Circus Polka at the New World Center; digital animation by Emily Henricks, photo by Rui Dias-Aidos
MIAMI BEACH, FL AND NEW YORK, NY(November 4, 2013) – The New World Symphony (NWS), America's Orchestral Academy, and Parsons The New School for Design (Parsons), one of the world's leading design schools, have collaborated on a multimedia project designed to illustrate the physical and aural dynamics of live performance through HD imagery and musician-generated multimedia effects. Presented as part of a concert at New World Center in Miami Beach on Sunday, November 10 at 2:00 PM, breath sensors, accelerometers and cameras will be strategically placed on and around NWS Fellows and their instruments during select works. These sensors will trigger a series of interactive cinematic pieces that move and change based on the gestures and motions of the musicians, creating a visually stimulating and immersive environment for audience members. Moreover, this innovative approach illustrates the physical requirements of performance, while visually expressing and supporting the music.
The November 10 performance, titled Musical Xchange, marks the culmination of a semester-long project by students in the School of Art, Media and Technology at Parsons. Teams of students collaborated with NWS administrators and Fellows on four distinct projects that will be presented in the musical program for the evening, consisting of Rudolf Moser's Spielmusik; Charles Ives' Largo; Francis Poulenc's Sonata; selections from Henryk Wieniaski's Études-caprices, Op. 18; and Maurice Ravel's Mother Goose. This performance is part of a long-term collaboration between NWS and Parsons, which launched in 2012 and will continue on an ongoing basis, with the next edition scheduled for March 9, 2014.
"We are excited that our students have opportunity to work with a pretigious organization like the New World Symphony," said Edward Keller, Director of the Center for Transformative Media at Parsons. "The work they've done is extremely impressive, and shows off the kind of uniquely creative design one can do by going beyond the status quo, and approaching an aesthetic challenge- merging technology, image, computer art, and classical music- from a fresh perspective."
The students will turn data from the musicians, collected via sensors of their own design, into art projections which will fill the symphony hall. Groups will be using a variety of audio analysis techniques to to turn various musical components of the performances into different visual as well as live video that will follow the actions of the musicians.
The project is led by Michael Linville, Associate Dean for Chamber Music of NWS, and Edward Keller, Director of the Center for Transformative Media and Associate Professor in the School of Design Strategies at Parsons. Additional project leaders include Justin Trieger, Technical Director for Distance Education and New Media Initiatives of NWS; and Joseph Saavedra, assistant professor of Media Design, and Leif Percifield, adjunct professor in the Design and Technology program at Parsons, with cooperation from Mannes College The New School for Music.

Program Information
Musical Xchange
Moser: Spielmusik
Ives: Largo for Violin, Clarinet and Piano
Wilder: Flute and Bongos No. 1
Wieniawski: Selections fromEtudes-Caprices
Ravel: Mother Goose
New World Symphony, America's Orchestral Academy
Hugh Palmer, Nathaniel Wolkstein and Jin Suk Yu, violin
Emily Honeyman, bass
Miles Jacques and David Lemelin, clarinet
Evan Epifanio, bassoon
Dominic Rotella, horn
Joseph Brown, trumpet
Santiago Novoa, trombone
Aya Yamamoto and Nina Zhou, piano
Sunday, November 10, 2:00 PM
New World Center
500 17th Street, Miami Beach, FL 33139

About the New World Symphony
The mission of NWS is to prepare highly gifted graduates of distinguished music programs for leadership roles in orchestras and ensembles around the world. NWS is dedicated to the artistic, personal and professional development of outstanding instrumentalists. The NWS fellowship program provides top graduates of music programs the opportunity to enhance their musical education with the finest professional training. As a laboratory for musical education and expression, NWS seeks to develop twenty-first century first-class musicians through a wide range of performance and instructional activities. Under the artistic direction of Michael Tilson Thomas, the program offers in-depth exposure to traditional and modern repertoire, with the active involvement of leading guest conductors, soloists and coaches. The relationships with these artists are extended through NWS's pioneering experimentation with distance learning via Internet2. Designed by Frank Gehry, the NWS's home, the New World Center opened in January 2011 and is a unique performance, education, production and creative space with state-of-the-art capabilities. A global hub for creative expression and collaboration and a laboratory for the way music is taught, presented and experienced, the building enables the NWS to continue its role as a leader in integrating technology with music education and concert presentation. For additional details and a complete 2013-2014 season schedule please visit www.nws.edu.

About Parsons The New School For Design
Parsons The New School for Design is one of the leading institutions for art and design education in the world. Based in New York but active around the world, the school offers undergraduate and graduate programs in the full spectrum of art and design disciplines. Critical thinking and collaboration are at the heart of a Parsons education. Parsons graduates are leaders in their respective fields, with a shared commitment to creatively and critically addressing the complexities of life in the 21st century. For more information, please visit www.newschool.edu/parsons.
###