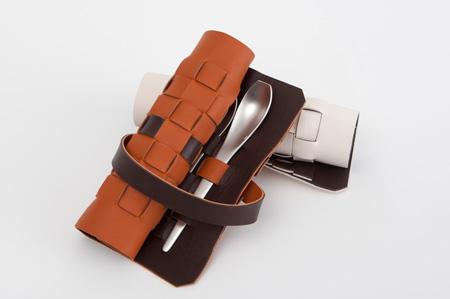 Winning design "Piqnique" by Parsons Product Design student Jenny Hsu
NEW YORK, May 20, 2013—Poltrona Frau, the world's leading producer of luxury home furnishings, and leading art and design school Parsons The New School for Design announce the three winning designs of the exhibition "Wasteless" during New York's International Contemporary Furniture Fair.
For the past seven weeks, 15 Parsons Product Design students have been working under the direction of noted designer and Parsons alumnus, Andrea Ruggiero. The basis of the competition was to convert left-over scraps of Poltrona Frau leather into luxury accessory pieces in an attempt to maximize the potential of the material and emphasize Poltrona Frau's Zero-Waste Design initiatives.
On Friday, May 10, the students presented their projects to a panel of judges that consisted of Federico Materazzi, executive vice president, Americas, Poltrona Frau; as well as legendary designer Massimo Vignelli, Metropolis editorial director Paul Makovsky, Parsons Interim Product Design Director Mark Bechtel, Ruggiero and Sara Gobbo, Senior Marketing Manager for the Poltrona Frau Group. After much consideration, the panel announced the three winning designs at a cocktail reception held at the Poltrona Frau showroom in Soho. Jenny Hsu was awarded first place for her design "Piqnique," a charming woven case for meals on the go that doubles as a luxurious leather placemat. Yuna Kim and Benjamin Billick came in second and third respectively for their designs, "Miovino" leather wine glass tags and "Tuft" candle holders.
Unlike previous years, the judges conferred an honorable mention to Noemi Szalavari, whose "Spirale" vase possessed tremendous poetry and potential, but needed further development. All 15 of the student designs were displayed at the Poltrona Frau showroom in Soho during the International Contemporary Furniture Fair. The three winning designers will visit the Poltrona Frau factory, in Italy, this summer, where they will work with the master craftsmen to fabricate prototypes.   
ABOUT POLTRONA FRAU
Poltrona Frau, backed by a great history and tradition, lives in the present. Interpreters of timeless beauty, the company believes in the designs and materials that guarantee wellbeing. Furnishing the home, office, public space and travel. For more information, please visit www.poltronafrau.com
ABOUT PARSONS THE NEW SCHOOL FOR DESIGN
Parsons The New School for Design is one of the leading art and design schools in the world, and builds upon The New School's legacy of progressive ideals, scholarship, and pedagogy. For over a century, the school has pioneered art and design education, establishing the first programs in fashion, interior design and communication design in the nation. Based in New York City but active around the world, the school offers undergraduate and graduate programs in the full spectrum of art and design disciplines. For more information, please visit www.parsons.newschool.edu
# # #