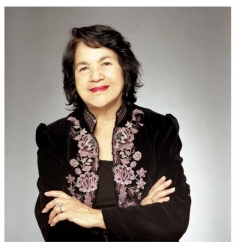 Dolores Huerta, Co-Founder of the United Farm Workers of America, will speak at The New School on April 18, 2013 (Photo: Angela Torres)
NEW YORK, January 22, 2013 - The New School has announced its winter-spring public programming in politics and current affairs, featuring leading activists, writers and thinkers in fields including global human rights, international affairs, and gender equality.
EDITOR'S NOTE: A FULL CALENDAR OF EVENTS IS AVAILABLE HERE
The Center for Public Scholarship (CPS) at The New School for Social Research welcomes a range speakers on a human rights and intellectual freedom. Chen Guangcheng, the famed Chinese "blind dissident" whose 2012 escape from detention garnered international attention, will speak on February 6. CPS will partner with The Women's Learning Partnership to present the day-long conference, Human Security: The Missing Link Between Women's Rights, Conflict, and Peace (March 6). CPS will end the semester with a two-day conference on Food and Immigrant Life, welcoming luminaries including United Farm Workers of America co-founder Dolores Huerta and The New School's Fabio Parasecoli (April 18 and 19).
The Institute for Retired Professionals continues its 50th anniversary celebration with Fridays@One talks featuring New School International Affairs professor Nina L. Khrushcheva on The Lost Khrushchev - A Family Journey into the Gulag of the Russian Mind (February 8); The New School for Social Research's James Miller, on the lives of great philosophers (March 8); Dr. Mark Lachs, author of Treat Me, Not My Age (April 5); and historian Ira Katznelson on the American racial divide (April 26).
The Vera List Center for Art and Politics at The New School for Public Engagement also celebrates an anniversary, its 20th, with events including What We Made: Conversations on Art and Social Cooperation (February 20), featuring editor and writer Tom Finkelpearl; and A More Perfect History: A Symposium Celebrating International Women's Day (March 8).
Throughout the semester, the Observatory on Latin America (OLA) of the Julien J. Studley Graduate Program in International Affairs will host events examining South American politics. The 2012-2013 recipients of the President Nestor Kirchner Fellowship will present their findings on Energy Integration in Brazil and Structural Violence in the LGBT Community in Peru (March 7). OLA will also welcome leading architects and designers for the panel Design and Social Development: Art, Design and Action in Latin America (April 10), and key members from Ecuador's Facultad Latinoamericana de Ciencias Sociales to discuss New South American Regionalism (April 23).
EDITOR'S NOTE: A FULL CALENDAR OF EVENTS IS AVAILABLE HERE
Founded in 1919, The New School was born out of principles of academic freedom, tolerance, and experimentation. Committed to social engagement, The New School today remains in the vanguard of innovation in higher education, with more than 10,000 undergraduate and graduate students challenging the status quo in design and the social sciences, liberal arts, management, the arts, and media. The New School welcomes thousands of adult learners annually for continuing education courses and calendar of lectures, screenings, readings, and concerts. Through its online learning portals, research institutes, and international partnerships, The New School maintains a global presence.. Learn more at www.newschool.edu.