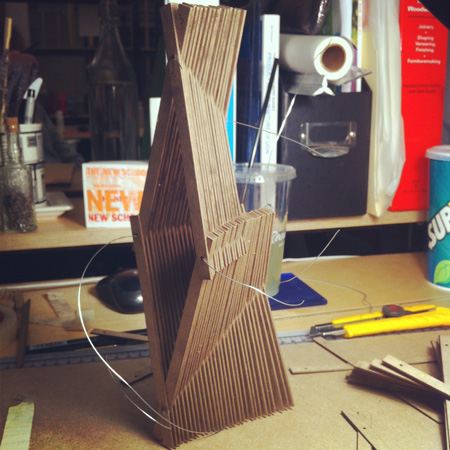 A maquette of the paper environments installation at WantedDesign
NEW YORK, May 8, 2013 – Parsons The New School for Design will be an active presence during the first annual NYCxDESIGN, and third annual Parsons Festival, with installations, exhibitions and events taking place at Wanted Design, the Poltrona Frau showroom in SoHo, and the Parsons campus.
Paper Environments
WantedDesign
269 11th Avenue, New York
Press Preview: May 17, 5-7 pm
Opening Hours: May 18-20, 10 am - 7 pm
On the floor of WantedDesign, Parsons students will create an experimental installation that explores paper as a material for the built environment. Led by architects Moorhead & Moorhead, and sponsored by Homasote, the installation will be constructed of recycled fiberboard. It will serve as a backdrop for an international student design workshop, taking place through the duration of the event.

WantedDesign Challenge: WaterCycle
269 11th Avenue, New York
May 18-20, 10 am - 7 pm
Presentation of Final Projects: May 20 @ 3 pm
For a second year, WantedDesign will host a transatlantic student design challenge, which will take place in real time at the event. Led by Mark Bechtel and Christian Schneider, faculty members at Parsons The New School for Design, students representing diverse design disciplines will work on teams to develop new products and systems that address one of the most valuable resources on the planet, our water supply, in the face of population explosions in megacities such as New York. Students from Parsons, Art Center College of Design (Pasadena, CA), ENSCI les ateliers (Paris, France), CENTRO Mexico (Mexico City, Mexico) and ENSAAMA Olivier de Serres (Paris, France) will spend the course of WantedDesign producing concepts, scenarios, animations, videos and models, which will then be presented to the public as well as a jury of design professionals.
Wasteless
Poltrona Frau New York
145 Wooster Street, New York
May 18-21, 10 am-9 pm; Sunday 11 am-7 pm
Opening Reception: May 18, 6-8 pm
Parsons The New School for Design and Poltrona Frau, the world's leading producer of luxury home furnishings, present an exhibition of work by Parsons product design students under the direction of faculty member and noted designer Andrea Ruggiero. Students were challenged to design and develop new objects using leather scraps collected over a period of two months at Poltrona Frau's factory in Tolentino, Italy. The resulting objects are intended to expand the Poltrona Frau brand into everyday leather goods for the home and office, while elevating waste material into a premium product.

Parsons Festival
Parsons The New School for Design
25 East 13th Street, New York
Through May 24, 2013
Exhibition Reception: May 21, 6-9 pm
Parsons The New School for Design presents its third annual Parsons Festival, showcasing the creativity and talent at Parsons, a global leader in art and design education. The Festival includes an exhibition of thesis and capstone projects from the architecture, interior design, lighting design and product design programs in the School of Constructed Environments at Parsons. For more information, please visit http://www.newschool.edu/parsonsfestival.
About Parsons The New School for Design
Parsons The New School for Design is one of the leading institutions for art and design education in the world. Based in New York but active around the world, the school offers undergraduate and graduate programs in the full spectrum of design disciplines. Critical thinking and collaboration are at the heart of a Parsons education. Parsons graduates are leaders in their respective fields, with a shared commitment to creatively and critically addressing the complexities of life in the 21st century. For more information, please visit www.newschool.edu/parsons.

# # #