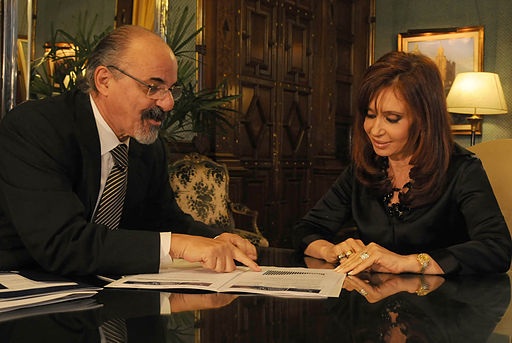 Carlos Tomada and President Cristina Fernandez de Kirchner (Photo: Casa Rosada)
NEW YORK, March 19, 2013 - In light of persisting economic uncertainty and a labor market in flux, the Observatory on Latin America (OLA) at The New School presents Creating Jobs in a Time of Global Crisis: Lessons from Latin America on Monday, April 1st in New York. Carlos Tomada, the minister of labor and social security for Argentina from 2003-2013 and Jose Antonio Ocampo, Columbia University professor of economics and former UN under-secretary general for economic and social affairs, will analyze and discuss employment strategies in Latin America.
"By providing a platform where experts can discuss the issues pertaining to employment in the region, the Observatory of Latin America advances the discourse through reflection and analysis," said Michael Cohen, Director, OLA and the Julien J. Studley Graduate Program in International Affairs at The New School. "Argentina has provided a provocative case study about what is truly possible in the critical area of jobs."
While the global financial crisis has had lasting repercussions on many of Latin America's labor markets and employment rates, Argentina remains an exception. Strategies put into place by the Argentine government have not only maintained the quantity of jobs, but also improved conditions as well. Channeling a decade of experience as Minister of Labor, Tomada will present his country's tactics during the event, while Ocampo will compare the situation in relation to the experience of other Latin American countries. David Scobey, executive dean for The New School for Public Engagement, will introduce the discussants.
Carlos Tomada has worked in labor relations for 35 years as a consultant, researcher, manager, politician, and professor. As a consultant, he worked for the ILO, UNDP, and the Friedrich Ebert Foundation on industrial relations and social dialogue. Currently, he chairs Argentina's National Council for Employment, Productivity, and Minimum Wage.
Jose Antonio Ocampo is a professor of economics at Columbia University. Prior to this position, he served as minister of agriculture in Colombia, and was appointed Executive Secretary of the United Nations Economic Commission for Latin America and the Caribbean. Ocampo was one of three finalists for president of the World Bank in 2012.
The event will be held at the Theresa Lang Community and Student Center at 55 West 13th Street on April 1 from 3:00-5:00 p.m and will be in English and Spanish with simultaneous translation. While the presentation is free and open to the public, please RSVP by March 28th to ola@newschool.edu. The program is supported by the Julien J, Studley Foundation. For more information, visit the OLA website.
About the Observatory on Latin America at The New School
The Observatory on Latin America (OLA) at The New School is a university-wide initiative that creates new opportunities for public debate on hemispheric processes of reform and change. Launched in 2006 by current Argentine President Cristina Fernandez de Kirchner, OLA aims to improve academic and public understanding of political and economic change in South America, foster a public dialogue between the United States and South America, and collaborate with South American institutions to further these objectives and mobilize ideas. The OLA has two major projects: "Latin America on the Move," which brings South American leaders to New York to discuss major issues facing their countries and the region, and "Building South American Bicentennials in an Age of Globalization," which documents the forms and impacts of commemoration of the bicentennial anniversary of the independence of South American countries from Spain. The latter OLA project, together with eight South American academic institutions in six countries, currently has launched a Second International Call for Papers and Visual Materials on the theme "Bicentennials in Action: Commemoration, Economic Crisis, and Political Mobilization in Latin America." For more information, please visit www.observatorylatinamerica.org
Founded in 1919, The New School was born out of principles of academic freedom, tolerance, and experimentation. Committed to social engagement, The New School today remains in the vanguard of innovation in higher education, with more than 10,000 undergraduate and graduate students challenging the status quo in design and the social sciences, liberal arts, management, the arts, and media. The New School welcomes thousands of adult learners annually for continuing education courses and calendar of lectures, screenings, readings, and concerts. Through its online learning portals, research institutes, and international partnerships, The New School maintains a global presence. Learn more at www.newschool.edu.
###