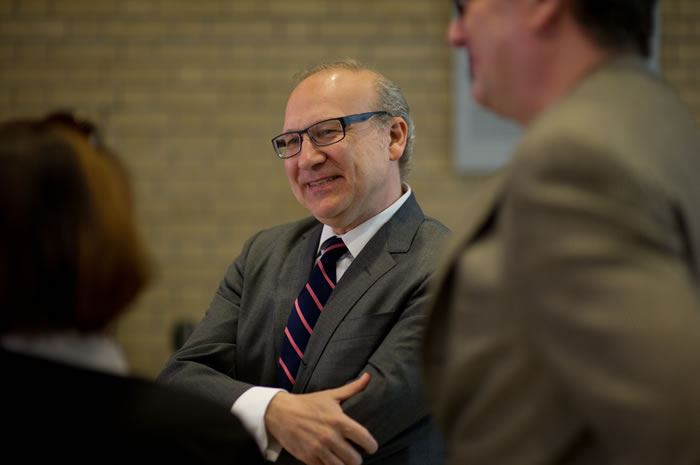 Pippin Parker, director of The New School for Drama and co-founder of Naked Angels (The New School/Matthew Sussman, 2012)
NEW YORK (February 27 2013) - The New School for Drama will welcome Naked Angels, the eclectic downtown theater company, as its producing partner, training young theater artists in an environment of experimentation and collaboration. Naked Angels will be housed in New School facilities and provide undergraduate and graduate theater students a critical professional association with working artists in New York theater.
"Naked Angels shares with The New School a creative sensibility that challenges the status quo – in art, in pedagogy, and in the resourceful enterprise that has always characterized the downtown theater scene," said David Van Zandt, president of The New School. "By bringing a professional arm to The New School for Drama, Naked Angels will provide our students invaluable experiences and resources that stretch far beyond the academy."
Naked Angels' celebrated development programs and cold reading series, including Tuesdays@9, 1st Mondays and the Naked Radio podcast, will continue to incubate dramatic work, with New School students contributing their efforts to these familiar laboratories. New School students will also participate in Naked Angels' 3Thursdays, which leads high school students from conception to creation to performance. In turn, Naked Angels will produce plays and maintain administrative oversight over its development programs from The New School for Drama's home on Bank Street.
Pippin Parker, playwright and director, became director of The New School for Drama in 2011. Parker is also a founding company member of Naked Angels. From the company's inception, Parker understood the provocative spirit that motivates theater artists to grow and change, and the environment required for that evolution. The New School for Drama, which offers the BFA in Dramatic Arts and MFAs in Acting, Directing, and Playwriting, encourages students to pursue non-traditional theatrical projects outside of the classroom and rehearsal space.
"This alliance brings together the two voices in contemporary theater best equipped to cultivate new work," Parker said. "Having been a part of Naked Angels and The New School for so many years, I understand their shared interest in testing the waters with provocative, original art that interrogates basic assumptions, yet provides a rigorous foundation on which students will build their unique careers."
Andy Donald, Naked Angels' artistic director, will remain in his position as both organizations optimize this partnership. "Every day I am honored to be a part of this incredible company," Donald said. "With this exciting relationship on the horizon, I look forward to working with Pippin on our next chapter in continuing to nurture the next generation of artists, devising a truly innovative partnership with one of the city's major universities."
Naked Angels, founded in 1986, has incubated and produced some of the most celebrated recent work in American theater, including Geoffrey Nauffts' "Next Fall" (Broadway transfer, two Tony Award nominations), Zayd Dohrn's "Outside People," Chloe Moss' "This Wide Night," Wil Eno's "Thom Pain (based on nothing)", Kenneth Lonergan's "The Starry Messenger," and "The Substance of Fire," by Jon Robin Baitz, who also serves as Artistic Director of The New School for Drama's new BFA in Dramatic Arts. Since it was established in 2005, The New School for Drama has graduated acclaimed young playwrights including New York New Voices Fellow Bekah Brunstetter ("Be A Good Little Widow"), Daniel Pearle (Laurents-Hatcher Award-winning "A Kid Like Jake"), 2012 New York Theater Workshop Fellow Janine Nabers ("Welcome to Jesus," "Serial.Black.Face.") and Gabe McKinley ("CQ/CX")—all of whom have won the Samuel French Short Play Off-Off-Broadway Short Play Festival.
"This is a win-win for both Naked Angels and the New School for Drama," said Virginia P. Louloudes, Executive Director of the Alliance of Resident Theatres/New York (A.R.T./New York). "By choosing a professional theatre company with a rich history of nurturing some of today's finest writers, directors and actors, the New School has created a stronger program, that will make them more competitive to undergraduate and graduate students seeking a life in the theatre."
Founded in 1919, THE NEW SCHOOL was born out of principles of academic freedom, tolerance, and experimentation. Committed to social engagement, The New School today remains in the vanguard of innovation in higher education, with more than 10,000 undergraduate and graduate students challenging the status quo in design and the social sciences, liberal arts, management, the arts, and media. The New School welcomes thousands of adult learners annually for continuing education courses and calendar of lectures, screenings, readings, and concerts. Through its online learning portals, research institutes, and international partnerships, The New School maintains a global presence. Learn more at www.newschool.edu.
NAKED ANGELS is committed to strengthening a community of artists through the development and production of provocative new work. Over the past twenty five years, the company has played a role in developing hundreds of critically acclaimed new plays including Jon Robin Baitz's THE SUBSTANCE OF FIRE and Warren Leight's SIDE MAN, and producing the world premieres of Stephen Belber's TAPE and FAULT LINES, Elizabeth Meriwether's THE MISTAKES MADELINE MADE, Geoffrey Nauffts' Tony Award-nominated play NEXT FALL, and, most recently, the U.S. premiere of Chloe Moss' THIS WIDE NIGHT and the world premiere of Zayd Dohrn's OUTSIDE PEOPLE. From New York to LA, the company inspires fresh voices to generate new work through its popular Tuesdays@9 (cold readings of plays, screenplays, stories and music in early development), 1st Mondays (public readings of new full-length plays), and Angels in Progress (weeks long workshops). The company's newest venture, Naked Radio, brings the work of talented new writers from the stage to the digital airwaves through weekly blogs and podcasts: www.nakedangels.com/nakedradio.