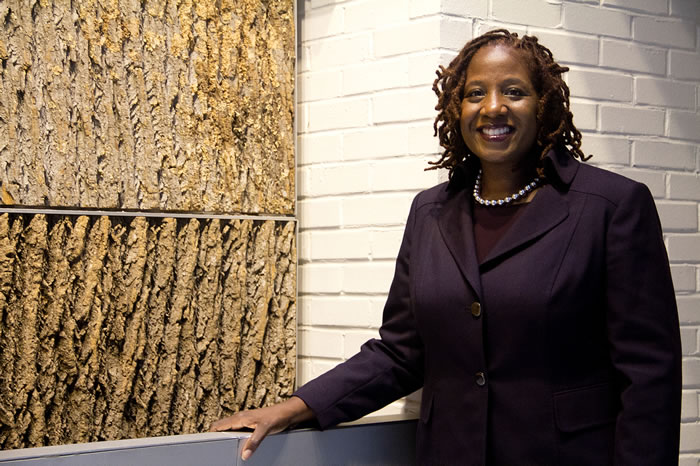 Michelle J. DePass (Kasia Broussalian/The New School, 2013)_
NEW YORK, Sep. 25, 2013—The New School has announced that Michelle J. DePass has been named dean of the Milano School of International Affairs, Management, and Urban Policy. Michelle J. DePass is a national leader on sustainability and environmental policy making and will also be the Tishman Professor of Environmental Policy and Management as part of her appointment.

"I am thrilled to become part of this leading New York institution, and to cultivate the next generation of leaders in urban policy, global development, sustainability and management," said DePass. "The New School, and Milano in particular, share my lifelong commitment to realizing a sustainable, equitable future for urban environments through inclusive participation in the development of innovative solutions."

DePass will join Milano from the Environmental Protection Agency (EPA), where since 2009 she has served as Assistant Administrator for International and Tribal Affairs. In this presidentially appointed, senate-confirmed position, DePass has been responsible for all dimensions of environmental policy between the EPA and other nations, federally recognized tribal nations, and multilateral institutions and donors.
Prior to joining the EPA, DePass was a Program Officer at the Ford Foundation, with a portfolio focused on the environment and community development, most notably green economy and climate change, environmental health and justice and indigenous environmental rights. In her two-decade career in sustainability and public service, DePass has also served as founding Executive Director of the New York Environmental Justice Alliance, Senior Policy Advisor to the commissioner of the New Jersey Department of Environmental Protection, and environmental manager for the City of San Jose. She is a sought after civil society leader and has served on dozens of boards and advisory committees to government, NGO's and international organizations. DePass holds a bachelor's degree from Tufts University, a Juris Doctor from Fordham Law School and a Master of Public Administration from Baruch College, where she was a National Urban Fellow.

"Deep, challenging engagement with global urban and sustainability issues is central to both Milano and The New School as a whole," said New School President David E. Van Zandt. "Michelle's career reflects this focus: she brings to Milano two decades of international and environmental leadership across all sectors. We are thrilled to welcome her as dean."

Milano offers graduate degrees in Environmental Policy and Sustainability Management, International Affairs, Nonprofit Management, Organizational Change Management, and Urban Policy Analysis and Management, and a doctoral degree in Public and Urban Policy. Milano is part of The New School for Public Engagement, which prepares students for active citizenship through interdisciplinary, experiential learning. Milano is home to renowned think tanks and institutes including the Center for New York City Affairs and the Observatory on Latin America.

Founded in 1919, The New School was born out of principles of academic freedom, tolerance, and experimentation. Committed to social engagement, The New School today remains in the vanguard of innovation in higher education, with more than 10,000 undergraduate and graduate students challenging the status quo in design and the social sciences, liberal arts, management, the arts, and media. The New School welcomes thousands of adult learners annually for continuing education courses and calendar of lectures, screenings, readings, and concerts. Through its online learning portals, research institutes, and international partnerships, The New School maintains a global presence. Learn more at www.newschool.edu.