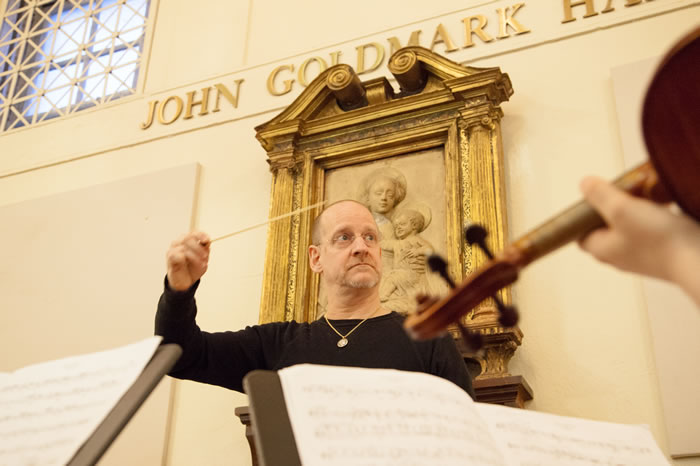 MACE Conductor Lowell Liebermann (Photo: Michael Skinner, 2013)
NEW YORK, October 14, 2013- Mannes College The New School for Music announces its fall-winter programming. Mannes' public programming offers a bold selection of canonical classical and boundary-pushing contemporary music which highlight the school's focus on educating the next generation of versatile classical artists.
For a full listing of fall-winter concerts, please visit The Mannes Events Calendar.
MACE (Mannes American Composers Ensembles), which performs the music of living American composers, will offer two concerts this semester directed by Lowell Liebermann. On October 17 at 8:00 p.m, MACE will perform work by Shulamit Ran, Ned Rorem, and Huang Ruo. The second MACE concert will be held on December 13 at 8:00 p.m. and will include pieces by David Del Tredici, Louis Karchin, and Lewis Spratlan. Both MACE concerts will be held in Mannes Concert Hall at 150 W. 85th Street.
New music and student ensembles continue throughout the semester. On October 31 at 7:30 p.m., the Mannes Orchestra, led by conductor David Hayes, will perform contemporary pieces such as Jonny Greenwood's suite from There Will be Blood (U.S. premiere), Karel Husa's Music for Prague (1968) as well as Igor Stravinsky's Petrushka (1947). The concert will take place at NYU's Skirball Performing Arts Center at 566 LaGuardia Place. On December 9 at 8:00 p.m., the student ensemble NewMusicMannes, directed by renowned cellist Madeline Shapiro, will perform at Mannes Concert Hall. Two guitar concerts will offer solo performances (November 25, 8:00 p.m., Mannes Concert Hall) and ensemble pieces (December 12, 8:00 p.m., Mannes Concert Hall).
On November 1 at 7:30 p.m, the highly regarded Orion Sting Quartet will play music composed by Mannes faculty Lowell Liebermann . As the Mannes Ensemble-in-Residence, the quartet offers diverse programs that meld classic masterpieces with notable works by living composers. The quartet will perform in Mannes Concert Hall.
The season culminates with a Mannes Festival concert exploring music written in transitional periods from the baroque period to the present. The concert, which takes place on December 10 at 7:30 p.m. at Carnegie Hall includes pieces by Johannes Brahms, Maurice Ravel, Paul Schoenfield, and more. On December 19 at 1:30 p.m. and 7:30 p.m. Mannes Opera, under artistic director Joseph Colaneri, will perform Rossini's Il Viaggio a Reims at the Kaye Playhouse at Hunter College, 695 Park Avenue.
For a full listing of fall-winter concerts, please visit The Mannes Events Calendar.