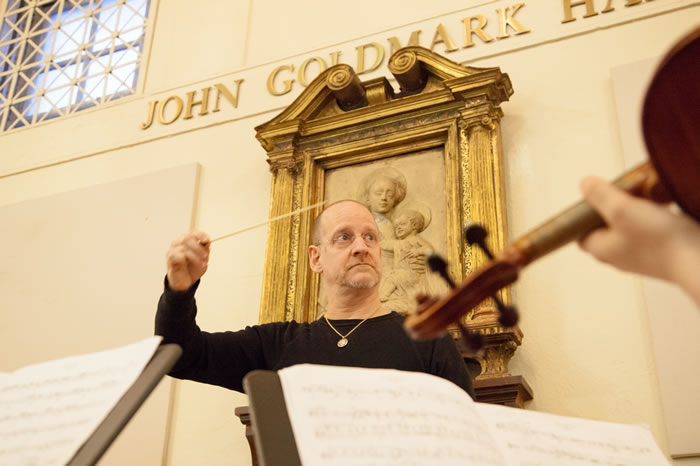 Lowell Liebermann directs MACE
New York, November 12, 2013 - MACE (The Mannes American Composers Ensemble) will present the second concert of its season, conducted by founder and director Lowell Liebermann, featuring rarely performed works by Louis Karchin and Pulitzer-Prize winners Lewis Spratlan and David Del Tredici. The concert will take place at the Mannes Concert Hall, Mannes College the New School for Music at 150 West 85th Street, 2nd Floor.
The program features Lewis Spratlan's ZOOM (2003, written for Sequitur and premiered at the Miller Theater); Louis Karchin's Chamber Symphony (2009, a work of shimmering color and instrumental virtuosity), and David Del Tredici's Haddocks' Eyes (1986, one of his series of works based on Lewis Carroll's Alice in Wonderland) with Mannes alumna Chelsea Feltman as soprano soloist. All three composers will be present at the performance to introduce their works.
Click here to download past and future MACE programs.
Admission to this event is free, and no tickets are required. Seating will be on a first-come, first-served basis. The approximately hour-long concert will be without intermission. For more information visit http://events.newschool.edu.
MACE (Mannes American Composers Ensemble) December 13th Concert
8:00 PM, Mannes Concert Hall, 150 West 85th Street
Lewis Spratlan's ZOOM (2003) for Chamber Orchestra, was written for the ensemble Sequitur and premiered by them in 2003 at New York's Miller Theater. Its three movements are titled BIPOLAR SERENADE, HOLES, and JINGLE WITHOUT WORDS. A work of great humor and beauty, ZOOM incorporates vocal sounds and whistling as well as unusual modes of playing the instruments. Spratlan commented about his piece "ZOOM zooms among a variety of musical perspectives, from the macrocosmic to the microcosmic. What's the sound inside of a sound – what are its bits and pieces? What are the sounds between the notes and the sounds between the sounds between the notes? The part and whole. At what point does the whole become part of something else?"
Lewis Spratlan, winner of the Pulitzer Prize in Music, 2000 for his opera, Life Is A Dream (premiered by the Santa-Fe Opera in 2010,) is a widely performed and much honored composer. A native of Miami, he studied with Mel Powell and Gunther Schuller at Yale and has taught and conducted at Tanglewood, The Yale Summer School of Music and Art, and Amherst College, where he has been on the faculty since 1970. His music has been performed in New York, Los Angeles, Washington, Pittsburgh, Miami, London, Moscow, Montreal, Toronto, and, perhaps, most significantly, Boston, where he has received commissions and premieres from the Boston Musica Viva, Dinosaur Annex Music Ensemble, soprano Karol Bennett, and pianist John McDonald. He is the recipient of Guggenheim, NEA, Massachusetts Artists Foundation, and MacDowell Fellowships.
Louis Karchin's Chamber Symphony (2009) is a three-movement work of great imagination and beauty scored for fourteen players. Critics have commented on the work's rich instrumental colors and harmonic imagination: "Waves rippling and shimmering in a sea of sound…rich with intriguing timbres….a riotous explosion of color in the exuberant finale." Vivien Schweitzer, New York Times; "In Louis Karchin's Chamber Symphony.... continuously reconfigured textures, dynamics and timbres wove spells so magical that debates about harmonic language were beside the point." Allan Kozinn, New York Times.
Louis Karchin has been honored with performances of his music throughout the United States, Europe and the Far East. His Chamber Symphony was presented in August, 2011 on Tanglewood's Festival of Contemporary Music in Seiji Ozawa Hall (with the composer conducting), and his first opera, Romulus, released by Naxos Records in 2011 has garnered notable press attention internationally. Mr. Karchin is currently writing a multi-movement vocal-instrumental work for the Network for New Music of Philadelphia as well as a second opera. The recipient of a John Simon Guggenheim Foundation Fellowship for 2011-12, Mr. Karchin was honored in May of 2012 with the inaugural Andrew Imbrie Award given by the American Academy of Arts and Letters. He also has been recognized with awards from the Koussevitzky, Barlow, and Fromm Foundations, the American Academy's Goddard Lieberson and Walter N. Hinrichsen Awards, and National Endowment for the Arts Fellowships. His music is recorded on Naxos, New World, Albany and CRI labels, and is published by C. F. Peters Corporation and the American Composers Alliance. He is Professor of Music at New York University.
David Del Tredici's Haddocks' Eyes (1986) was first performed by soprano Phyllis Bryn-Julson with the Chamber Music Society of Lincoln Center conducted by the composer. It is one in his series of "Alice" pieces based on Lewis Carroll's Alice in Wonderland. This particular work is a setting of The White Night's Song from Alice in Wonderland as well as a poem by Thomas Moore, My Heart and Lute. Del Tredici has called the The White Knight's Song "a 'patter' song, the words spilling out with increasing frenzy as the blissfully confused Knight careens from one hilariously cracked image to another." The musical setting is "funny, brusque and breathless—a kind of infernal perpetual mobile machine ever in danger of flying apart," Del Tredici continues. "Only at the penultimate line, 'That summer evening long ago,' does the music mellow. Indeed...this line becomes a crucial motif, bearing the listener again and again to the rapturous, bittersweet depths of Carrollian sentiment for child friends now grown, gone...."
Generally recognized as the father of the Neo-Romantic movement in music, David Del Tredici has received numerous awards and has been commissioned and performed by nearly every major American and European orchestral ensemble. He was awarded the Pulitzer Prize in 1980 for In Memory of a Summer Day for soprano and orchestra. Much of his early work consisted of elaborate vocal settings of James Joyce and Lewis Carroll. More recently, Del Tredici has set to music a cavalcade of contemporary American poets, often celebrating a gay sensibility. March 2012 marked Del Tredici's 75th birthday with performances of Final Alice at the Detroit Symphony Orchestra, Syzygy at Carnegie Hall with the San Francisco Symphony, and celebratory portrait concerts in New York. His 70th birthday in March 2007 featured major events throughout the year, including the premieres of Magyar Madness, a chamber piece commissioned by Music Accord for clarinetist David Krakauer and the Orion String Quartet, and S/M Ballade for solo piano, which was performed by Marc Peloquin at Symphony Space in New York City. Distinguished Professor of Music at The City College of New York, Del Tredici makes his home in Greenwich Village.
About MACE, the Mannes American Composers Ensemble
Directed by Mannes faculty composer Lowell Liebermann, MACE (The Mannes American Composers Ensemble) is a large ensemble which focuses on the music of living American composers. MACE not only presents works by iconic American masters such as John Adams and William Bolcom, but also cutting-edge works by up and coming composers. The ensemble aims to embrace as broad a view possible of the incredibly diverse and vital landscape of contemporary American Music. This season will include performances of the music of Mannes 2013/2014 composer-in-residence Uri Caine and also Ned Rorem, Huang Ruo, David Del Tredici, Louis Karchin, Derek Bermel, Lewis Spratlan, Tobias Picker, Luna Pearl Woolf and Pulitzer Prize winning Mannes alumna Shulamit Ran.
About Lowell Liebermann, Founder and Director of MACE
Composer, conductor and pianist Lowell Liebermann joined the faculty of Mannes in 2012 and a year later was appointed Head of the Composition Department. He is one of the most widely performed American composers, with over 120 works in his catalogue which can be heard on over 80 different recordings. Certain of his works (such as the Sonata for flute and piano and Gargoyles for piano) have achieved standard repertoire status for their instruments, frequently appearing not only on recital programs throughout the world, but also on audition lists for competitions and conservatories. Among highlights of this season are the NY premiere of his song cycle Four Seasons to poems by Edna St. Vincent Millay with mezzo-soprano Sasha Cooke, clarinetist David Shifrin and the Chamber Music Society of Lincoln Center; the World Premiere of his Barcarolles for a Sinking City, a Venice-inspired work commissioned by the New Jersey Symphony; and a new production of his first opera The Picture of Dorian Gray at this summer's Aspen Music Festival.
About Mannes College The New School for Music
Mannes College The New School for Music develops the next generation of classical musician/citizens by combining the music conservatory traditions with the cutting-edge advantage of being part of The New School, the nation's foremost progressive university. Founded in 1916, the Mannes formula for quality education has capitalized on its world-class faculty, location in the heart of the global arts capital, small class size, and a living tradition of rigor and depth that develops strong technique and great artistry. The Mannes ethos forms the basis of a vibrant community, whether you are a degree or diploma student in the College or Extension divisions, or a young person studying in Mannes Prep. In this second decade of the 21st century, when demands on artists are greater and more complex than ever, Mannes is committed to providing a wide range of exciting learning and knowledge building in partnership with its sister divisions of The New School, including one of the world's great design schools, Parsons The New School for Design; the liberal arts at Eugene Lang College; public policy, business, and civic engagement in The New School for Public Engagement; and cross disciplinary arts learning at The New School for Jazz and Contemporary Music and The New School for Drama. For more information on Mannes and The New School visit www.newschool.edu/mannes.
###