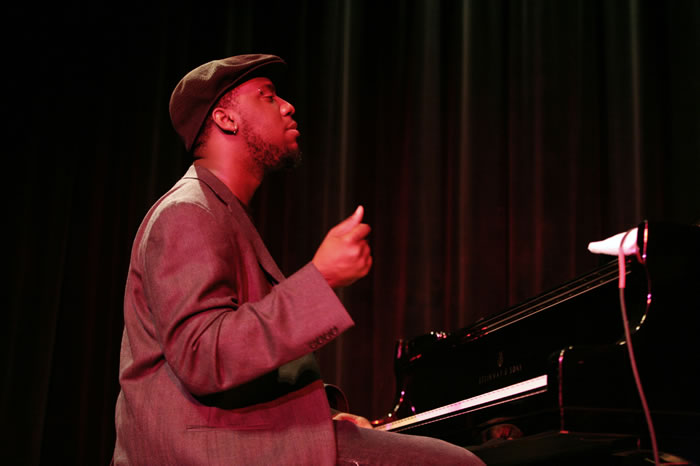 New School for Jazz and Contemporary Music alumnus Robert Glasper will perform in Istanbul on April 30 (Photo: Scott Wynn)

NEW YORK, March 20, 2013- This April from New York City to Istanbul, The New School for Jazz and Contemporary Music celebrates Jazz Appreciation Month with a month-long series of concerts, master classes, and panel discussions. Jazz Appreciation Month is led by the Smithsonian's National Museum of American History to to raise awareness of of jazz music, history, and culture.

"The most important thing that musicians bring to our world is our special ability to join others in a shared imaginative life," said Martin Mueller, Executive Director of The New School for Jazz and Contemporary Music. "For more than 25 years the talented generations of New School musicians have exemplified the values of jazz as a universal language of freedom, supporting understanding and empathy, and promoting unity and cooperation across the globe."

The New School for Jazz and Contemporary Music kicks off Jazz April with The Art of the Duo with Jane Ira Bloom and Fred Hersch (April 12th at 2:00 p.m.). Presented by the International Retired Professionals, the event marks the organization's 50 years at The New School with a conversation between the two famed musicians. The event takes place at the Theresa Lang Community and Student Center at Arnhold Hall (55 W. 13th Street). The presentation is free, but seating is limited. RSVP by emailing irp@newschool.edu.

Throughout the month, The New School for Jazz and Contemporary Music will continue its Eyes of the Masters series with classes led by Cecil Taylor (April 5, rescheduled from March 22), Fred Hersch (April 12) and Kong Nay (Aril 19). Queens-born Taylor carries on the grand tradition of New York jazz pianists, while pianist and composer Hersch is widely recognized for his creativity as a conceptualist, incorporating fresh ideas into time-tested classics. Nay is a survivor of the 1970s Khmer Rouge purge in Cambodia. Now retired and living in Phnom Penh, he plays Chapei Dang Weng, a long neck two-stringed guitar. Both classes will be held in the Jazz Performance Space on the fifth floor of Arnhold Hall (55 W. 13th Street) from 4:00 to 6:00 p.m.; admission is free and seating is first-come, first-served.

Highlighting New School student work, Reggie Workman's Jazz Improvisation Ensemble Showcase will play on-air on WBGO Jazz 88.3 FM from 2:00-3:00 p.m. on April 17. Students from The New School for Jazz and Contemporary Music will also perform in several of concerts as part of the school's Ensemble & Recital series. For a detailed list of the performances, visit the jazz events page.

The month's activities culminate with the second annual International Jazz Day on April 30, hosted by Istanbul. On this day, musicians, fans and others from all over the world will gather to celebrate jazz. The evening concert in the host city will feature performances from notable international jazz musicians, including New School alumnus Robert Glasper, who was recently won best R&B Album at the 55th Grammy Awards.

Public programs and performances are subject to change; please visit the New School events calendar for the most up-to-date information at www.newschool.edu/events.

The New School for Jazz and Contemporary Music is the musical manifestation of The New School and its legacy. Steeped in progressive tradition while moving forward into new frontiers of sound and experimentation, New School Jazz is a rarity among conservatory music schools. With instructors who are active, professional musicians and the backing of a major university, the school provides its students with the leeway and encouragement to break through artistic barriers, the counsel of veterans in maneuvering through the terrain of the music world, and a solid academic foundation to sustain and enrich their efforts and evolution. For more information, visit www.newschool.edu/jazz.

Founded in 1919, The New School was born out of principles of academic freedom, tolerance, and experimentation. Committed to social engagement, The New School today remains in the vanguard of innovation in higher education, with more than 10,000 undergraduate and graduate students challenging the status quo in design and the social sciences, liberal arts, management, the arts, and media. The New School welcomes thousands of adult learners annually for continuing education courses and calendar of lectures, screenings, readings, and concerts. Through its online learning portals, research institutes, and international partnerships, The New School maintains a global presence. Learn more at www.newschool.edu.