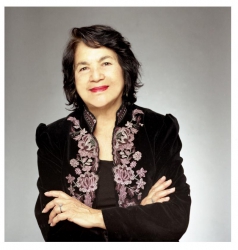 The UFW's Dolores Huerta will speak at The New School on April 18 (Photo: Angela Torres)
NEW YORK, March 26, 2013- As the world confronts food scarcity and food justice in the face of political unrest, climate change, global economic crises, and forced migration, The New School's Center for Public Scholarship and Food Studies Program will host influential writers, advocates and scholars at the 29th Social Research conference, Food and Immigrant Life: The Role of Food in Forced Migration, Migrant Labor, and Recreating Home. The conference will be held on Thursday and Friday, April 18-19, 2013 at The New School in New York City. Dolores Huerta, co-founder and first Vice President Emeritus of United Farm Workers of America, will deliver the keynote address on Thursday, April 18 at 6:00pm.
"Food scarcity is not only at the root of much human displacement and migration - the food industry also offers immigrants an entry point into the U.S. economic system while simultaneously forcing migrants into low wages and poor work conditions," said Arien Mack, founder and director of the Social Research conference series.
"Food allows immigrants to maintain their cultural identity," said Fabio Parasecoli, conference co-organizer and coordinator of food studies at The New Schoo for Public Engagement. "The conference places issues of immigration and food service work in the context of a broader social justice agenda and explores the cultural role food plays in expressing cultural heritage."
Over five sessions, Food and Immigrant Life will cover topics ranging from ethical restaurant and business practices, migrant labor rights, identity and culture as influenced by food, and food delivery issues. Panels will focus on the intersection between food and culture, social justice, and migration. Sessions and speakers will include:
Food Scarcity and Migration (Thursday, April 18, 2:15 p.m.-5:00 p.m.), with panels on migrant labor and the role of food production. Speakers include Koko Warner, Head of the Environmental Migration, Social Vulnerability and Adaptation Section at UNU-EHS, and James C. Hathaway, James E. and Sarah A. Degan Professor of Law and Founding Director of the Program in Refugee and Asylum Law at University of Michigan Law School.

Food Business and the American Dream (Friday, April 19, 10:00 a.m.- 12:45 p.m.), with panels on food cart policies, women's labor, and work in the kitchen. Speakers include Saru Jayaraman; Co-Founder and Co-Director of the Restaurant Opportunities Centers United (ROC-United) and Director of the Food Labor Research Center at UCal, Berkeley; and Sean Basinski, founder and director of the Street Vendor Project, a member-based advocacy group for vendors' rights at the Urban Justice Center.

Re-Creating Home in the United States (Friday, April 19, 2:45 p.m.- 5:00 p.m.), exploring cultural identity as reproduced and manifested through food. Speakers include Fabio Parasecoli; associate professor and coordinator of food studies at The New School for Public Engagement and Yong Chen, associate professor of history and Asian American studies at UCal, Irvine, author of Chinese San Francisco 1850-1943: A Transpacific Community.

Writers on Food and Migration (Friday, April 19, 6:00 p.m.-7:30 p.m.), a panel of writers will read excerpts considering the ways in which food explores such issues as assimilation, community building, and alienation. Panelists include Von Diaz, multimedia journalist, oral historian, and journalist for Feet in 2 Worlds; Marie Myung-Ok Lee, author of Somebody's Daughter (Beacon Press, 2006); Monique Truong, author of Bitter in the Mouth (Random House, 2010) and The Book of Salt (Houghton Mifflin, 2003); Tiphanie Yanique, assistant professor of writing at The New School and author of How to Escape from a Leper Colony (Graywolf Press, 2010); and moderated by Luis Jaramillo, associate chair, Writing Program, The New School and coeditor of the journal The Inquisitive Eater: New School Food.
In addition, in the lobby of 66 W. 12th Street, The New School's Vera List Center for Art and Politics will present Your Food Is On Its Way, an installation by artist Annie Shaw exploring the livelihoods of immigrant food delivery workers in New York City.
Admission to Food and Immigrant Life is $45 for the full conference, and $15 per session. The conference is free for full-time students (with valid ID) and New School faculty, alumni and staff (with valid ID). Preregister online here, or by emailing cps@newschool.edu. The conference begins Thursday, April 18th at 2:15 p.m. and concludes Friday, April 19th at 7:30 p.m. Sessions will be held in The New School's John Tishman Auditorium at 66 West 12th Street between Fifth and Sixth Avenues, as well as the Theresa Lang Community and Student Center in Arnhold Hall, 55 West 13th Street. The complete program and speakers' bios can be reviewed online at www.newschool.edu/cps/food.
Several cultural institutions outside The New School are offering additional programming inspired by the conference theme. El Museo del Barrio will host a bike tour of restaurants awarded the "high road" status of implementing fair, worker-conscious practices on April 13. The China Institute is screening The Wedding Banquet on April 16. The Korea Society is convening a discussion of Korea Town, a center for Korean food and culture on April 17. Feet in 2 Worlds and Streetwise New York are organizing a food tour of the Lower East Side on April 18.
Founded in 1919, The New School was born out of principles of academic freedom, tolerance, and experimentation. Committed to social engagement, The New School today remains in the vanguard of innovation in higher education, with more than 10,000 undergraduate and graduate students challenging the status quo in design and the social sciences, liberal arts, management, the arts, and media. The New School welcomes thousands of adult learners annually for continuing education courses and calendar of lectures, screenings, readings, and concerts. Through its online learning portals, research institutes, and international partnerships, The New School maintains a global presence. Learn more at www.newschool.edu.
###