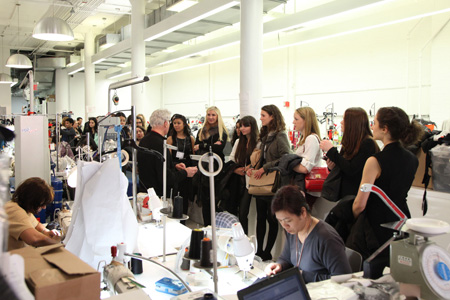 Fashion Draft NYC recruits take a tour of Theory's New York headquarters
NEW YORK, February 22, 2013—New York City Economic Development Corporation and Parsons The New School for Design announced the success of the second Fashion Draft NYC, which brought 21 top graduating students from universities across the country to network and interview for management-track positions with some of New York's leading fashion companies. The event, which took place February 14-16, is one of six initiatives the City is undertaking to support the long-term growth of the fashion industry, which resulted from Mayor Bloomberg's FashionNYC2020 plan. This is the second initiative that NYCEDC has partnered with Parsons, which also includes Fashion Campus NYC.
"For the second straight year, Fashion Draft NYC will be helping to recruit the best business and creative talent from around the world to pursue careers in fashion in New York City," said NYCEDC President Seth W. Pinsky. "Fashion in New York City is a $98 billion industry, and this program and our other FashionNYC2020 programs are ensuring that New York City remains the fashion capital of the world for decades to come."
Fashion Draft NYC recruited graduating students from some of the top institutions across the country, from art and design schools Parsons, Savannah College of Art and Design, and the Fashion Institute of Technology, to Northwestern University, the University of California at Berkeley, and the University of Michigan. Students were selected based on academic record, internship experience in the fashion industry, personal statements, and recommendations.
"Fashion Draft was an invaluable experience," said Brittany Teramo, a student at the University of Michigan. "It afforded me such immense and rare opportunities to make highly sought-after connections with professionals to launch my career in the fashion industry."
The event featured behind-the-scenes tours of fashion companies, a networking dinner, one-on-one interviews with human resources executives, as well as a conversation with Andrew Rosen, the president and founder of Theory. Other participating companies included Ann Inc., Armani Exchange, Bloomingdale's, Brooks Brothers, Calvin Klein, GILT, LF USA, Macy's, and Saks Fifth Avenue.
"Parsons' partnership with the NYCEDC reflects our commitment to bolstering the fashion industry in New York," said Parsons Executive Dean Joel Towers. "The future depends upon our developing leaders who possess innovative thinking, creative problem solving, and a strong understanding of the fashion business. This program, along with Fashion Campus NYC, is focused on identifying and fostering this next generation talent."
Fashion Draft NYC builds upon the success of Fashion Campus NYC, a career-building and networking event co-organized by NYCEDC and Parsons in July 2011 and June 2012, which in 2012 attracted approximately 200 interns from nearly 100 universities and hundreds of area companies, as well as fashion industry representatives from New York-based companies, including Calvin Klein and Donna Karan. Both Fashion Draft and Fashion Campus are part of a series of initiatives that resulted from Mayor Bloomberg's FashionNYC2020 plan, which is designed to sustain and grow the fashion industry in New York.
From last year's Fashion Draft, nearly one-third of all participants received job offers in connection with their participation in the program, including placements in the merchant executive development programs at Macy's and Bloomingdale's; and Theory's leadership in training program.
"Fashion Draft gave us access to highly ambitious emerging talent," said Brad Hunt, who works on the Talent Acquisition team for Brooks Brothers, a first time participant in the program. "Among the participants we found eager students as well as young business entrepreneurs who embodied the same values so central to our corporate philosophy. Fashion Draft's ability to present such high caliber candidates has made the event a central part of our talent acquisition strategy here at Brooks Brothers."
The fashion industry employs 175,000 people, accounting for 4.8 percent of the City's workforce, and generating $2 billion in tax revenue annually. In addition, the City is home to one of the world's largest wholesale fashion markets, which attracts more than 500,000 visitors a year to its trade shows, showrooms and retail stores. The FashionNYC2020 initiatives address the industry's challenges by further positioning the City as a hub of innovation for emerging designers as well as specialty and multi-channel retail, and by attracting the next generation of design, management and merchant talent.
For more information about Fashion Draft NYC, visit www.fashiondraftnyc.com.
About NYCEDC
New York City Economic Development Corporation is the City's primary vehicle for promoting economic growth in each of the five boroughs. NYCEDC's mission is to stimulate growth through expansion and redevelopment programs that encourage investment, generate prosperity and strengthen the City's competitive position. NYCEDC serves as an advocate to the business community by building relationships with companies that allow them to take advantage of New York City's many opportunities. Find us on Facebook or follow us on Twitter, or visit our blog to learn more about NYCEDC projects and initiatives.
About Parsons The New School for Design
Parsons The New School for Design is a global leader in design education, with programs that span the disciplines of design and the fine arts. With the launch of its fashion design program in 1904, Parsons is credited with the rise of Seventh Avenue, the epicenter of American fashion. Parsons offers a Bachelor of Fine Arts degree in Fashion Design, Associate Degrees in Fashion Design and Fashion Marketing, and a Master of Fine Arts Program in Fashion Design and Society that was initiated through the support of Parsons alumna Donna Karan. Parsons has educated generations of leading American fashion designers, including Tom Ford, Marc Jacobs, Donna Karan, Isaac Mizrahi, Tracy Reese, Narciso Rodriguez and Anna Sui; and rising talents Prabal Gurung, Derek Lam, Ohne Titel, Thakoon Panichgul, Proenza Schouler, Vena Cava, Alexander Wang, and Jason Wu. For more information, visit www.newschool.edu/parsons.
# # #