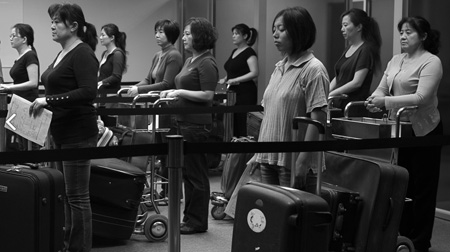 A video still from Chen Chieh-Jen's "Empire's Borders 1," from "Cross-Strait Relations"
NEW YORK, July 30, 2013—The Sheila C. Johnson Design Center (SJDC) at Parsons The New School for Design has announced its fall season of exhibition programming. Diverse in focus—ranging from a reimagining of the remote control to an examination of itinerant ideas of "Chinese-ness," to newly commissioned work by artist Theaster Gates—each exhibit looks at the transformations of meaning in objects and places.
"Our fall programming continues an interdisciplinary exploration of the mobilities of the contemporary world—in images, materials, identities, and infrastructure—through the work of artists and designers that confronts us with the ambiguities, possibilities and entanglements of these relationships," said Radhika Subramaniam, director and chief curator of the SJDC.
"兩岸關係" | "Cross-Strait Relations" | "两岸关系"
September 27 – December 15, 2013
Opening reception: September 26, 6-8 pm
Anna-Maria and Stephen Kellen Gallery
Ideas and experiences of "China" live across many borders. As routes of commerce and leisure between Chinese regions have become more open, artists have embraced mobility and travelling (or having multiple artistic bases) from Mainland China to Taiwan, Taiwan to Hong Kong or Singapore, and other areas with large historically Chinese populations. Through works in video, photography, installation, sound and performance, this exhibition explores the pluralism of this Chinese identity, geographically and culturally, and thereby reframes the heavily freighted term "cross-strait relations." Curated by Arthur Ou, a photographic artist and Assistant Professor of Photography at Parsons, the exhibition features work by Chen Chieh-Jen, Heman Chong, Lee Kit, Michael Lin, Hong-Kai Wang, Ming Wong and Jun Yang.
Theaster Gates: A Way of Working
September 18 – October 5, 2013
Opening Reception: September 18, 5-6:30pm
Arnold and Sheila Aronson Galleries
Artist Lecture and Prize Presentation: September 18, 7 pm, Tishman Auditorium, The New School
Co-presented with the Vera List Center for Art and Politics, and curated in collaboration with Theaster Gates, recipient of the inaugural Vera List Center Prize for Art and Politics, this exhibition and forum are the culmination of the artist's two-year engagement with The New School. It offers a view into how the artist creates synergies within his work, and examines the complex ways of creating and maintaining an expanded studio practice rooted in institutional engagement, object making, and the production of space. The installation includes drawings, videos and a large-scale rickshaw inspired by a recent trip to Haiti, filled with objects from the collections at Dorchester Projects, a space for artistic production on Chicago's South Side.
Lazy Bytes
October 24 – October 31, 2013
Arnold and Sheila Aronson Gallery
Sixty years after its creation under the name "Lazy Bones," the remote control is still perceived as a collection of buttons on a block of plastic. However, it occupies a central place in our living room and constitutes a vital link between our real bodies and the digital world. For Lazy Bytes, the EPFL+ECAL Lab collaborated with the Kudelski Group to invite four major design schools to rethink the remote control: Parsons, the Royal College of Art in London, ENSCI-Les Ateliers de Paris, and ECAL/University of Art and Design in Lausanne, France. The exhibition features the resulting designs.
Timber in the City
October 24 – October 31, 2013
Arnold and Sheila Aronson Hallway
An exhibition of entries of the Timber in the City: Urban Habitats competition which challenged participants to design a mid-rise, mixed-use complex with affordable housing units; a job training/educational facility; a center for innovative manufacturing of wood technology; and a distribution center in Red Hook, Brooklyn. The competition is co-sponsored by The School of Constructed Environments at Parsons The New School for Design, the Association of Collegiate Schools of Architecture, and the Binational Softwood Lumber Council.
Boutique: Where Art Meets Fashion
November 11 – December 11, 2013
Arnold and Sheila Aronson Galleries
While a boutique may be fashionable, seductive and exclusive, the works in the exhibition explores the ways in which fashionable clothes embody complex interactions and connections—as image, labor, emotion, play and more—between communities and individuals. The exhibition, curated by Annamari Vänskä, originated at the Amos Anderson Museum in Helsinki, Finland in 2012.
Look Only at the Movement
October 3 – December 5, 2013
Artist talk and reception: October 3, 7-9 pm
SJDC Lobby
This digital video by smudge studio examines the entangled infrastructures of nuclear waste transportation and the United States' highway system. Generated from original documentation of nuclear waste storage facilities in Utah, New Mexico, Colorado and New York, this meditation-in-motion punctuates the streaming highway system with its travelers' encounters with nuclear waste transport, disposal cells, and sites of remediation.
About the Sheila C. Johnson Design Center
The Sheila C. Johnson Design Center is an award-winning campus center for Parsons The New School for Design that combines learning and public spaces with exhibition galleries to provide an important new downtown destination for art and design programming. The mission of the Center is to generate an active dialogue on the role of innovative art and design in responding to the contemporary world. Its programming encourages an interdisciplinary examination of possibility and process, linking the university to local and global debates. The center is named in honor of its primary benefactor, New School Trustee and Parsons Board of Governors Member Sheila C. Johnson. The design by Rice+Lipka Architects is the recipient of numerous awards, including an Honor Award from the American Institute of Architects. For more information please visit www.newschool.edu/sjdc.
# # #
General Information
Location: 2 West 13th Street, New York
Gallery hours: Open daily 12:00 pm - 6:00 pm and Thursday evenings until 8:00 pm; closed all major holidays and holiday eves
Admission: Free
Info: Please contact 212.229.8919 or visit www.newschool.edu/sjdc