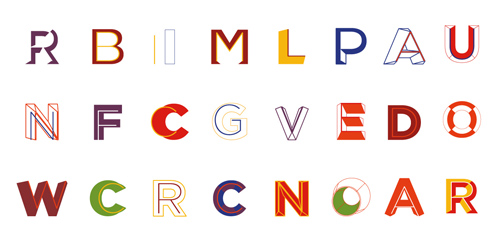 Noted European Designer Ruedi Baur comes to The New SchoolNovember 21to present his first U.S. commission, a new wayfinding system for the University Center at The New School.
EDITOR'S NOTE: FULL CALENDAR OF EVENTS IS AVAILABLE BY CLICKING HERE
NEW YORK, November 8, 2013 — The New School, includingParsons The New School for Design andtheVera List Center for Art and Politics, has announced updates to its art and design public programming calendar for the remainder of the fall season.
The School of Art, Media, and Technology at Parsons The New School for Design hosts its Visiting Artists Lecture Series, which brings some of the art world's rising stars to speak about their work. These include: Adam Pendelton (September 25), Maria Hupfield (October 2), Mika Tajima (October 9), Neil Goldberg (November 6), Allora & Callzadilla (November 13), and many more. In addition, as part of the Public Fund Talks at The New School presented by the Vera List Center, Iran do Espírito Santo (September 10) and Mark Manders (October 2) will be lecturing on campus.
Noted European Designer Ruedi Baur comes to The New SchoolNovember 21to present his first U.S. commission, a new wayfinding system for the University Center at The New School.
The Shelia C. Johnson Design Center (SJDC) at Parsons continues its exhibition "兩岸關係" | "Cross-Strait Relations" | "两岸关系 through December 15, which explores the geographically and culturally varied nature of Chinese identity through works in video, photography, installation, sound and performance. Photographic artist and Parsons professor Arthur Ou, who curated the show, will lead a tour on Thursday, November 21, at 6:30 pm. Another exhibition, Fashion Interactions, in the SJDC's Aronson Gallery, will explore the many ambiguities and conundrums of fashion design – as art, design, product, image, material, body, labor, and emotion, play (November 11 – December 11).
On Friday, November 8, Parsons partners with Philips Lighting to present Luminous Talks, the second iteration of a now-annual event.  Luminous Talks is dedicated to considering the relationship between natural and electronic light, and the impacts various kinds of lighting have on human well-being. This year's event features scientist George Craford, Philips researcher Raymond van Ee, architect Davidson Norris, and Steven Holl Architects partner Noah Yaffe. Following the presentations, there will be a panel discussion with all the speakers, moderated byMatthew Cobhamof Philips Lighting andDerek Porter, Director of the MFA Lighting Design program at Parsons The New School for Design and principal of Derek Porter Studio.
Additional programming includes a panel discussion organized by the Fine Arts program at Parsons that features Eleanor Heartney, Nancy Princenthal, Helaine Posner and Sue Scott, the authors of The Reckoning: Women Artists of the New Millennium (November 22). The Aperture Foundation and The New School present a panel discussion with author Gregory Halpern and photographers Deana Lawson and Richard Renaldi on the politics embedded within the intentional photographic portrait (November 14).
The New School also will present talks and performances from several notable artists and designers during the coming months. Ruedi Baur will discuss his first major U.S. commission, a wayfinding system for The New School'sUniversity Center, a new campus center designed by Skidmore, Owings & Merrill that will open in January 2014, which includes a custom typeface (November 21). Alexander von Vegesack, founder of both the Vitra Design Museum in Weil am Rhein, Germany, and the Boisbuchet Design School in Southwest France, willbe speakingabout his love of objects and furniture, as well as sharing stories of collecting and curating (November 21). Collaborating since 1995,Jennifer Allora and Guillermo Calzadilla incorporate sculpture, photography, performance, sound and video in their art; they come to The New School as part of the AMT Visiting Lecture Series (November 13).
Public programs are subject to change; please visit the New School events calendar for the most up-to-date information at www.newschool.edu/events.
EDITOR'S NOTE: FULL CALENDAR OF EVENTS IS AVAILABLE BY CLICKING HERE
About the New School
Founded in 1919,The New Schoolwas born out of principles of academic freedom, tolerance, and experimentation. Committed to social engagement, The New School today remains in the vanguard of innovation in higher education, with more than 10,000 undergraduate and graduate students challenging the status quo in design and the social sciences, liberal arts, management, the arts, and media. The New School welcomes thousands of adult learners annually for continuing education courses and calendar of lectures, screenings, readings, and concerts. Through its online learning portals, research institutes, and international partnerships, The New School maintains a global presence. Learn more atwww.newschool.edu.