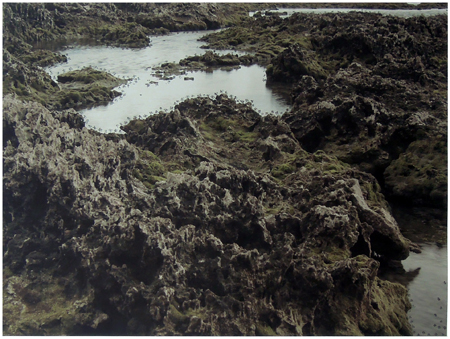 Charwei Tsai, Lanyu #8, showing in "兩岸關係" | "Cross-Strait Relations" | "两岸关系"at the Sheila C. Johnson Design Center at Parsons The New School for Design
EDITOR'S NOTE: FULL CALENDAR OF EVENTS IS AVAILABLE BY CLICKING HERE
NEW YORK, September 6, 2013 — The New School, including Parsons The New School for Design and the Vera List Center for Art and Politics, has announced its art and design public programming for the fall season.
The Shelia C. Johnson Design Center (SJDC) at Parsons opens a pair of major new exhibits in early September. Theaster Gates: A Way of Working (September 18-October 5), presented in collaboration with The Vera List Center of Art and Politics, offers a view into the world of Gates, an artist globally renowned for his genre-defying explorations of community, history, race, and politics. "兩岸關係" | "Cross-Strait Relations" | "两岸关系"(September 27-December 15), curated by photographic artist and Parsons professor Arthur Ou, explores the geographically and culturally varied nature of Chinese identity, through works in video, photography, installation, sound and performance. The SJDC will also present Lazy Bytes (October 24-31), which presents several re-imaginings of the remote control by emerging artists and designers; Timber in the City (October 24-31), which presents proposals for innovative wood construction in New York; and Art Meets Fashion (November 11-December 11), which explores the many ambiguities and conundrums of fashion design—as art, design, product, image, material, body, labor, and emotion and play.
Parsons will also present Every Thought Flies: Launching the Zambonini Archive (October 3-17), an exhibition that celebrates the life and work of architect and educator, Giuseppe Zambonini (1942-90) and his Open Atelier of Design and Architecture (OADA). Paul Goldberger, the Joseph Urban Professor of Design at The New School, will lead a tour of the exhibition on October 9.
The New School also will host several notable artists and designers during the coming season. The award-winning graphic artist Ben Katchor, an associate professor of Illustration at Parsons, has organized the New York Comics & Picture-story Symposium (September 5 – December 2), which welcomes some of today's most notable illustrators, including Zeina Abirached (September 16), David Prudhomme (September 23), and Gregory Benton (November 11). The New York Times visual op-ed columnist Charles M. Blow (September 25) will speak at the university as part of the Riggio Forum, a program that promotes reading and writing as engines of democracy. New Zealand-based product designer David Trubridge will give a lecture about his work (September 26), followed by a question and answer session led by Rama Chorpash, director of Product Design at Parsons.
The School of Art, Media, and Technology at Parsons The New School for Design hosts its Visiting Artists Lecture Series, which brings some of the art world's rising stars to speak about their work. These include: Adam Pendelton (September 25), Maria Hupfield (October 2), Mika Tajima (October 9), Neil Goldberg (November 6), Allora & Callzadilla (November 13), and many more. In addition, as part of the Public Fund Talks at The New School presented by the Vera List Center, Iran do Espírito Santo (September 10) and Mark Manders (October 2) will be lecturing on campus.
As part of Open House New York (Oct. 12), the university will be offering curator- and architect-led tours of its art collection, the Sheila C. Johnson Design Center, and its new University Center, which will open to the public in January 2014.
This fall also marks the opening of Parsons Paris, The New School's new academic center in Paris, which builds upon the school's nearly century-long presence in the French capital. To celebrate, the school is mounting an exhibition of work by the Paris-based Parsons alumnus and award-winning contemporary artist Evan Roth. The show, Evan Roth: New York to Paris (Sept. 5-27), showcases Roth's hacker philosophy, which visualizes transient moments in public space, online and in popular culture.
Public programs are subject to change; please visit the New School events calendar for the most up-to-date information at www.newschool.edu/events.
About the New School
Founded in 1919, The New School was born out of principles of academic freedom, tolerance, and experimentation. Committed to social engagement, The New School today remains in the vanguard of innovation in higher education, with more than 10,000 undergraduate and graduate students challenging the status quo in design and the social sciences, liberal arts, management, the arts, and media. The New School welcomes thousands of adult learners annually for continuing education courses and calendar of lectures, screenings, readings, and concerts. Through its online learning portals, research institutes, and international partnerships, The New School maintains a global presence. Learn more at www.newschool.edu.