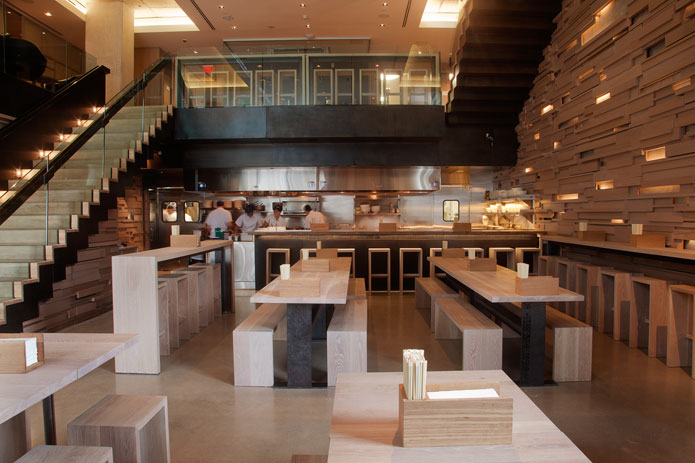 Momofuku Noodle Bar, Toronto
New York, NY (April 8, 2013) – The James Beard Foundation (JBF) is partnering with The New School to launch a series of panel discussions, titled Dining + Design: Conversations with Chefs and Architects on Creating the Ideal Dining Experience. This unique program will feature conversations with top toques and architects, highlighting the critical relationship between a restaurant's culinary concepts and physical design.

Whether high concept or vernacular, high budget or low, design plays an essential role in every restaurant experience. In addition to the launch of Dining + Design with The New School, JBF has acknowledged the increasingly integral alliance between aesthetics and cuisine by announcing a change to the James Beard Awards' Restaurant Design category. This year, the Foundation will name two winners of the Restaurant Design Award Presented by Celebrity Cruises®: one for restaurants with 75 seats or under, and one for those with 76 or more seats.

"Winners of the Beard Foundation's Restaurant Design Award are consistent in their mission to fully integrate design and cuisine, and these two new awards allow us to recognize a broader range of talent who truly succeed in that aspect," said Brooke Hodge, director of exhibitions and publications at Los Angeles's Hammer Museum and chair of the James Beard Foundation's Restaurant Design Committee. "To further underscore the importance of this relationship, the Dining + Design series will bring key chefs and architects together to personally shed light on the collaborative creative process that goes into producing an exceptional dining experience."

Dining + Design draws on The New School's Food Studies program, which is a leader in the study of the intersection of food and design, culture and politics. The series will kick off with its first panel discussion on April 22nd and rotate between various New School auditoriums in New York City:

April 22nd, 2013, 6:00pm
The New School's Wollman Hall, 65 W. 11th Street
Dining: Chef Dan Barber & Laureen Barber, Blue Hill and Blue Hill at Stone Barns
Design: Peter Guzy, Co-Founder, Asfour Guzy Architects
Moderated by Mitchell Davis, Executive Vice President, James Beard Foundation

May 20th, 2013, 6:00pm
The New School's Wollman Hall, 65 W. 11th Street
Dining: Chef Andrew Carmellini, The Dutch, Lafayette and Locanda Verde
Design: Robin Standefer and Stephen Alesch, Roman + Williams
Moderated by Fabio Parasecoli, Assoc. Prof. & Coordinator, Food Studies, The New School

June 10th, 2013, 6:00pm
Theresa Lang Center, 55 W. 13th Street
Dining: Chef David Chang, Momofuku
Design: Anwar Mekhayech, Co-Founder, The Design Agency
Moderated by Mitchell Davis, Executive Vice President, James Beard Foundation
"The Dining + Design series perfectly aligns with the mission of the Food Studies program here at The New School, which is to provide students with the theoretical and practical tools they need to successfully engage in the growing global conversations about cuisine," said Fabio Parasecoli, Associate Professor and Coordinator, Food Studies, The New School. "We are thrilled to have the opportunity to partner with The James Beard Foundation, and look forward to cultivating a longstanding relationship."

Tickets to Dining + Design are available to the general public for $10, with free admission for students and alumni of The New School and members of the James Beard Foundation. To purchase tickets, please call The New School box office at 212.229.5488, email boxoffice@newschool.edu, or visit The New School box office online. For more information about becoming a member of the James Beard Foundation, please visit: www.jamesbeard.org/membership.

For more information about Dining + Design, please visit: www.jamesbeard.org

About the James Beard Foundation:
Founded in 1986, the James Beard Foundation is dedicated to celebrating, nurturing, and preserving America's diverse culinary heritage and future. A cookbook author and teacher with an encyclopedic knowledge about food, James Beard, who died in 1985, was a champion of American cuisine. He helped educate and mentor generations of professional chefs and food enthusiasts, instilling in them the value of wholesome, healthful and delicious food. Today the Beard Foundation continues in the same spirit by administering a number of diverse programs that include educational initiatives, food industry awards, scholarships for culinary students, publications, chef advocacy training, and thought-leader convening. The Foundation also maintains the historic James Beard House in New York City's Greenwich Village as a "performance space" for visiting chefs. In September of 2012, the Foundation launched the Diplomatic Culinary Partnership with the U.S. Department of State's Office of Protocol and helped create the American Chef Corps as a way to champion American chefs abroad, promote American food products and foster an interest in American culinary culture and history through international programs and initiatives. For more information, please visit www.jamesbeard.org. Find insights on food at the James Beard Foundation's blog Delights & Prejudices. Join the James Beard Foundation on Facebook. Follow the James Beard Foundation on Twitter and Instagram.

About The New School:
Founded in 1919, The New School was born out of principles of academic freedom, tolerance, and experimentation. Committed to social engagement, The New School today remains in the vanguard of innovation in higher education, with more than 10,000 undergraduate and graduate students challenging the status quo in design and the social sciences, liberal arts, management, the arts, and media. The New School welcomes thousands of adult learners annually for continuing education courses and calendar of lectures, screenings, readings, and concerts. Through its online learning portals, research institutes, and international partnerships, The New School maintains a global presence. Learn more at www.newschool.edu.