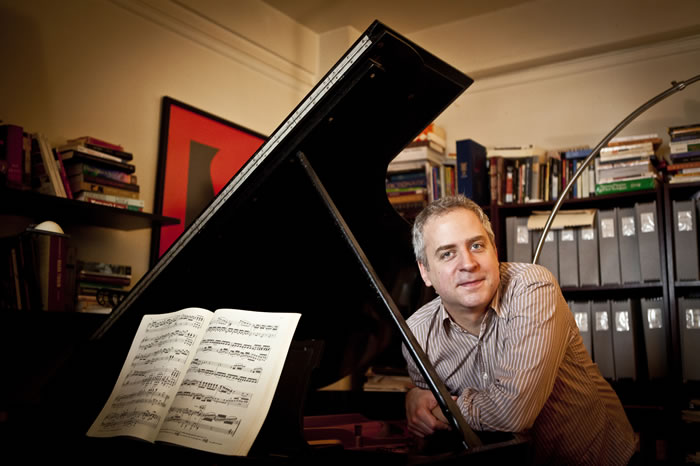 Mannes faculty member Jeremy Denk is a 2013 MacArthur Fellow
NEW YORK, September 25, 2013 - Pianist and writer Jeremy Denk, who serves on the faculty of Mannes College The New School for Music, has been named a 2013 MacArthur Fellow. Denk is an accomplished concert pianist who has appeared as soloist with many major orchestras, including the Los Angeles Philharmonic, the Philadelphia Orchestra, and the symphony orchestras of Boston, Chicago, San Francisco, and London. An avid chamber musician, he is as well known for writing on music (in his blog Think Denk, in The New Republic, The New Yorker, and elsewhere) as he is for his performances.
The prestigious, unrestricted fellowships, known as "Genius grants," are awarded by the John D. and Catherine T. MacArthur Foundation to those who push creative boundaries across fields. In announcing the award, the MacArthur Foundation stated that "Denk's writings not only offer poignant and humorous meditations on such subjects as the complex relationship between protégé and mentor, they also demonstrate the connection between the process of writing and the practicing musician's ceaseless efforts to find the most vivid and meaningful way to bring a particular phrase to life. An extraordinary pianist and essayist of keen musical intellect, Denk is engaging listeners and readers in a deeper appreciation of classical music."
Denk joined Mannes in the 2011-2012 academic year, along with several other high-profile new faculty members including composer and performer Missy Mazzoli and 2013 Pulitzer Prize-winning composer Caroline Shaw. Under the leadership of Dean Richard Kessler, Mannes has recently instituted a new vision with a focus on innovation in classical music, combining top-level conservatory training with cross-disciplinary education in new music, technology, and community engagement.
Founded in 1919, The New School was born out of principles of academic freedom, tolerance, and experimentation. Committed to social engagement, The New School today remains in the vanguard of innovation in higher education, with more than 10,000 undergraduate and graduate students challenging the status quo in design and the social sciences, liberal arts, management, the arts, and media. The New School welcomes thousands of adult learners annually for continuing education courses and calendar of lectures, screenings, readings, and concerts. Through its online learning portals, research institutes, and international partnerships, The New School maintains a global presence. Learn more at www.newschool.edu.