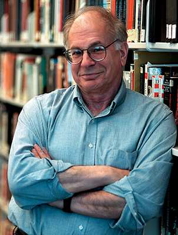 Daniel Kahneman
NEW YORK, March 20, 2013- The New School for Social Research presents the 2013 Hans Maeder Lecture, "Why Hawks Win," by Daniel Kahneman, a founding partner of The Greatest Good consulting firm, and Eugene Higgins Professor of Psychology and Professor of Public Affairs Emeritus at Princeton University. The lecture will take place on Thursday, April 4th, from 6:00 to 7:30 P.M. in The New School's Tishman Auditorium (66 West 12th Street).
Kahneman will discuss the fault in familiar arguments that favor hawks over doves in the realms of public and foreign policy. Review of these cognitive biases in recent years reveals a surprising conclusion: it is the hawk's skill in persuasion rather than prudence that allows them to win many more arguments then perhaps they should.
A wide-ranging scholar whose thinking inspired the design for behavior economics and hedonic psychology, Kahneman won the 2002 Nobel Prize in Economics for his work on prospect theory. Despite being a research psychologist, Kahneman is an influential figure in both economic and public policy. In academia, he has been instrumental in establishing theories of psychology, including judgment and decision making, into the curriculums of such prestigious institutions as the Woodrow Wilson School for Public and International Affairs at Princeton University and the Kennedy School at Harvard University. Kahneman's recent book Thinking, Fast and Slow is an international best-seller.
Admission to Why Hawks Win is free, but RSVP are required at newschoolkahneman.eventbrite.com. The event will also be streamed live online at http://new.livestream.com/TheNewSchool/daniel-kahneman.
Founded in 1919, The New School was born out of principles of academic freedom, tolerance, and experimentation. Committed to social engagement, The New School today remains in the vanguard of innovation in higher education, with more than 10,000 undergraduate and graduate students challenging the status quo in design and the social sciences, liberal arts, management, the arts, and media. The New School welcomes thousands of adult learners annually for continuing education courses and calendar of lectures, screenings, readings, and concerts. Through its online learning portals, research institutes, and international partnerships, The New School maintains a global presence. Learn more at www.newschool.edu.